Hey Guys!! It's been a crazy kinda week here in NC land…we were hit by a very pretty but very restricting ice storm and to say I've been a bit stir crazy is putting it lightly. My Kiddies have been home – The. Entire. Week. Does that say enough? LOL That's why I've decided to give you an #AskAwayFriday with a twist this week…You ready?
Welcome back to the best link up around…#AskAwayFriday!
What is #AskAwayFriday? Well…
#AskAwayFriday was created by the amazing Penny from Real Housewife of Caroline County and Amber from Bold Fit Mom, as a way to connect with other bloggers with a great Q & A session of 10 questions and 10 answers, between 2 Bloggers! This is a wonderful opportunity to get to know others while allowing others to get to know you and of course there is also the added bonus of making great friends along the way which is one of the best parts of this online world!
We wish Amber nothing but the best as she works to pursue her business and fitness ventures. We will miss having her as a CoHost but know that she has nothing but great success ahead.
When one door closes, another one opens…
We would like to give a huge #AAF welcome to a Brand New Co-Host…
drum roll please…
Welcome Echo from The Mad Mommy!
Now welcoming our wonderful #AskAwayFriday hosts…
Tamara from Tamara Like Camera,
Tiffany from Mrs. Tee Love Life Laughter,
Christy from Uplifting Families,
Stacey from This Momma's Ramblings
and
Echo from The Mad Mommy
So…grab our new button, follow our amazing hosts and co-host, hop through the great link ups and make some amazing new friends!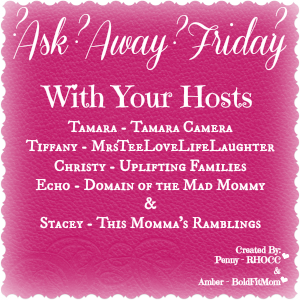 Since I didn't have a buddy lined up for this week I decided to have a bit of Vlogging fun on the last day of the week and answer 100 questions no one asks…but I'm still gonna answer! It's a fun Vlog Prompt I found on a Channel By YouTuber ilikeweylie. She's really fun and definitely worthy of a click & subscribe.
Instead of just sitting down and answering 100 questions 1-by-1 I decided to take you with me throughout a couple of my days and give it a bit of a Show & Tell twist… BUT I'm still recording…yeah 100 questions can take a minute.
Soooo…. I am giving YOU an exclusive Preview of 10 of those 100 questions and once the video is done you can tune in to watch and hear the rest of my answers…sound good? Okay…let's get started!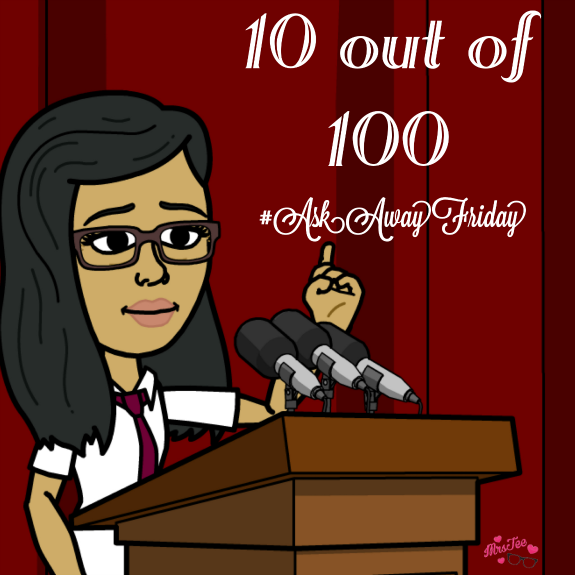 40: How many languages can you speak?
Just the one… sorry. I'm boring like that.
41:Do you have any magazine subscriptions?
Magazines? Who needs those?!? I have Facebook, Google and all the other amazing Apps and Online sources. No magazines here.
42: Which are better legos or lincoln logs?
Neither? LOL…I guess legos but those things are seriously dangerous at night or anytime they aren't put away. So Use With Caution!
43: Are you stubborn?
Yes, but I'm okay with that. It works for me 🙂
44: Who is better…Leno or Letterman?
I really didn't like either one. I am a total Jimmy Fallon fan!!
45: Ever watch soap operas?
Only when I was a kid and had no choice in what channels were watched. The stories just seem to repeat themselves with new actors over and over…
46: Are you afraid of heights?
Yes, but I conquer it all the time. It's no debilitating.
47: Do you sing in the car?
All. The. Time. Have you not seen my amazing Musical Interludes in my Vlogs?
48: Do you sing in the shower?
Hmmm…not really. I'm not sure why because I've heard the acoustics are amazing!
49: Do you dance in the car?
Yes! I can get my seat boogie with the best of them!
50: Ever used a gun?
Used? I've fired one but only at the range.
So that's 10 out of 100 of the questions I am currently answering by Vlog… check out the full video below…
Be A Part of The NEW #AskAwayFriday!
Swap With Us…
Be sure to check out our NEW Facebook Page "

AskAwayFriday

" for a great place to meet up and send out a #BuddyRequest and you can be a part of a great Family of Bloggers who love getting to know each other better 10 questions at a time!
Join The #AskAwayLadies As A CoHost…


By adding your email to this link up, you will be added to email correspondence that may be sent by one of our hosts, you may opt out at any time.
Host's reserve the right to remove any links that do not pertain to the #AskAwayFriday theme.
Lifestyle Blogger, Brand Ambassador, YouTuber & Media Influencer
at
TheMrsTee
Tiffany is the ' Tee' behind TheMrsTee - a Lifestyle Blog created as a place to share her love of all things Faith, Family, Fashion, Food, Fun, Tech & Travel. Tiffany has established her influence within both the Blogging & Vlogging Communities. As a Brand Ambassador, Tiffany has the opportunity to promote and support the brands she loves the most with her own unique perspective. Tiffany has extended her presence beyond her URL to Television as a Panelist for the MomsEveryday TV Show for 2 Seasons and to the stage as a Cast Member of the Finale Season of The Listen To Your Mother Show. A 2016 BlogHer VOTY Award Honoree, Contributing Author with Modern Social f/k/a iBlog Magazine and BlogHer. Growing herself as a Brand and Influencer are always at the center of Tiffany's passion.
Latest posts by TheMrsTee (see all)