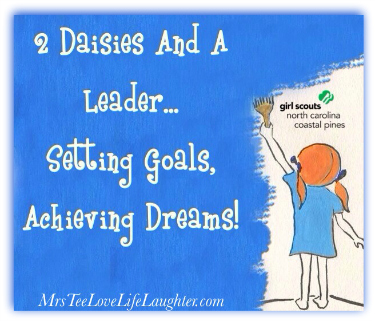 This week as part of our plan to help prepare our Girls as much as possible for NC Coastal Pines Girl Scout Cookie Season we decided to have an activity of Setting Goals and teaching the girls how reaching those goals could also help them to Achieve Dreams they have for our Troop and even themselves as individuals.
The first thing we did was explain to the entire Troop what a goal was.  We told them that a Goal is setting a target for where you what you want to do within a certain time frame.  For us our Goals are being set by the end of the Cookie Season.  We then went on to ask each Girl what their personal Package Goals were.  As Leaders, we were already aware of where their parents felt they could go during the Cookie Season and were eager to find out if the Girls felt the same way.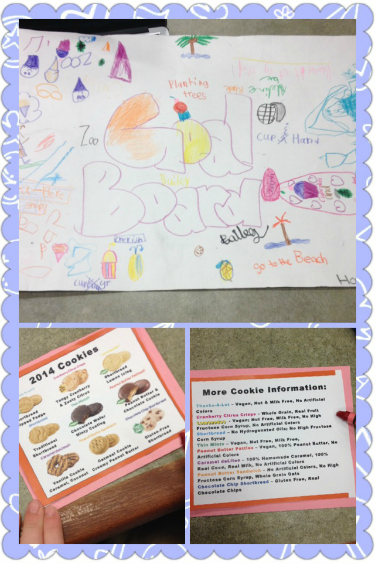 Each Girl helped with their ideas to make a Dream Board with everything they want to do with the earnings from Cookie Season. We are proud to say we have some very ambitious and still realistic Girls with amazing Goals ahead of them.  We have ranges from 100 boxes all the way up to 1,000.  I have no doubt that with the mindset they have they will be able to achieve anything they set their hearts to.
Once we heard all of the Girls individual Goals we started to discuss how their individual Goals could help the entire Troop achieve their Goal as well.  We explained how every box one Girl sells helps add to the Goal of the Troop.  It was amazing to watch as each Girl realized that they could help each other by reaching their set Goals.  Our Girls have some amazing dreams they wish to make come true for our Troop including a trip to Build-a-Bear, the Zoo, the Aquarium and so much more!
In addition to our Dream Board, we also made each Girl some really cool Cookie Info Lanyards thanks to a great Post written by Jen at JaelCustomDesigns.com Each lanyard includes a Price sheet for both the Favorite Varieties and the NEW Gluten Free as well as a photo cookie chart.
With their Goals in mind and the knowledge on hand our Girls are that much closer to a successful Cookie Season!
How do you teach your children how to set Goals and Achieve them?
Do you lead by example or perhaps a story or activity?
How do you celebrate achieving Goals?
Lifestyle Blogger & Media Influencer
at
TheMrsTee
Tiffany is the ' Tee' behind TheMrsTee. Tiffany is a BlogHer VOTY Award Honoree as well as a Contributing Author with Modern Social f/k/a iBlog Magazine and BlogHer. Growing herself as a Brand and Influencer are always at the center of Tiffany's passion. As a Brand Ambassador, Tiffany has the opportunity to promote and support the brands she loves the most with her own unique perspective. Tiffany has extended her presence beyond her URL to Television as a Panelist for the MomsEveryday TV Show for 2 Seasons and to the stage as a Cast Member of the Finale Season of The Listen To Your Mother Show.
Latest posts by TheMrsTee (see all)