No Material Connection Disclosure
Comments. As Bloggers we love them so. They help us know that what we share, write, support and provide is having an impact. Each comment we see gives us that extra bit of assurance that we are actually reaching someone out there in internet land. Yet as a Blogger I started to notice that most of my site comments seemed to come from other Bloggers. Why? It wasn't because my friends and family weren't reading but because they were intimidated by the process of leaving a comment. That's when I decided to find a way to take away the pressure and make commenting for them as easy as a type and a click.
No Log In Needed
Social Identities. As Bloggers we have them everywhere: Blogger, Disqus, WordPress, Twitter, etc. So when a site asks us to Log On to Comment we have no problem simply picking one and moving on. To an average person like your friends and family seeing a log on is not just part of the process.  To them it is nothing more than another site asking for their information. All these different ways to log on are not convenient for them instead it often feels like an intrusion and at times even a risk.
The Facebook Comment PlugIn helps to eliminate this by automatically logging the commentor in through their Facebook Page. This allows them to comment on your site the same way they do if they were leaving a comment on your Facebook page. No need to share their email, give an authorization or open themselves to anything they are unfamiliar with. They simply type their comment and click enter.
Cross Promotion
Adding the Facebook Comments PlugIn to your site gives you the opportunity for cross promotion. When someone leaves a comment through Facebook it not only shows on their timeline but your reply is also added to the feed. This means that not only have you just interacted with them but their followers and friends as well. A whole new audience of people will be able to see their comment, your reply and in turn your content. This all will lead back to your site! Win-Win right?
The PlugIn even gives you the option of replying through either your Personal Facebook Profile OR your Blog's Facebook Page…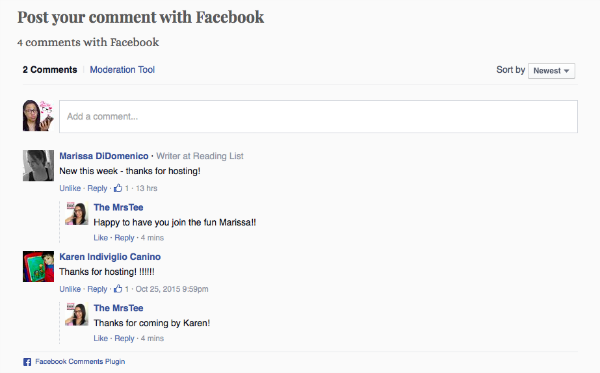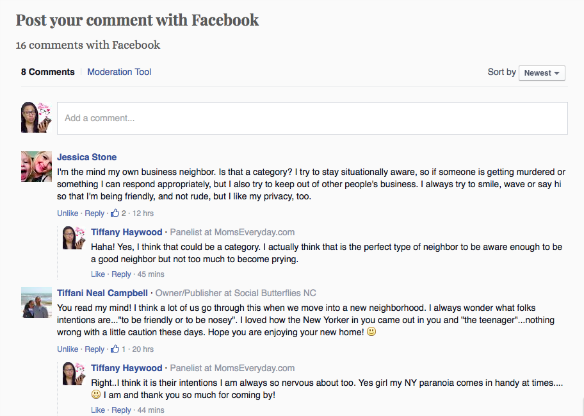 Ease Of Use
Adding the Facebook Comments PlugIn to your site is as easy as Install and Customize. You can Click Here to find the PlugIn for your WordPress site or simply go into your PlugIns section through Dashboard, Select Add New and type in Facebook Comments PlugIn. Once you have the plugin installed you can customize the settings to suit your needs. If you want to receive a notification each time a comment is left through Facebook on your site simply insert your Facebook ID (Profile or Page you choose) within the settings. Finding your Facebook ID is as easy as clicking HERE and entering your Facebook URL.
*BONUS*
The Facebook Comment Plugin work seamlessly with other Comment PlugIns so if you're like me (if you notice I have both the Facebook PlugIn and my regular Comment System) and like to give Readers options you still can!
My Results
Since adding the Facebook Comments PlugIn to my site I have seen a significant increase in comments from non-Bloggers. I would always receive comments on my posts from non-bloggers on my Facebook post itself and rarely (okay never) on my site itself. Now I have noticed people I didn't even realize followed me from my family and friends commenting directly on my site through the Facebook Comments. This is significant to me because I have had those moments when I felt like I was writing my Blog only for other Bloggers. Knowing that I have a way to give my friends and family an easy option to let me know what they feel and how something I have written impacts them has been amazing.
UPDATE…
I almost forgot about my Blogger Blog Buddies (say that 3 times fast) so here is an alternative for you guys along with a How To Install…

Do you have the Facebook Comments PlugIn?
How do you make commenting eassier on your site?
Lifestyle Blogger, Brand Ambassador, YouTuber & Media Influencer
at
TheMrsTee
Tiffany is the ' Tee' behind TheMrsTee - a Lifestyle Blog created as a place to share her love of all things Faith, Family, Fashion, Food, Fun, Tech & Travel. Tiffany has established her influence within both the Blogging & Vlogging Communities. As a Brand Ambassador, Tiffany has the opportunity to promote and support the brands she loves the most with her own unique perspective. Tiffany has extended her presence beyond her URL to Television as a Panelist for the MomsEveryday TV Show for 2 Seasons and to the stage as a Cast Member of the Finale Season of The Listen To Your Mother Show. A 2016 BlogHer VOTY Award Honoree, Contributing Author with Modern Social f/k/a iBlog Magazine and BlogHer. Growing herself as a Brand and Influencer are always at the center of Tiffany's passion.
Latest posts by TheMrsTee (see all)