No Material Connection Disclosure
Marriage. 2 people and 2 lives become 1. Sounds beautiful right? Well not really. Marriage is a trip and there are a few lessons my vows left out.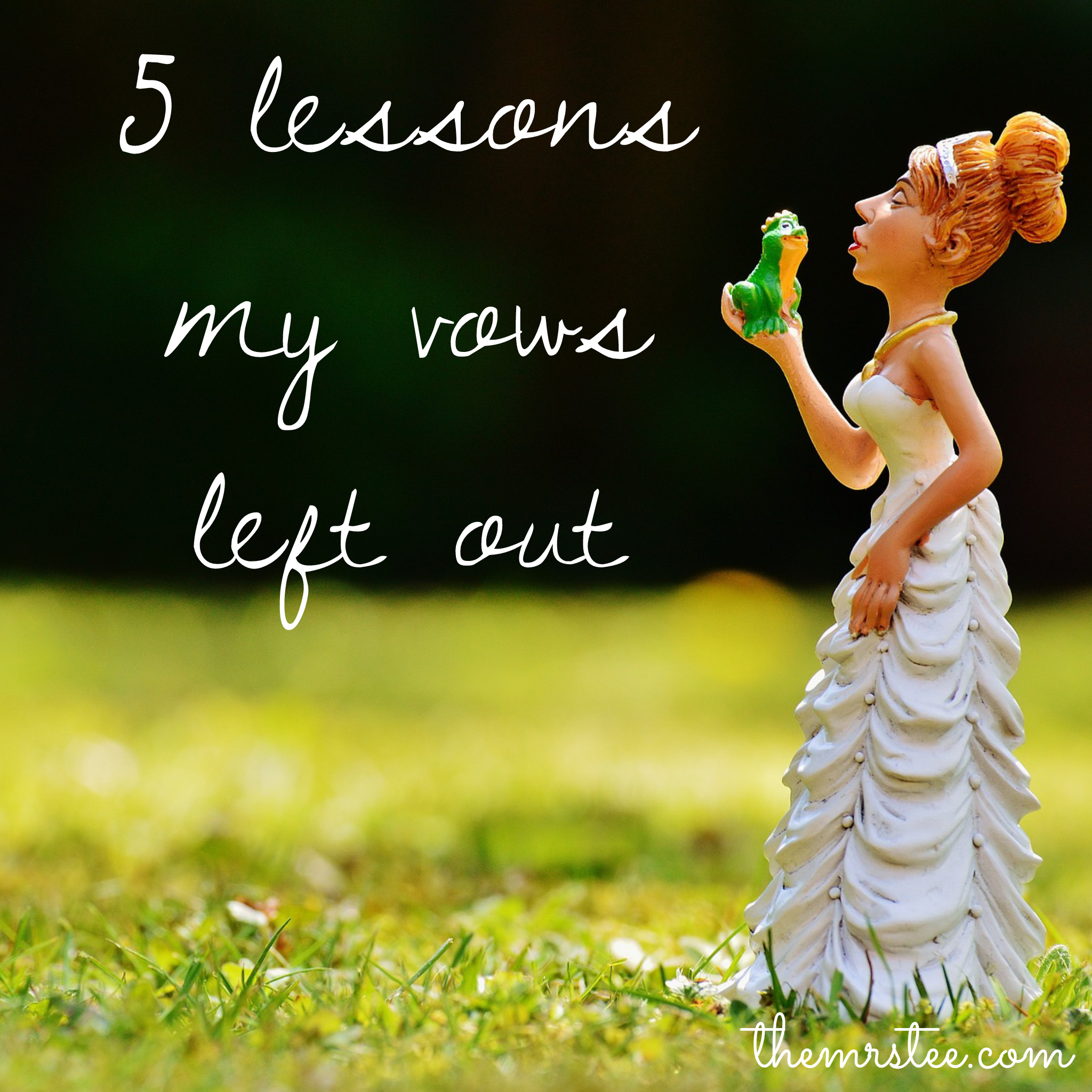 I love my life, my Hubby, My Kiddies – all of it. Still marriage had a few lessons for me that I didn't even know I needed to learn.
Lesson 1 – Mine Mine Mine Mine
There is no 'mine' in marriage. I don't care if I bought it, picked it out or even made it with my own hands – it's now ours. I know – no fair right!? Especially if you grew up as an only child where sharing was just a word learning how to go from mine to ours isn't always easy.
Example: that moment when you have the perfect plate of leftovers in the fridge and you spend the entire day thinking about how you're going to dig in? Well marriage apparently makes that illegal. Whatever you don't eat the first time around is instantly up for grabs. No writing your name, hiding or even licking it can make it yours. Nope. Trust me I've tried it all.
Lesson 2 – What IS That Smell?
Yup. You read it right. Smell. I have never wondered about the origin of a scent as much as I have since I got married. Somehow the source is always unknown. Yet the smell is nearly toxic. I mean it came from somewhere that wasn't me and even though there are only 2 of us in the room it wasn't you? Okay. Let's just say air freshener is not an optional purchase on my shopping list.
Lesson 3 – Just Me And My Coffee
Let me explain. There are a few TV Shows that my Hubby doesn't really want to watch. Shows like How To Get Away With Murder, Notorious, SCANDAL – you know just the best shows on TV he just doesn't know what he's missing. IF he does watch them it always leads to an endless series of questions as he tries to figure out what's going on. I get frustrated and well let's just say it doesn't normally end well. So now I've learned instead of insisting to have couple time during my favorite shows. I just watch whatever he likes, DVR my faves and watch them in the peace and silence of the next morning. No Hubby, No Kiddies – just me and my coffee – as it should be.
Lesson 4 – The Bathroom Is An Office
So I'm the type of gal who goes to the bathroom to do what it's there for and then I'm done. It wasn't until I got married that I realized men see bathrooms in an entirely different way. To men the bathroom is an office. It's where they think on the day's events, plan for the next day and even play a few rounds of Candy Crush while they're in there. I have seriously thought of getting the Hubby a sign with his 'office' hours to put on the door.
Lesson 5 – You Drive
I was a bit of a late bloomer when it came to getting my driver's license. I was nearly 25. My hubby actually taught me how to drive. I think he did a pretty good job. I'm not too sure he agrees. Or maybe he forgets he is responsible for the skills I know have. I give him full credit but he doesn't always want it. He even complains that perhaps whoever taught me didn't do such a great job. The Nerve!! So I've learned if we're in one car the best thing to say is: You Drive! I simply sit back and enjoy the scenery.
What funny lessons have you learned in your current relationship?
Lifestyle Blogger & Media Influencer
at
TheMrsTee
Tiffany is the ' Tee' behind TheMrsTee. Tiffany is a BlogHer VOTY Award Honoree as well as a Contributing Author with Modern Social f/k/a iBlog Magazine and BlogHer. Growing herself as a Brand and Influencer are always at the center of Tiffany's passion. As a Brand Ambassador, Tiffany has the opportunity to promote and support the brands she loves the most with her own unique perspective. Tiffany has extended her presence beyond her URL to Television as a Panelist for the MomsEveryday TV Show for 2 Seasons and to the stage as a Cast Member of the Finale Season of The Listen To Your Mother Show.
Latest posts by TheMrsTee (see all)