A few weeks ago I told you guys how I planned on taking part in an online movement to bring a spotlight to compassion called
1000 Voices For Compassion
. Being a part of something so large can be a bit daunting at first but thinking of myself as simply being 1 part of the whole made it a bit easier. I didn't have to feel the pressure of 1000 but just be the
1 in 1000
that I can be. So today I want to share my part, my view, in my words on what compassion is and how to make it more than just an idea but instead
a heart act
.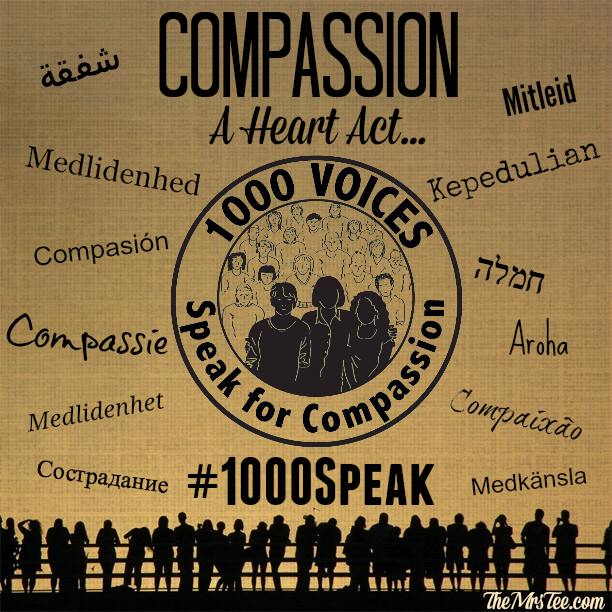 I've been trying to make notes and jot down ideas on how to express my feelings on compassion for weeks now. I was all set to give the proper definition, background and intellectual view. To break it down and explain why it's needed, how to do it and how to do it well. Yet somehow it just didn't feel right. Compassion is less study and more action. There is no check list of steps you can complete and end with you saying "I showed compassion".
Compassion is feeling the needs of others, making movements and taking action to help see that they are met.
The neighbor down the way who has no family – stop in for a visit, be friendly, share a smile.
That friend who needs a shoulder to lean on and an ear to listen – be there, be present and give support.
The shelter or food pantry that needs volunteers – give an hour or a day of your time.
We've heard of the stories how the Starbucks customers who pass on the love by paying for the customer behind them often starting a chain reaction. Those small acts can change someone's entire day. Or how saying a kind word to someone who seems distressed has changed their mind about who they are. Even when a community comes together to help a neighbor in need. Recently, McDonald's has even had a campaign where they would pay for your meal if you simply said I Love You to someone you knew. These are just a few ways compassion has been put into action.
The greatest memory I have of being on the receiving end of someone's compassion is when my family and I were traveling during one of our Military moves. I was pregnant with 2 1/2 kids in tow and
in the middle of an airport
trying to keep the tears inside. It was an overwhelming situation and I was trying my hardest to stay strong for my family. A woman walked up to me, whispered 'Thank You', squeezed a $20 bill into my hand and gave me one of the most comforting hugs ever. Her one act of compassion for a woman I am sure looked like she needed that hug helped me make the rest of that journey. To this day I wish I could find her to say how much that meant to me.
That's it. You don't need a degree, a lot of money or even an entire movement. All you need is you – your desire to help those around you by giving of yourself in spite of yourself. By putting your compassion into action you can initiate change and spread acts of compassion to those around you. We never truly know what another person may be going through or how one small act can make a big difference.
Moving outside of your own situation and reacting to another's. Care for others, see a need and meet the need whenever possible. This is how I teach my children compassion – in it's simplicity. Recognizing a need and moving to meet it. Let you heart lead you to act.
How do you define compassion?
How do you put your compassion into action?
Let's take this day to unite our voices, each one of us 1 in 1000, to commit to at least one act of compassion. A movement of kindness towards someone else regardless of standing, race or judgment. We can each make a difference in someone's day, week and maybe even life.
Want to read a few of the already amazing posts being generated by the amazing members of this movement? Check them out HERE! Spread the word about 1000 Voices Speak For Compassion with the hashtag #1000Speak on Twitter, Instagram and your other Social Media Networks.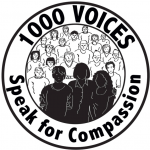 Lifestyle Blogger & Media Influencer
at
TheMrsTee
Tiffany is the ' Tee' behind TheMrsTee. Tiffany is a BlogHer VOTY Award Honoree as well as a Contributing Author with Modern Social f/k/a iBlog Magazine and BlogHer. Growing herself as a Brand and Influencer are always at the center of Tiffany's passion. As a Brand Ambassador, Tiffany has the opportunity to promote and support the brands she loves the most with her own unique perspective. Tiffany has extended her presence beyond her URL to Television as a Panelist for the MomsEveryday TV Show for 2 Seasons and to the stage as a Cast Member of the Finale Season of The Listen To Your Mother Show.
Latest posts by TheMrsTee (see all)