Thinking of who I admire the most in my family when it comes to adjusting and learning how to find new roads during our military journey usually takes me right to my husband. He is the soldier after all. Yet this time, I actually thought of my son – The Teenager. He had no real say in the paths he was placed on as a military child yet somehow he was still able to discover that finding new roads doesn't mean your destination changes but instead that the journey becomes a bit more interesting.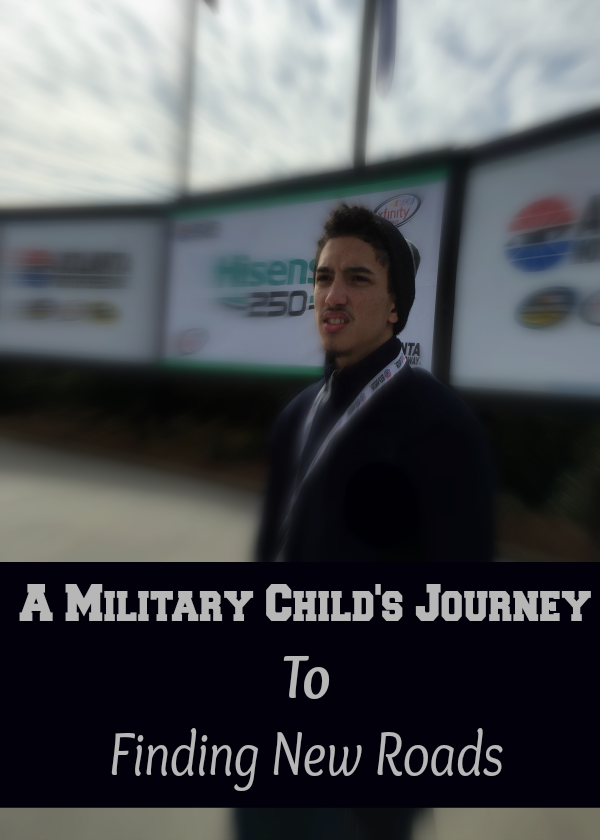 New Experiences
My son is not the typical military child – he wasn't born into this lifestyle. I married my husband when my son was nearly 5 and we did not become truly active until he turned 10. Prior to that my husband was serving as a Reserve and National Guard. So although we new we were a military family we had never experienced the changes it can have upon your life.
Then life happened and like many soldiers my husband made the decision to re-enlist for active duty and with that came a life we had never known before. We moved to North Carolina when my son was 10 and he started a brand new Middle School in a brand new state. We were from New York and although I love my southern home it is a big change from that of a city like The Bronx.
Born and raised there my son was used to city blocks, buildings and the general hustle of a city. So when we arrived in North Carolina to the crickets singing their songs at night and trips down the road taking nearly an hour he was a bit out of place. I saw it in his face, his change of personality and his loss of interest in things he normally loved. As his mother I tried my best to tell him he would adjust, things would get better – all the things we are supposed to say when our children are discouraged.
The Journey Begins
Yet his changes weren't done. Not even a year later we were given orders for Hawaii. Yup Hawaii. To my son (and honestly to me too) it felt like we were being asked to move a world away! He was just starting to find his place, new friends and who he was in North Carolina simply to be asked to leave it all. He was strong. He put on the brave face and we made those flights together – me 8 months pregnant, his 9 month old sister and him – nearly 11 but feeling like he had to be so much older.
As we made our journey, I reassured him once again that things would be okay. He would make yet another set of friends, he would learn the city and we would find our way. I know even as I said it he was finding it hard to believe. Yet it was true. We found new friends who became like family, he learned to love his Aloha home and he even began to participate in the thing he loved the most – band. Things were becoming normal again.
That is until we learned that Daddy was going to deploy. Deploy! We had heard the word so many times but somehow thought we would be spared it's impact. My husband had deployed twice before our marriage but for me and my children this was our first. We had no idea what to expect or how to prepare. All we had was each other.
Finding New Roads
During the deployment we returned to North Carolina where my son reconnected with old friends and found his support system within his band family. He was thriving and I was so proud to see that he had found a new road to reach his destination in life despite the many detours we seemed to take to get there.
After my husband returned we moved back to Hawaii to complete his station there and once again my son found his way. I realized he had discovered that if he found something he liked loved he could pursue it wherever this military journey took us and still hold on to that piece of himself. For him it was music and band.
When we finally returned to our North Carolina home for the final time he was a Senior in High School and he joined marching band. Once he graduated he was blessed to receive a scholarship to his dream school where he pursued a Degree in Music.
There are times as a Military Child that discouragement and fear can nearly overtake them because of the many changes they are put through in sometimes very short amounts of time. Still with a strong support system, encouragement and determination they – like my son – can learn that finding new roads isn't always a bad thing because it can help make the journey a bit more interesting than you can imagine.
The Importance of Support
#ChevySalutes knows the importance of support for military families which is why they are making the amazing effort to show their support to those who have served. Already employing nearly 5000 Veterans and close to 45000 Retirees, GM has gone even through the GM Service Technical College which works towards initiatives to employ returning service members.
In July 2014, GM established the Shifting Gears Automotive Technician Training Program to provide eligible service members with the training they need to pursue careers as GM dealership service technicians upon their return to civilian life.
Join us Wednesday, May 27th at 9pm EST as we party away on Twitter discussing supporting our military as they set out finding new roads after military service. There will be some amazing prizes and trust me you want to be there!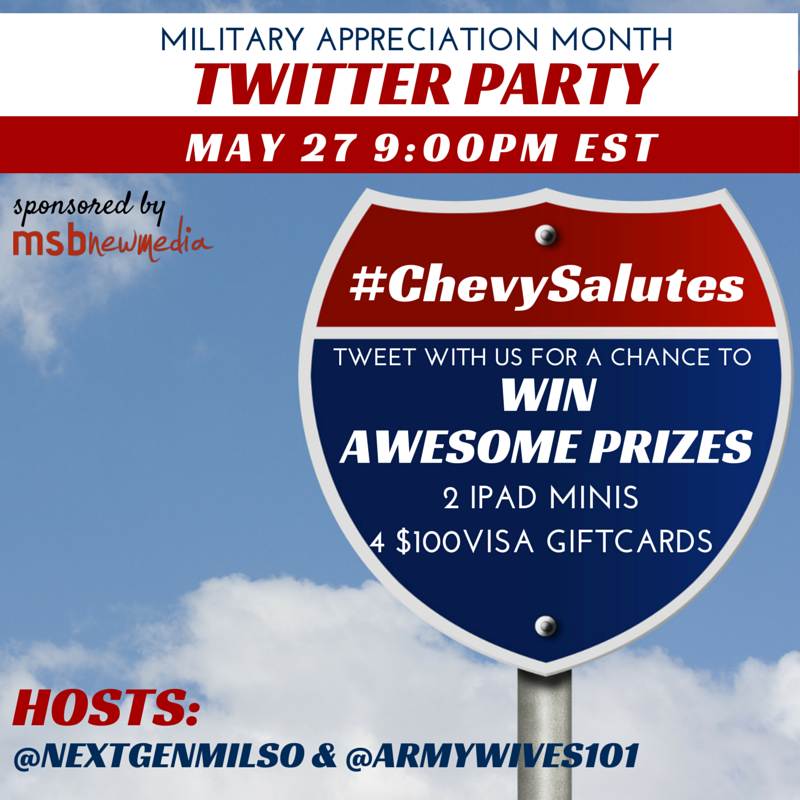 This is a sponsored conversation written by me on behalf of Chevrolet via MSB New Media. The opinions and text are all mine.
Lifestyle Blogger & Media Influencer
at
TheMrsTee
Tiffany is the ' Tee' behind TheMrsTee. Tiffany is a BlogHer VOTY Award Honoree as well as a Contributing Author with Modern Social f/k/a iBlog Magazine and BlogHer. Growing herself as a Brand and Influencer are always at the center of Tiffany's passion. As a Brand Ambassador, Tiffany has the opportunity to promote and support the brands she loves the most with her own unique perspective. Tiffany has extended her presence beyond her URL to Television as a Panelist for the MomsEveryday TV Show for 2 Seasons and to the stage as a Cast Member of the Finale Season of The Listen To Your Mother Show.
Latest posts by TheMrsTee (see all)