Even though Sarah from Small Town Iowan have aparently exchanged questions before (even thought neither of us remembered until this Wednesday) that was before she changed her name…so I say we count this as my first exchange with her as Small Town Iowan!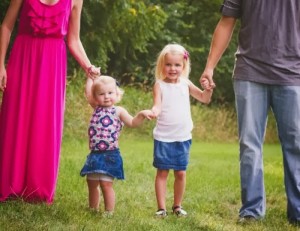 I absolutely love going by Sarah's for a visit.  Here daughters are the most adorable and photogenic Princesses ever (well along with mine 🙂 )She always has a unique view and awesome sense of humor to her posts and they can brighten my day instantly.  You know what's coming up next right?  Yup.  Open that next tab and go visit her…go on, just click here: Small Town Iowan…I'll wait 🙂
As you know, #AskAwayFriday is a
place for you to connect with other bloggers by asking them questions to really
get to know them!
Meeting other bloggers
and making new friends is one of the best parts of this online world!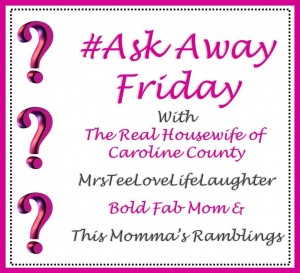 Follow your hosts and guest hosts!
Grab the button and spread the word, the more the merrier!
Get to hopping!  Get to know your fellow bloggers and make some new friends!
Most importantly, have FUN!
Penny from The Real Housewife of Caroline County

Amber from Bold Fab Mom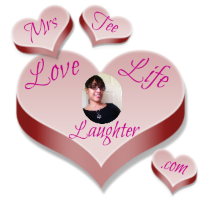 Tiffany from Mrs.TeeLoveLifeLaughter
Stacey from This Momma's Ramblings
Ok, now that you've done that welcome to this week's #AskAwayFriday now let's get to the questions: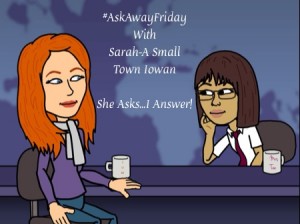 Sarah: Where do you see yourself in 5 years?
In my life, I will have been married for 15 years now and hopefully we can celebrate by taking a lengthy vacation.  I also hope to have finished my degrees and perhaps pursuing some type of work from home situation.
In 5 years I pray to see my Teenager finishing his College Degree and that many steps closer to achieving his desires and dreams.  I will be so proud but also trying to push him to keep up the momentum so that he doesn't fall short of anything he is trying to do.
My oldest Girlie will be 12 and I will probably be freaking out about her starting Middle School (I'm nervous just typing those words in the same sentence as her).  She is my most independent Kiddie and that makes me even more possessive protective concerned for her at times.  I don't see this changing.
My youngest Girlie will be 10 and even though she is the youngest she is the caregiver for all the others.  I know she will have a hard time being separated from her sister so I will most likely be playing comfort and support for her until she learns to adjust.
My Buddie Boy will be 8 and luckily still young enough (hopefully) to give me smoochies and hugs when asked. He will have been in school for a few years so I will probably be one of those moms who is forever present and volunteering just to be close to him. Yup, that's me and I'm okay with it.
On the blog, I would love to be at a point where I am capturing the attention of my readers and follows with quality content and encouragement while still being able to earn a consistent income with Brands and Companies.
Sarah: Your blog is the bomb.com.  Do you have any advice for new bloggers?
Wow!  Thanks for that.  I am truly Blessed and Grateful to have gotten this far in the amount of time that I have.  
My advice for New Bloggers is to ALWAYS be you. The readers who are meant for you will be for you.  Why?  It's simple.  Readers follow a Blogger based on the draw or the similarities and elements they can relate to from that Blogger.  To present anything other than your true self would be so difficult to maintain you wold eventually loose them.  Instead be yourself, this is the easiest way to keep the attention you earn as ell as be able to
Sarah: What does your typical day look like?
 A typical day minus any doctor's appointments or such is pretty routine: 
6AM wake up
Get Kiddies School Ready: bathe, dress, breakfast, etc.
School Drop Offs
Blog
Clean
School Pick Ups
This is where the fun starts, depending on the day
Dance, Girl Scouts, Band Practices
Home: Dinner, Homework, etc.
9PM They SLEEP!!
Sarah:  Favorite room in your place?
My favorite room in my home is definitely the living room.  We very literally LIVE in it. This is the place where we unwind from long days, regroup and simply hang out together. Our living room is the place for conversations, games, entertainment and just Family Time. 
Sarah: If I came to visit you, where would you take me?
We would definitely have to go shopping.  That's just like the No. 1 Girl thing to do, right? 🙂
Next we would need to eat.  Yes I'm sorry eating is always my main priority.  LOL  Our downtown has some cool spots including one that specializes in fried turkey sandwiches…Oh Em Gee! (I hope you like turkey)
Then we would make a Starbucks run and visit a bit more of the downtown area. There are a lot of unique boutiques and shops down there.  There are also some amazing small theaters where they are always showing or performing some cool shows.
Sarah: You are on a lot of social media sites (which I stalk 😉 ) which one is your favorite?
I alway say Twitter (follow me) because it can be one of the fastest and easiest ways to create connections with other Bloggers, Brands and Followers.  You can always start a great conversation with someone without bothering anyone else.
Twitter is also a great way to promote and expand the reach of your Blog.  You can design unque hashtags, include links to specific posts and simply stay present in your Readers daily life. 
Sarah:  If you could trade places with anyone famous for a day, who would you choose? (Ex. Writer, actress, singer)
 Hmm.  I always have a hard time with these type of questions.  I think I would say Alicia Keys.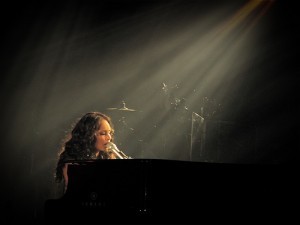 I love her talent, her ambition and her love to help others.  I played piano from age 5-11 but it was never what I would call a natural talent.  I had to work really hard at it.  I would love to experience the feeling of playing from my emotions and writing a song.
Sarah:  What is your go to outfit?
This one is easy.  My favorite running errands, quick day out look is a Hoodie, T-Shirt, Jeans and my favorite worn out pair of Chucks!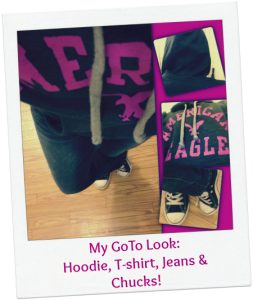 Sarah: You have a wonderful big family, what is one of your favorite activities to do with them?
I do love our Team but being apart a lot limits the activities we do with EVERYone.
Our living room comes into play because with my little daily crew we love to just gather on the couch with every blankie in the house and watch movies with popcorn. If it's a weekend it usually turns into a family slumber party.
We also have The Best Dance Off parties EVER!  Hubby and I our really into music and our playlists are expansive so we pick one and let it play while the Kiddies have a dance competition in the middle of the living room floor. It's the most fun!  They get rid of a bit of extra energy and we get a night full of love and laughter.
If we want to venture out it tends to get rather costly but most times the kiddies will end up at some sort of fun house or bouncy house type place.
Anything we can do together is good for us! 
Sarah: You're a big coffee gal, what is your favorite drink?
Oh Sarah!  Sarah, Sarah, Sarah…I can't pick just one!  It is close to impossible.  I try a different flavor recipe almost weekly and each time I do that one becomes my favorite!  LOL  Right now I really love the Caramel Frappaccino…we have had a few warm day teasers and I grab one every time.  It's cool, refreshing and with a bit of extra caramel a great indulgence.
Also, if you love #AskAwayFriday and would like to participate feel free to contact Penny over at Real Housewife of Caroline County, drop me a message in the comments, through my Contact Me or through any of the participating Bloggers and we'll be sure to let you know how to get started and get connected.


Lifestyle Blogger & Media Influencer
at
TheMrsTee
Tiffany is the ' Tee' behind TheMrsTee. Tiffany is a BlogHer VOTY Award Honoree as well as a Contributing Author with Modern Social f/k/a iBlog Magazine and BlogHer. Growing herself as a Brand and Influencer are always at the center of Tiffany's passion. As a Brand Ambassador, Tiffany has the opportunity to promote and support the brands she loves the most with her own unique perspective. Tiffany has extended her presence beyond her URL to Television as a Panelist for the MomsEveryday TV Show for 2 Seasons and to the stage as a Cast Member of the Finale Season of The Listen To Your Mother Show.
Latest posts by TheMrsTee (see all)