Have you ever met someone you simply connected with? You had the same foundational values and felt like you could understand where and what their motivation was mainly because it was so similar to your own? I have met a person just like that is Sherri from God Life Happy Wife. She is a Woman of Faith, A Wife and Devoted Mother. Her Blog is all about being an encouragement to others and she definitely does that. I know when I go by to visit her I can expect to be uplifted, encouraged and even get a bit of Fashion ideas while I'm there 🙂 So having this chance to get to know her even better through #AskAwayFriday is awesome.

As you know, #AskAwayFriday is a
place for you to connect with other bloggers by asking them questions to really
get to know them!
Meeting other bloggers
and making new friends is one of the best parts of this online world!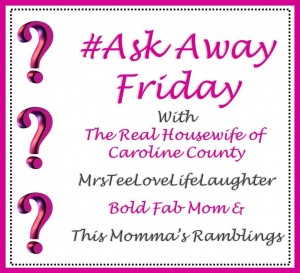 Follow your hosts and guest hosts!
Grab the button and spread the word, the more the merrier!
Get to hopping! Get to know your fellow bloggers and make some new friends!
Most importantly, have FUN!
Penny from The Real Housewife of Caroline County

Amber from Bold Fab Mom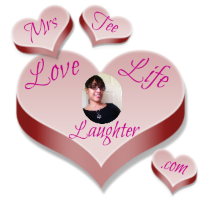 Tiffany from Mrs.TeeLoveLifeLaughter
Stacey from This Momma's Ramblings
Ok, now that you've done that welcome to this week's #AskAwayFriday Sherri sent me over some really great questions so let's get right to them …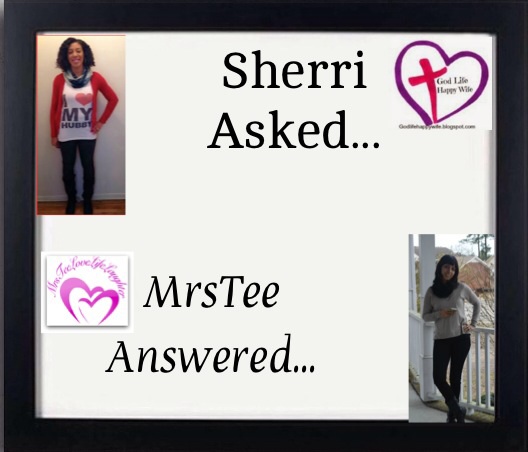 1. You had the opportunity to live in Hawaii for a while, which I'm sure that was an awesome experience. My hubby & I always talk about this. What is one place you would like to live when the kids are grown and gone and it's just you and your man?
We actually have spoken on this several times and each time we go back to Hawaii. We loved our Aloha home and it was truly a wonderful place to live.
2. I know that you and I have quickly become blogging buddies, but I recently found out through your blog post that we are also birthday buddies celebrating our birthdays on August 6th. Tell me one of your favorite birthday memories?
Do we really!?!?!? Woot! Woot! Go us! I had no idea 😀 My favorite Birthday memory would definitely have to be my 30th because I was on a plane to Hawaii getting ready to see my Hubby after being apart for almost 6 months. I was totting a 10 year old, a 9 month old and 7 months preggers but I was just so happy to be on my way to him none of that mattered. Being reunited with him was definitely my best Birthday present ever!
3. Out of all your kids which one would you say is most like you?
Wow! Toughie. I really can't pick one because all of them have different aspects of my personality. My Teenager has my anti-social traits. When he is in a crowd you will barely notice him as far as making a scene or even much fuss. The twist to that is he is very popular but he tends to call very few people his 'friends'. I am the same way.
My oldest Girlie has gained my compulsion with being neat and all things clean. She has a very sharp eye for details and doesn't like being around or touching anything messy. My youngest Girlie is very tender hearted and often takes things people may not see as hurtful very close to her heart. While my Buddie boy is lovable all day every day and I tend to eat it up since we are probably the only ones in the home who wake up hugging someone…LOL
4. What is a word or phrase that you use a lot?
Haha! Seriously. I say this so much my Hubby can almost beat me to it in certain situations. I can use it as a statement: SERIOUSLY. or even a questions Seriously? It is definitely my GoTo statement and I say a lot with it even though it is technically one word.
5. What is one long term goal you have for your yourself or your blog?
I'll go with the 'for my blog' portion of the question: My long term goal for my Blog is to become a successful source of income for myself. I want to reach a level where I can offer my family opportunities and experiences that may not come through a normal 9-5 job.
6. What is your favorite bible verse that helps you through those crazy "mommy times"?
7. It's a Saturday afternoon what are you doing?
Hopefully nothing. LOL 🙂 Our weekdays are almost always filled with School, Activities, Homework, Appointments or something! So once the weekend arrives I am all about regrouping recharging and simply being at ease. Occasionally we may have a family birthday party or time with friends but it is still usually rather stress free – no schedule or rushing required.
8. What is your favorite meal to cook?
Ok, I know this is probably so bad but I honestly don't like cooking. Hubby is the best in the kitchen and so is my Teenager. I cook only because I am always hungry and no one can keep up with my eating needs…LOL
That said, my favorite meal when I am cooking is definitely Chicken Parm (yeah I always shorten it), white rice/spaghetti and mixed veggies. My Kiddies and Hubby all love it and it is definitely filling.
9. If you are anything like me you have changed your look over the years. What was your favorite look and how old were you? *Bonus for a photo.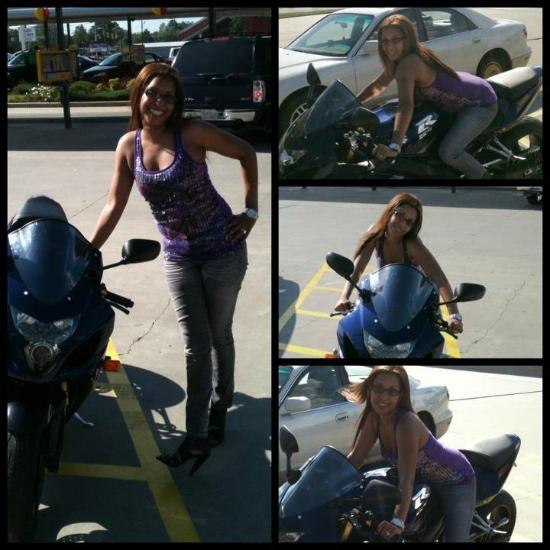 Yes I have changed my look so often. The most recent was maybe 2 years now when I color my hair honey blonde! I had done it in high school before and loved it…unfortunately the color didn't really come out the way I wanted so it was short lived. It actually started breaking my hair off and was the major reason that I had to decide to do a major chop. I took off around 6 inches! I loved my short cut but I am growing back out now at Hubby's request 😉
10. You have said that you are a hoodie girl. Since this is one of your favorite looks it's time to come clean…how many do you own?
Wow! You're gonna just blow my little spot up, huh? LOL Let me see…I had to go do a count throughout my home because I have hoodies in almost every closet. So, as of today (subject to change at anytime) I have 10!
*BONUS*
Sherri asked me to create a cartoon comic of she and I much like the one I did for my #AskAwayFriday exchange with Sarah from Small Town Iowan last week. So here you go Sherri…I hope you like it 😀
Also, if you love #AskAwayFriday and would like to participate feel free to drop me a message in the comments, through my Contact Me or through any of the participating Bloggers and we'll be sure to let you know how to get started and get connected.
Lifestyle Blogger & Media Influencer
at
TheMrsTee
Tiffany is the ' Tee' behind TheMrsTee. Tiffany is a BlogHer VOTY Award Honoree as well as a Contributing Author with Modern Social f/k/a iBlog Magazine and BlogHer. Growing herself as a Brand and Influencer are always at the center of Tiffany's passion. As a Brand Ambassador, Tiffany has the opportunity to promote and support the brands she loves the most with her own unique perspective. Tiffany has extended her presence beyond her URL to Television as a Panelist for the MomsEveryday TV Show for 2 Seasons and to the stage as a Cast Member of the Finale Season of The Listen To Your Mother Show.
Latest posts by TheMrsTee (see all)