I hope everyone is having an amazing day and that Spring has made it's way to your neck of the woods. We have had a beautiful week with 75 and 80 degree days and I am so happy to see the sun! I'm also happy to be exchanging questions with my Bloggy Friend, Herchel from Scruggbug Corner. Yes, her site is just as much fun as it sounds. Herchel shares stories of her transition from Working Mom to Working At Home Mom and we all know that being him win no way takes away the work of a Mom.
As you know, #AskAwayFriday is a
place for you to connect with other bloggers by asking them questions to really
get to know them!
Meeting other bloggers
and making new friends is one of the best parts of this online world!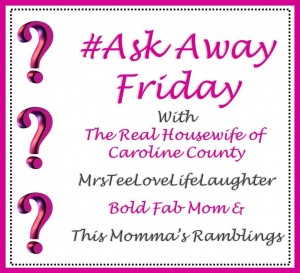 Follow your hosts and guest hosts!
Grab the button and spread the word, the more the merrier!
Get to hopping! Get to know your fellow bloggers and make some new friends!
Most importantly, have FUN!
Penny from The Real Housewife of Caroline County

Amber from Bold Fab Mom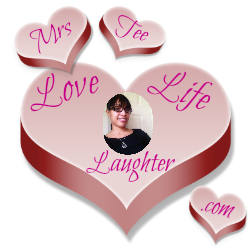 Stacey from This Momma's Ramblings

Did you see that Tagline? What a great description for most of us SAHM/WAHM Moms! I couldn't agree more and I am always excited to see what Herchel has to write about it all and I promise you will be too. So, once you see my answers to what Herchel has picked my brain about this week be sure to head on over to Scruggbug Corner as see what she has to say to my interrogation interview questions.
Here We Go…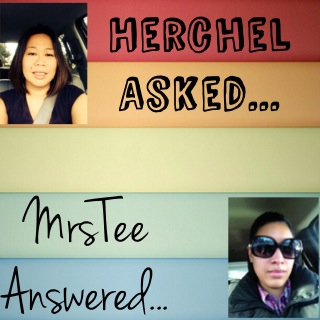 1) Team Haywood is awe inspiring! With such a big age gap between your oldest and youngest what has been the biggest difference in how you parent the younger ones versus how you parented the older ones at the same age?
Thank You! I know..I was a gluten for punishment, huh? LOL It was definitely an adjustment because i had already been through all the different phases of my oldest son's childhood and was getting to the point where he was pretty much self-sufficient. I could come home and he would be making his own lunch, doing his own homework, etc. Going from there to life with an infant again was a bit jarring at times but the joy of having my little girl was worth it all.
As for differences in my parenting, when I had my son I was a teenager so in all honesty a lot of the true 'parenting' was done by my grandmother. I was trying to juggle going to college twice a day and working in between classes. It wasn't easy and I sacrificed a lot of that early quality time with him.
When I had my daughter I was actually considered a high risk pregnancy from about 3 months and my Hubby and I were blessed enough for me to begin my SAHM role from that point. I was able to experience and share in so many more moments with her and be a lot more hands on and involved than I was with my oldest.
That had it's ups and downs because she and my 2 youngest Kiddies are a bit more spoiled by me than he is but he received a lot of spoiling from my grandmother so I think it all kinda balances out 🙂
2) What would be the best thing about having a larger family in your opinion?
Always having each other. I grew up basically as an only child and it wasn't always fun. I had to play alone, eat alone, sleep alone…well you get the idea. Me time was never an issue. I always wished that my sisters were in the same home with me so that I could have that bond they seemed to have with each other.
When I watch my Kiddies together I see what I always wished for being nurtured between them and I love it. So I feel the best thing about having a large family is definitely having each other to be there even when you may not have anyone else.
3) What would be the worst?
Ironically the worst thing is very much the same as the best. It is almost hand in hand a blessing and a downfall because there are also times when I see my Kiddies wanting that alone time and being in a house with 4-6 other Kiddies at alternating times that can be close to impossible. Still I see them work it out and in the end they always end up back with each other anyway. LOL
4) How do you manage to have time to blog, vlog, and always quick to respond on social media? Tell me your secret because I don't know how I would have time to do half of what you do!
Oh trust me it ain't (yes I meant to say that) always easy! The main thing that helps me stay connected and on top of things is scheduling and my trusty iPhone. I plan and schedule out almost every Blog and Vlog at least 1 week in advance 2 if I am having a really good flow of creativity.
When it comes to my Social Media interactions my iPhone is my lifesaver. With all of the Apps available out there I am able to stay connected and informed to almost every one of my Social Media Networks as well as reply, post, support and share all from the convenience of the palm of my hand. I wouldn't trade my iPhone for anything (except maybe the next edition 🙂 )
5) What do you miss most about Hawaii?
The Aloha Spirit. The people of Hawaii are absolutely amazing and the love that they ffer to perfect strangers always put me in awe. Hubby and I often talk about returning and living out our old age there…LOL
6) When you are having an off day, how do you pamper yourself?
An off day? Is there such a thing? No but seriously my Hubby makes sure that I have a day to myself whenever I need one. I actually had one today and wanna know what I did? I had a Starbucks Caramel Frap, went to Kohl's and finally went to the mall and had an 'all by myself' visit to Build-a-Bear where I …. Built A Bear! It was so much fun! I truly love Build-A-Bear and I think I have almost as much fun as my Kiddies every time we go there. I recently built a bear in my Hubby's image for Valentine's and have been wanting to add one to represent myself ever since and today I did.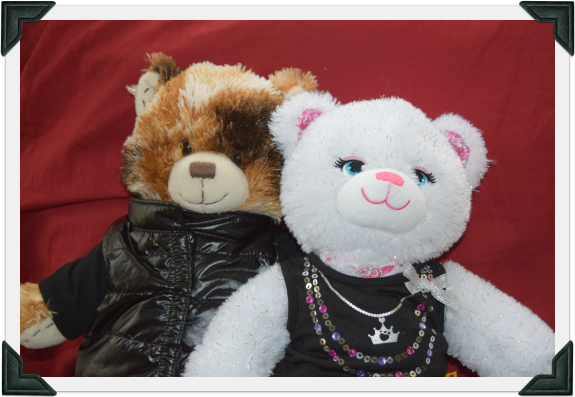 Isn't she pretty? I know you saw her before I brought her home…she is fancy 😉
7) Is there a food that you love but other people think looks or tastes disgusting?
Hmmm. I do have a food combination that I love that my Hubby thinks is weird but I don't know if he really would say disgusting. I absolutely love to eat fresh out the oven biscuits with a bowl of applesauce. The weirdness comes into play (as far as he is concerned) when I dip said warm biscuit ito my applesauce and eat them. I then clean the bowl with the biscuit. Hey! Don't knock it until you try it! It's YumYummy!
8) When I was still working, I used to love waking up a couple of hours before the kids. Now I enjoy late nights. What is your favorite time of the day?
I think early mornings when my little ones are still asleep. I can enjoy a cup of coffee, the peace and stillness plus get some things done most times before they get up. It's my mini 'me time'.
9) I enjoy your sense of style. Where is your favorite place to shop? (Anything new and cute you have a pic of from your favorite store?)
Thank you, I think I may just be finding it myself…LOL I am like a mix of a tomboy and a girlie-girl. A weird combo and most times to find things that fit my taste and style I have to go to several different stores and combine pieces. Right now I am loving Kohl's, American Eagle and Old Navy. I can usually find something in each one of them all the time for almost every occasion.
I actually went to Kohl's today to replace my old worn and beat up sneakers. I have had them since Sophomore year of High School! They finally gave up the fight the week while I was working out with the Hubby trying to train for The Color Run.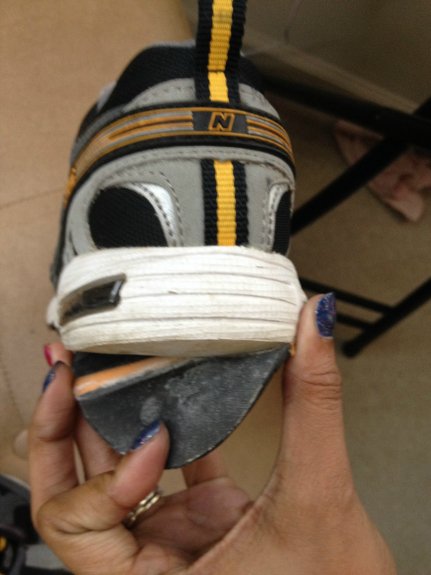 I was a bit excited though because I really wanted a different pair for it anyway to match up with my look… LOL So today I picked up this cute pair of hot pink & black Cross Trainers.
Yes, I know…I have tiny feet. I actually get to buy Kiddies sizes most times because the women's are too big! Can anyone guess what size I am????
10) Folding six loads of laundry at one time or get a root canal?
Ummm…Root Canal! I truly despise folding laundry…and I hate to say it I usually do have just about 6 loads in a week. LOL
Weren't these an amazing set of questions from Herchel? Don't forget to head over to ScruggbugCorner and check out my questions and her answers.
Also, if you love #AskAwayFriday and would like to participate feel free to drop me a message in the comments, through my Contact Me or through any of the participating Bloggers and we'll be sure to let you know how to get started and get connected.
**Disclosure of Material Connection: I have not received any compensation for writing this post. I have no material connection to the brands, products, or services that I have mentioned. I am disclosing this in accordance with the Federal Trade Commission's 16 CFR, Part 255: "Guides Concerning the Use of Endorsements and Testimonials in Advertising."
Lifestyle Blogger & Media Influencer
at
TheMrsTee
Tiffany is the ' Tee' behind TheMrsTee. Tiffany is a BlogHer VOTY Award Honoree as well as a Contributing Author with Modern Social f/k/a iBlog Magazine and BlogHer. Growing herself as a Brand and Influencer are always at the center of Tiffany's passion. As a Brand Ambassador, Tiffany has the opportunity to promote and support the brands she loves the most with her own unique perspective. Tiffany has extended her presence beyond her URL to Television as a Panelist for the MomsEveryday TV Show for 2 Seasons and to the stage as a Cast Member of the Finale Season of The Listen To Your Mother Show.
Latest posts by TheMrsTee (see all)