This week I get to connect and get to know Sarah from The Lomholt Family.  I was so grateful to her for coming to my #AskAwayFriday rescue at the last moment and even taking me on as a 2nd swap buddy!  You Rock Sarah!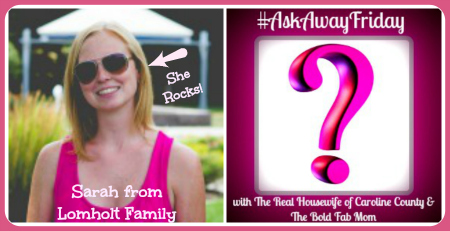 Wait…not only does Sarah rock as a person but her Blog has a bit of Rockstar status to it as well.  Sarah writes about her life as being the wife of a hardworking husband and Mom to 2 absolutely adorable little girls.  Somehow she also finds the time to run a Tutu Business BabyBear Tutus as well and let me just say: "They Are Precious!" and she even offers Adult Sizes! Wanna see?
Cool right?!?!  So don't forget click those links or the pics and go check out
Sarah
and her awesome work!
Now to the matter at hand,
Sarah's
questions for little ol' me!

1.  Ok I love your blog, I'm fangirling over here because it is just so awesome.  I want a big ole family.  How is life with 6 kids?
Thanks Bunches!  I'm completely and totally flattered! Hmmm…life with any Kiddies can be hectic but life with 6 can be 'breathtaking' at times…LOL  There are actually only 4 of the 6 at home right now.  
The oldest is in college and the youngest of the Teenagers lives with his mom and comes home summers and Holidays.  The Holidays tend to be when we have all 6 with us and it is actually tons of fun.  I love seeing them interact, play and simply learn each others personalities.  Hubby came from a big family (he's one of 14) and me being raised as an only child I love being surrounded by family.
When it is just the 4 Kiddies it is still hectic with their school, activity schedules and simply keeping up with their questions: How many moms know having a 2, 4 and 6 year old in one home is like being in a live game of Jeopardy?  🙂

2.  I'm so jealous you live in North Carolina, I would love to live there.  What is your favorite southern meal?
I must admit I love it down here.  I'm a New Yorker in personality but I'm a Southerner at heart.  Now as for my favorite Southern meal I actually ate it all the time before even moving here since my family was originally from down south anyway but it is considered southern so I guess it still counts.  Ready?  I absolutely love myself some Cheese Grits!  Yup!  I add a bit of a twist and crumble a bit of maple sausage bits in with them and even my scrambled eggs.  Hubby calls it my Grit Bowl…it will fill ya up and leave you wanting more all at the same time!  🙂

Not sure.  I don't not like clowns but I wouldn't say I like them either.  I can take them or leave them.  If you mean am I scared of them, No.  They make me laugh (when their funny) and once I leave I'm good until the next time I see one.  LOL

4. If you could bankrupt one person or company who would it be?
Wow.  Great question but I'm not sure I would actually bankrupt anyone.  I know there are companies and even people out there who aren't what I would classify as good yet I don't feel it is my place to make final judgments on anyone.
After all, I am looking in from the outside.  I know nothing of what made them that way or what got them to the place they are.  Only God does.  For that reason, no matter what my opinion of a person or company I leave all final judgement calls up to Him.  I don't want to hold anyone's fate in my hands.  Financial or otherwise.  I wouldn't want anyone to be able to look at me and make a call like that so why should I?

5.  Have you ever been up in a hot air balloon?
No.  I have always loved to see a bunch of them floating up there so high and peaceful together and even solo but I'm not sure I would ever be able to do it myself.  I am really scared of extreme heights.  I'll never say never though 😉

6.  What was the last piece of clothing you purchased?
Hmmm…..I don't buy for myself very often.  I think it was a t-shirt for my Girl Scout Troop.  LOL

7.  Have you ever cried at a film?
 I always come really close but I never wanna be 'that chick'…LOL  I know silly but I have never full on cried, tears down my face.  I may let one slip but then I swipe it and I'm done. LOL

8.  What was your favorite school subject?
I LOVED (and still do) English and Literature.  I'm a true Nerd Girl at Heart and I love all things wordy.  I love how you can take the same set of words and rearrange them and create an entirely new meaning, scenario, feeling or emotion in the reader.

9.  Do you collect anything?
I was getting ready to say no but I need to take that back.  I love Love LOVE wallets and purses.  So, I would say I collect them.  I have so many wallets in different styles, designs, colors, shapes and sizes (here are just a few).  Hubby thinks I'm nuts but I just love them and well if you have a wallet ya gotta have something to put it right?  LOL  I actually just bought one today….with a purse to match!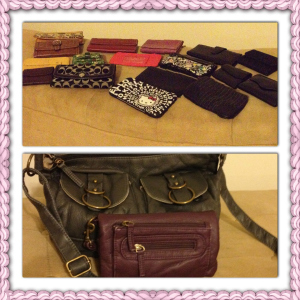 10.  Do you have popcorn with a movie?
Always.  From Hubby, Me to all my Kiddies…you put on a movie we put in the popcorn.  We love it.  I have it stocked up in my garage.  I mean seriously…what's a movie without popcorn?
Did you have fun getting to know me through Sarah?  Don't forget to head over to Penny's at
The Real Housewife of Caroline County
and see who else you can get to know this week through
#AskAwayFriday
!
Lifestyle Blogger, Brand Ambassador, YouTuber & Media Influencer
at
TheMrsTee
Tiffany is the ' Tee' behind TheMrsTee - a Lifestyle Blog created as a place to share her love of all things Faith, Family, Fashion, Food, Fun, Tech & Travel. Tiffany has established her influence within both the Blogging & Vlogging Communities. As a Brand Ambassador, Tiffany has the opportunity to promote and support the brands she loves the most with her own unique perspective. Tiffany has extended her presence beyond her URL to Television as a Panelist for the MomsEveryday TV Show for 2 Seasons and to the stage as a Cast Member of the Finale Season of The Listen To Your Mother Show. A 2016 BlogHer VOTY Award Honoree, Contributing Author with Modern Social f/k/a iBlog Magazine and BlogHer. Growing herself as a Brand and Influencer are always at the center of Tiffany's passion.
Latest posts by TheMrsTee (see all)