Our First #AskAwayFriday of 2014!!!  I am so lucky to be swapping with Sarah from Redemption Diary this week.

Sarah is truly an amazing blogger with a message of Faith, Family, and most of all Community.  Sarah truly believe's in supporting those around her through both her words and actions.  I am so happy to get a chance to ask and answer 10 Questions with her!
1. Why did you begin blogging? 
I began blogging to have a place to share my inner thoughts, reflections and musings.  I have always kept a journal of some sort whether it be pen to paper or through keystrokes.  As I spoke to friends and browsed Blogs I began to think it could be a great way to gain feedback on my writing.
I also saw the potential for a possible side income.  I am a creative person at heart but I also see the possibilities that lay within a well organized and promoted Blog and I would love to get to a point where I could bring in a good source of some 'Momma" spending cash 😀
2. I was perusing your blog and read about your extended stays in Hawaii. What was the best thing about living there? 
 I would have to say the people.  The island itself it absolutely beautiful and the people are an even greater pleasure.  They are friendly and the feeling Ohana (family) is one that is immediate.  They are no strangers.  Whether you are a 'local', military or a tourist the welcome and Aloha greetings are the same.
3. What does a normal morning look like at your house? 
A normal morning in my home is actually rather peaceful.  I get my Kiddies ready for school which is usually started before daylight so they are all in slow-motion.  Once they are settled and eating breakfast the Teenager takes over and helps them along.  We then head out the door for drop offs…
Once I get back home, I usually brew up a cup of coffee (if I haven't already stopped by Starbucks..LOL) and then settle for a bit of Blogger catch up until my youngest wakes up.
When he gets up it's breakfast Round 2 and then a morning of cartoons, play and movies with a bit of Blogging mixed in.
4. What is your favorite social media platform? 
Twitter by far!  I love the community and friendships I have formed in the Blogging world and 9 our of 10 of those have begun on Twitter.
Through the
#SITSSharefest
and
#SMGirlfriends
various Twitter meet-ups and chats I have made numerous friends and Blogger connections that I value greatly.
Twitter is also a great way to help spread the word about your most recent post, your favorite Blogger friends and even you random thoughts throughout the day.  There is always someone on and always a way to connect.
5. If you could do one thing different with your writing what would it be?
I would definitely begin to share my poetry more often.  I actually write poems and different forms of poetry rather often.  It is through poetry that most times my deeper feelings are easiest revealed.  It tends to flow and escape my self-imposed limits and once there…on paper, on screen…it's no longer mine to try and hold on to.  It's very freeing.
Still, I have found myself limiting the amount of poetry I share.  I hope to change this.
6. On average, how long does it take you to write a post?
Unless it is a post that requires extensive imagery and links I can usually finish a posts within an hour.  Especially if it is something from within myself.  A personal writing.
The posts that tend to take a lot of planning, drafting and editing are those for Blog Promotion or Affiliates.  Posts like that require details, facts and in my OCD focused mind a lot of proofing (my perfectionism takes over).  Hitting -Publish- is far harder in those cases.
7. Do you have a writing mentor? 
I honestly don't.  I have always simply written from my inner thoughts.  I allow the voices in my mind to have their say on paper (or screen).  I admire other writers and have a few literary authors whom I love but I can't say I have a 'mentor'.
8. What's your favorite food?
Wow!  Anything edible.  LOL  I love all food.  A better way for me to explain is probably to say the few things I don't eat!
I can't do:  slimmy, slipper or too creamy.  Texture tends to be a major factor in whether I taste something.  Oh and smell!  If something smells gross I don't care how you try to convince me the taste is great I'm not picking up a fork (sorry chittlins' – chitterlings 😀 ).
9. What's the hardest thing for you about being a stay-at-home-mom? 
Probably not having a daily interaction with other Big People!  LOL  I think that is the only thing I miss about being in a daily 9-5 workforce.  I enjoyed the interactions and friendships that came with having a job.  I'm not sure this is the hardest thing but it would be my one Con…
10. Where did you grow up?
I grew up in Da Bronx, New York!  😀
Did you enjoy Sarah's questions?  I know I did!  Now go visit Sarah over at
Redemption Diary
and see what questions I came up with and how she answered them…
Also,  if you love 
#AskAwayFriday
and would like to participate feel free to contact Penny over at 
Real Housewife of Caroline County
, drop me a message in the comments, through my 
Contact Me
 or through any of the participating Bloggers and we'll be sure to let you know how to get started and get connected.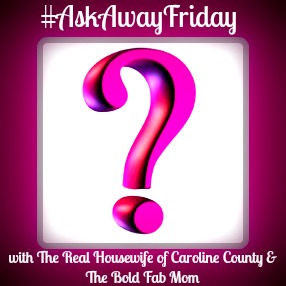 Lifestyle Blogger & Media Influencer
at
TheMrsTee
Tiffany is the ' Tee' behind TheMrsTee. Tiffany is a BlogHer VOTY Award Honoree as well as a Contributing Author with Modern Social f/k/a iBlog Magazine and BlogHer. Growing herself as a Brand and Influencer are always at the center of Tiffany's passion. As a Brand Ambassador, Tiffany has the opportunity to promote and support the brands she loves the most with her own unique perspective. Tiffany has extended her presence beyond her URL to Television as a Panelist for the MomsEveryday TV Show for 2 Seasons and to the stage as a Cast Member of the Finale Season of The Listen To Your Mother Show.
Latest posts by TheMrsTee (see all)