Hey guys! This week I wanted to give another one of my little twists to #AskAwayFriday and share with you 10 things I bet ya didn't know about me…are you ready? Let's Go!
Welcome back to the best link up around…#AskAwayFriday!
What is #AskAwayFriday? Well…
#AskAwayFriday was created by the amazing Penny from Real Housewife of Caroline County and Amber from Bold Fit Mom, as a way to connect with other bloggers with a great Q & A session of 10 questions and 10 answers, between 2 Bloggers! This is a wonderful opportunity to get to know others while allowing others to get to know you and of course there is also the added bonus of making great friends along the way which is one of the best parts of this online world!
We wish Amber nothing but the best as she works to pursue her business and fitness ventures. We will miss having her as a CoHost but know that she has nothing but great success ahead.
When one door closes, another one opens…
We would like to give a huge #AAF welcome to a Brand New Co-Host…
drum roll please…
Welcome Echo from The Mad Mommy!
Now welcoming our wonderful #AskAwayFriday hosts…
Tamara from Tamara Like Camera,
Tiffany from Mrs. Tee Love Life Laughter,
Christy from Uplifting Families,
Stacey from This Momma's Ramblings
and
Echo from The Mad Mommy
So…grab our new button, follow our amazing hosts and co-host, hop through the great link ups and make some amazing new friends!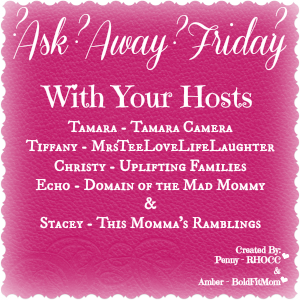 So grab our button, follow our amazing Hosts and Co-Host, hop through the great link ups and make some amazing New friends!
Now, let me share a few things I Bet Ya Didn't Know about me, MrsTee…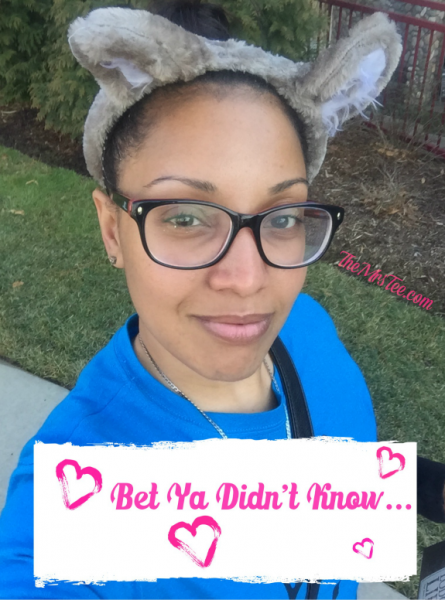 I earned my brown belt in karate at 10 – but then got kicked out for kicking this little punk below the belt after he took a low blow punch on me…aaah well 😉
I played piano for nearly 11 years – in recitals, public performances and even won a few savings bonds. I stopped because it wasn't really a passion…
I used to bite my nails obsessively until I discovered the beauty of a professional manicure and acrylic. No more nail biting for me!
I wore acid wash jeans proudly and shorts…LOL Sorry no pictures 🙁
I owned a pink, black and white pair of LA Gear WITH the mix matched laces!
I didn't have my first cup of coffee until I was 19. Yeah, late-bloomer I know!
I wasn't allowed to listen to non-gospel (wordly) music until I was 18 and considered an adult.
I used to want to be a budding artist. I drew everything in high school and even considered taking it up as a major.
I also wanted to be a lawyer teacher and journalist. Yup all at once. Lol
I didn't learn how to drive until I was 26. My future hubby actually taught me!
BONUS
I just came back from an awesome mini family vacay a Great Wolf Lodge Charlotte and I can't wait to share the awesomeness with you guys so stay tuned in the next week or so! PS – Totally NOT Sponsored so it's just my honest reaction…as always xoxoxo 🙂
Be A Part of The NEW #AskAwayFriday!
Swap With Us…
Be sure to check out our NEW Facebook Page "

AskAwayFriday

" for a great place to meet up and send out a #BuddyRequest and you can be a part of a great Family of Bloggers who love getting to know each other better 10 questions at a time!
Join The #AskAwayLadies As A CoHost…


By adding your email to this link up, you will be added to email correspondence that may be sent by one of our hosts, you may opt out at any time.
Host's reserve the right to remove any links that do not pertain to the #AskAwayFriday theme.
Lifestyle Blogger & Media Influencer
at
TheMrsTee
Tiffany is the ' Tee' behind TheMrsTee. Tiffany is a BlogHer VOTY Award Honoree as well as a Contributing Author with Modern Social f/k/a iBlog Magazine and BlogHer. Growing herself as a Brand and Influencer are always at the center of Tiffany's passion. As a Brand Ambassador, Tiffany has the opportunity to promote and support the brands she loves the most with her own unique perspective. Tiffany has extended her presence beyond her URL to Television as a Panelist for the MomsEveryday TV Show for 2 Seasons and to the stage as a Cast Member of the Finale Season of The Listen To Your Mother Show.
Latest posts by TheMrsTee (see all)