Last night my Kiddies and I met a wonderful little girl named, Carmin.  She was full of cheer, excitement and a concern for those around her.  We met Carmin through her book Carmin Cares where Karen Kilpatrick and An-Lon Chen introduce her and her puppy in a very simple yet engaging way.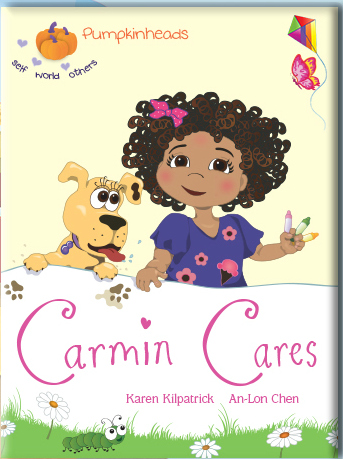 The first thing my Kiddies noticed about Carmin's story was her pretty purple and pink dress with the ice cream cones and flowers plus her sparkly pink shoes.  I must admit I was immediately in love with her look.  Karen and An have done an amazing job with their illustrations making her appealing and adorable all at the same time.
Carmin's story begins with a trip to the park with her puppy.  She is ready to explore and play.  Her fun is brought to a stop when she steps in something that shouldn't be there.  My Kiddies we so caught up in the rhythm of the story that is set by the poetic way the story is written.
In the end of the story Carmin became my Kiddies hero by doing whatever SHE could to help make her park better and a fun place to play in.  As we talked about what they learned and remembered from the story, my 6 year old liked how Carmin didn't just pout about what she didn't like in her park.  She liked that she Did Something!  My 4 year old was so happy with Carmin for doing it all by herself and coming up with her solution on her own.
The only thing that my Kiddies were unhappy with was that Carmin's story ended so soon.  They both cried "Is it over already?"  Needless to say, we ended up reading it a few times more before we finally called bedtime.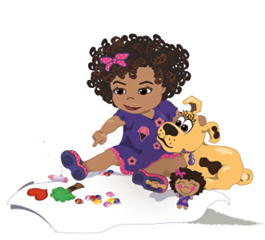 I would recommend this book to anyone who wants to teach their children how to see a problem and then take the steps to help solve it.  Carmin is truly a little girl who cares and knows how to show it.
The style of writing and the illustration capture a child's attention from beginning to end and help them learn the lesson of caring and and following through to make changes when they need to.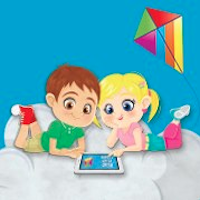 Lifestyle Blogger & Media Influencer
at
TheMrsTee
Tiffany is the ' Tee' behind TheMrsTee. Tiffany is a BlogHer VOTY Award Honoree as well as a Contributing Author with Modern Social f/k/a iBlog Magazine and BlogHer. Growing herself as a Brand and Influencer are always at the center of Tiffany's passion. As a Brand Ambassador, Tiffany has the opportunity to promote and support the brands she loves the most with her own unique perspective. Tiffany has extended her presence beyond her URL to Television as a Panelist for the MomsEveryday TV Show for 2 Seasons and to the stage as a Cast Member of the Finale Season of The Listen To Your Mother Show.
Latest posts by TheMrsTee (see all)