Courage Sacrifice and Love.
Three words with such a great amount of meaning behind each one. When I first started reading Meant To Be By Jessica James I thought I was going to get your typical love story with a typical happy ending. I had no idea that I would end up turning that last page feeling as if I had gotten to know two people who not only chose courage in the face of danger, sacrifice over themselves but found love in the midst of lives many of us could never imagine.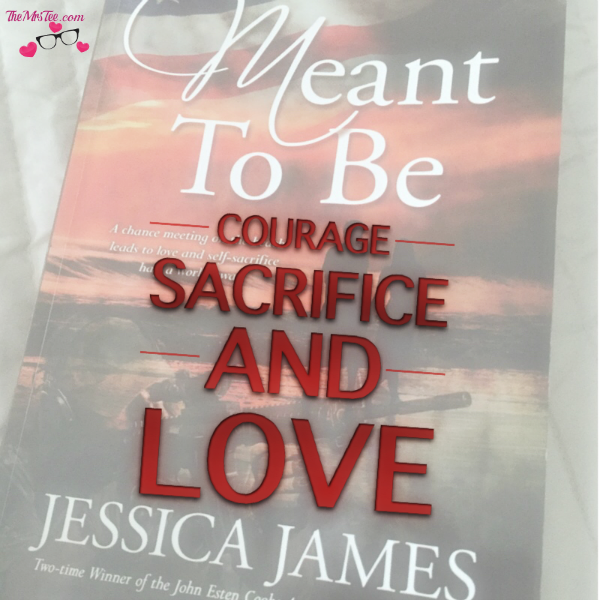 In this novel, Jessica shares with us the story of Lauren and Rad. Two strangers who meet on a beach in the early morning hours of a summer day. Typical romantic setting right? Maybe. Yet once we get to know Lauren and her past of tragedy, loss and courage along with Rad and his life of leadership, danger and sacrifice we realize that this love they find together is one like no other.
As a Military Spouse, I have always known how difficult it can be for my husband to 'turn off' the soldier who is as much a part of him as myself and our children. Still as I learned about Lauren I began to understand that being a woman who has chosen to take a stand for her country as a soldier is no easier. Lauren was a person who made the conscious decision to put aside her life and her possibility for love for the protection of her country. Her losses and desire for justice because of them fueled her so much that she barely noticed what she was giving up – that is until she stumbled upon him that early morning on the beach.
"Lauren tried to concentrate on the words, but she couldn't stop her mind from racing. Who was this disarming, courteous man with his strong arms and his soft voice…"

Meant To Be | Jessica James (Chapter 8 – Pg. 86)
Radcliff. Michael Radcliff. Rad. The stranger on the beach who felt like anything but a stranger. He was a soldier, a leader and a protector but when he met her he was nothing but hers. He knew it from the moment he saw her and throughout their story Jessica allows us to get a glimpse behind the training, skills and mindset of the soldier and into the heart of a man who simply longs to love the woman he knows was meant to be his and a woman who wants to know the love she's seen so many others enjoy.
"His spirit and character were forged for the fight. His innermost essence compelled him to shield and defend. He was a warrior, but he had a heart. A big one."

Meant To Be | Jessica James (Chapter 17 – Pg. 161)
With each page, I turned I started to feel like I got to know Lauren and Rad a bit more. Yes, this was a love story. It was sweet, romantic and nice. But there was more. So much more to who they were and who they would become. They were soldiers each in their own right. Lauren used to handling things on her own, being independent and relying on no one but herself. Rad the leader of a team who became a family, strong and confident in who he was and what he had to do. Together they became each other's best pieces.
"…it occurred to her that she'd spent almost five years in this country, never thinking twice about the loneliness of her life or the pressures of her job But that was before she had been wrapped in the warmth of his arms, lying content by the ocean. That was before him."

Meant To Be | Jessica James (Chapter 14 – Pg. 137)
"Living on the edge and constantly making life-or-death decisions made him and his comrades more acutely attuned to the fragility and preciousness of life. It also made them more aware of the important things – the things that mattered.

Meant To Be | Jessica James (Chapter 11 – Pg. 109)
This brings me back to those 3 words: Courage Sacrifice and Love. They seemed to weave themselves throughout the story of Lauren and Rad's lives. They were always making choices and decisions based on the courage they had been trained to maintain, the sacrifice they were always willing to make and then the love they had found in each other. Love that was unexpected but so well deserved by two people who in their daily lives thought of everyone but themselves were now finally getting the chance to experience over at it's best.
Now obviously I can't tell you the full journey of Lauren and Rad because I think you should experience that for yourself – first hand. I can tell you that once you do you will never regret picking up this book and finding out what it's like to know when things are simply – Meant To Be


Interview With The Author – Jessica James
When did you first realize you wanted to be a writer?
Jessica – I started my writing career as a newspaper reporter—a job that I kind of fell into because it was the only thing available. (Funny thing how Fate works). Still, making the change to writing creatively was a slow process for me. Once I realized that not everyone has characters and scenes running their heads all of the time, I decided it might be time to start writing things down. That's pretty much how it all began.
Your past books have been set during times such as the Revolutionary and American Civil Wars. Has history always been an interest of yours?
Jessica – I'm from Gettysburg, so I've always been surrounded by history and had some interest in it. But I actually caught the history bug when I moved to Virginia for a short time. That's when I became intrigued by the cavalry unit Mosby's Rangers, which led me to do some research on this renegade band of warriors. Luckily, many of the Rangers had written first-hand accounts of their war years, and once I started learning about the human aspect of the war, I couldn't stop reading. In my writing, I try to weave a story that connects readers emotionally to the characters and time period so that they too will be inspired to learn more.
As the only 2 time winner of the John Esten Cooke Award for Southern Fiction what do you love most about the south?
Jessica – Ahh, the South. So many things come to mind—the food, the traditions, the nice manners, the laid back way of living, the great Southern literature. But if I can only choose one thing, I'll say… the weather. Seriously, I'm just starting to thaw out from this past winter. I can't see myself living above the Mason-Dixon Line much longer.
In Meant To Be you share the story of bravery, courage and love between Lauren and Rad. What do you feel should be the take away from their story?
Jessica – Just like with my historical fiction, I hope readers connect with the characters and understand that there are men and women making sacrifices for us every day. Our military is made up of ordinary people who have put duty to country before themselves—which is an extraordinary thing!
If you could only give a Reader one sentence to describe why they should read Meant To Be what would it be?
Jessica – That is a great question! I hope a compound sentence is not cheating.

Readers should read Meant To Be to be swept away by an epic love story that depicts the sacrifices the two main characters must make as they answer the question: What do you do when the person you most want to protect is the one risking everything to make sure you survive?
Get To Know Jessica James on Facebook and Twitter
Jessica will be celebrating the release of Meant To Be
on Facebook Tomorrow, June 14th from 1-3pm EST!
With Prizes!


Meant To Be Giveaway
Now I want to give you a chance to read and experience the story of Lauren and Rad for yourself! Enter below for a chance to win your ver own copy of Meant To Be from the Author herself, Jessica James.
**Disclosure of Material Connection: I received one or more of the products or services mentioned above for free in the hope that I would mention it on my blog. Regardless, I only recommend products or services I use personally and believe will be good for my readers. I am disclosing this in accordance with the Federal Trade Commission's 16 CFR, Part 255: "Guides Concerning the Use of Endorsements and Testimonials in Advertising."
Lifestyle Blogger & Media Influencer
at
TheMrsTee
Tiffany is the ' Tee' behind TheMrsTee. Tiffany is a BlogHer VOTY Award Honoree as well as a Contributing Author with Modern Social f/k/a iBlog Magazine and BlogHer. Growing herself as a Brand and Influencer are always at the center of Tiffany's passion. As a Brand Ambassador, Tiffany has the opportunity to promote and support the brands she loves the most with her own unique perspective. Tiffany has extended her presence beyond her URL to Television as a Panelist for the MomsEveryday TV Show for 2 Seasons and to the stage as a Cast Member of the Finale Season of The Listen To Your Mother Show.
Latest posts by TheMrsTee (see all)