No Material Connection Disclosure
This weekend has been the very first storm of the winter. For us it was a major ice storm that covered the roads and made leaving the house not only risky but unwanted. So instead of venturing out we snuggled up together with our favorite snacks and of course movies. Thanks to Netflix we have customized our family time by creating individual profiles.
Finally made my OWN profile. Now to get MY @Netflix on MY way…

#Netflix #ncblogger #TheMrsTee pic.twitter.com/OEg9fQBOhk

— ? The MrsTee ? (@mrsteeh) January 23, 2016
I'm going to be honest. We've had Netflix for at least 6 years and it wasn't until I kept getting on TheTeenager about all his scary movies popping up on the screen that we discovered we could make individual profiles. That meant this scaredy cat movie watcher didn't have to be startled by his favorite picks of Supernatural, The Shining and others. Initially he was the only one with a separate profile but then we decided to make one for the Kiddies and eventually the Hubby and I created our own as well.
Let me tell you making our own profiles has been amazing. Yes we spend a lot of time watching Netflix together but the other half of that time is spent with the Kiddies watching on their tables, TheTeenager watching on his laptop and the Hubby and I watching on TVs. This means I can have suggestions for all my favorite Investigative shows, Documentaries and yeah a few Chick Flicks without the Hubby feeling bombarded by them. He can watch all his thrillers, adventures and comedies.
Creating each Profile was so simple…
Go To Main Menu
Select Profiles
Choose Add Profile
Name Your Profile
Select Picture
TADA!!
Then Netflix will give you the option to select 3 shows that best describe your viewing styles. Based from your choices you will have a list of not only the Trending Shows and Movies but also those recommended for your specific tastes. How cool is that?!?!
*Bonus: The Kids Profiles are automatically filtered so you never have to worry about them picking something inappropriate to watch!
Thanks to the recent weather for the past 3 days I have had the chance to indulge on a Netflix Binge session to rival all others. I have watched an entire Season of Marvel's Agents of S.H.I.E.L.D, Flashpoint and even a great documentary on Forensic Science. The Hubby has already made it through at least 4 Adam Sandler movies. My 5 year Buddie old loves that he can know at a glance what shows he's finished and the last episode he stopped at while my 7 and 8 year old Girlies have watched nearly every episode of Teenage Mutant Ninja Turtles and Lego Friends while my 19 year old Teenager has been able to scare himself as much as he likes without sharing the fear at all.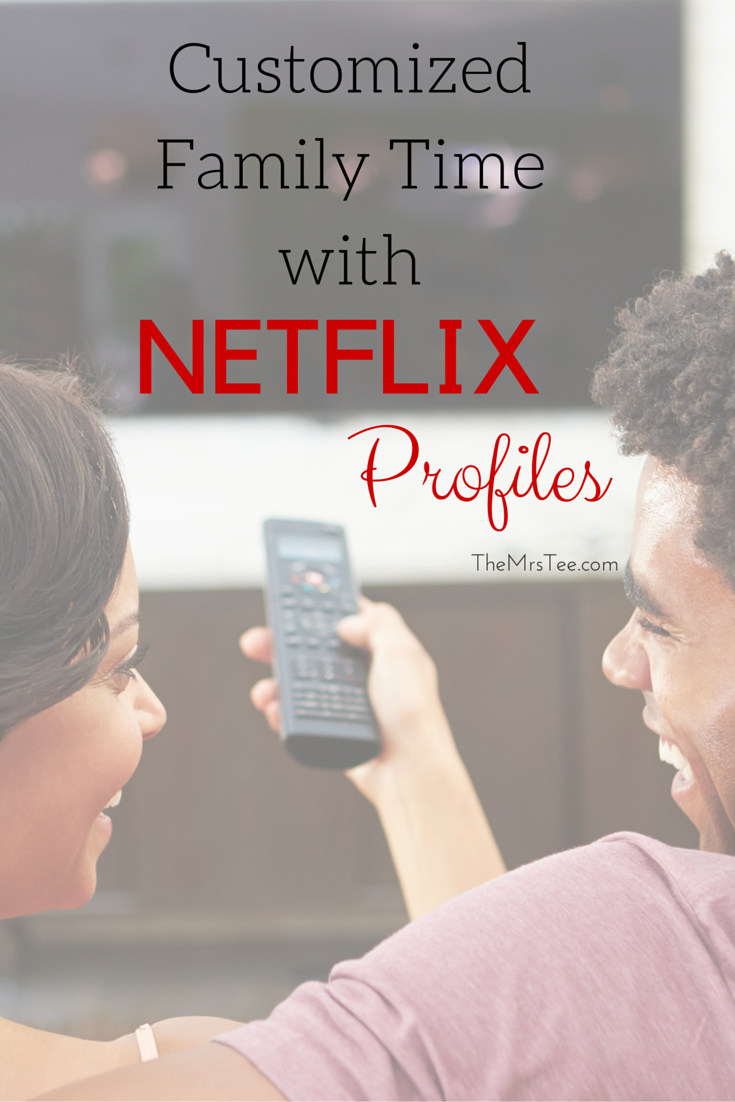 Have you discovered the awesomeness of Netflix
individual profiles…?
What are you currently Binge Watching?
Lifestyle Blogger & Media Influencer
at
TheMrsTee
Tiffany is the ' Tee' behind TheMrsTee. Tiffany is a BlogHer VOTY Award Honoree as well as a Contributing Author with Modern Social f/k/a iBlog Magazine and BlogHer. Growing herself as a Brand and Influencer are always at the center of Tiffany's passion. As a Brand Ambassador, Tiffany has the opportunity to promote and support the brands she loves the most with her own unique perspective. Tiffany has extended her presence beyond her URL to Television as a Panelist for the MomsEveryday TV Show for 2 Seasons and to the stage as a Cast Member of the Finale Season of The Listen To Your Mother Show.
Latest posts by TheMrsTee (see all)