Dear 2015,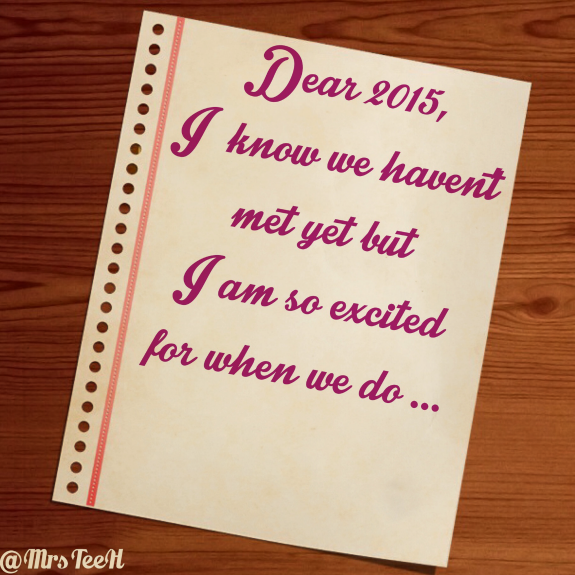 I know we haven't met yet but I am so excited for when we do. I want to share so much with you. In less than 12 hours we will finally begin our 12 month journey together!! I know we are going to do great things together!!
My family and I have had an amazing time getting to know and even love 2014 but I know once we meet you there are so many more adventures in store. How do I know? Because I'm already planning them!
Hubby and I are hoping to finally purchase our own home and we think you are the perfect year to do it. We have moved at least 7 times in the past 7 years and we are so ready to have a place that we can call Our Home. We want a place where we can continue to nurture and support our family and all the things we love. Big, roomy, warm and most importantly able to grow with us and our ever changing family. A place built from our love and the joy we have when we are all together.
The Teenager will be continuing his college experience and you mark the start of his second semester!! He has had his ups and downs – those moments when
being away from home
aren't all he thought it would be. Still, the experiences he is having are definitely worth it. He has learned how to make decisions, have responsibility and be accountable for himself and to me those are lessons needed for every young person. I am sure you will have many more to bring him.
My Kiddies are excited to meet you too!! Your very first month bring my Buddie his 4th Birhday and he is beyond excited. I am already starting to plan the fun and I can't wait to celebrate the lighter he brings to us all each day. We know all little boys love Super Heroes and mine is no different so we are already on the hunt for all the little touches to make his day that much more special. He is also a miniature movie buff and we plan on making that a big part of his day!
Then in February you will bring my Big Girlie into her 8th year. I can hardly believe how fast time has gone. It seems like mere moments ago when I held her in my arms for the first time. She was my wished for baby. The one who waited 10 years to make her appearance but once she arrived she brought a joy I could barely explain. I can't wait to help make all her dreams come true for her special day. She has fallen in love with all things Teenage Mutant Ninja Turtles and we are excited to give these 4 smart, strong and fun character a Girlie twist just for her.
Baby Girlie is going to be finishing up her very first year as a school kid. She has taken to it so well and we are so proud of her. I can't wait to celebrate her graduation during your spring time. I know I will be so proud to see her little face as she makes that transition from Kindergartner to 1st Grader. She is so in love with being a student and I know that she will love the new experiences and knowledge that 1st Grade has in store for her.
Here in Blogland I have so many goals I want to achieve for MrsTeeLoveLifeLaughter during our time with you. I have a few conferences I am looking forward to intending including BlogHer NYC. I mean how can I not go?? It's in my hometown 🙂 I also have so many ideas and plans to help connect with my local Bloggers here in North Carolina through the
NCBlogger Network
. Being a part of such an amazing network of women and knowledge is something that 2014 gifted to me and I can't wait to take that partnership even further with you.
I am so excited about expanding and growing 
MrsTeeLoveLifeLaughter The Channel
and taking my brand beyond my site URL. Ij just ended 2014 with my very 1st VLOGmas and it was so much fun that I can't wait to add Vlogging to the Playlist of the Channel. I love chatting and sharing my day and my thoughts with you guys and look forward to getting to do it even more with you. Plus I can't wait to do a more Reviews, Chats, Fashion and even How To vids to give you guys a great variety of things to choose from. What's a Channel without choices right? 😀
As a Woman, Wife and Mother I have so many expectations, plans, dreams and desire I hope to enjoy with you. So today I just wanted to take a moment and say Welcome To My Life and Let's Do This!
What would
Lifestyle Blogger & Media Influencer
at
TheMrsTee
Tiffany is the ' Tee' behind TheMrsTee. Tiffany is a BlogHer VOTY Award Honoree as well as a Contributing Author with Modern Social f/k/a iBlog Magazine and BlogHer. Growing herself as a Brand and Influencer are always at the center of Tiffany's passion. As a Brand Ambassador, Tiffany has the opportunity to promote and support the brands she loves the most with her own unique perspective. Tiffany has extended her presence beyond her URL to Television as a Panelist for the MomsEveryday TV Show for 2 Seasons and to the stage as a Cast Member of the Finale Season of The Listen To Your Mother Show.
Latest posts by TheMrsTee (see all)