Saturday. 4am and I can't swallow. Well I can but it feels like I have shards of glass in my throat. What is going on? I thought I had gotten over this germ infestation. Okay, let me get some water. Warm water. Nope. Nevermind. That hurts. That hurts bad! Okay it has been 3 weeks of a horrid cough, chest pains and now this. It's time for a visit to the ER. I can't function like this anymore.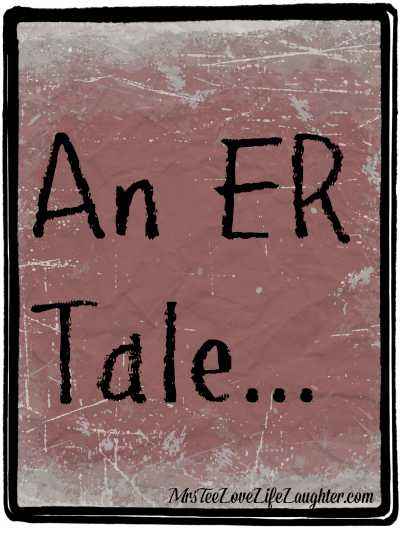 Take a shower. Get Kiddies settled with Hubby. I drive myself to the ER. I have no worries because I think this most likely the same strep that seems to attack me every year around this time.
ER. Registered, tagged and seated. I figure this will be a good 2-3 hours and then I can go home with my antibiotics and try to rest before Monday comes at me in full force. A girl can hope right?
Is that my name? Yup, great time to go wait a bit longer in the 'exam' room. Yeah. I'm on to you guys. I know I'm not seeing anyone anytime soon. This is just the shuffling act. That's fine. I just want to drink a bit of anything without crying. Sit here? Okay. Right with me? Yeah right. But okay. You got me.
A good 45 minutes later. Doctor Maroon Scrubs shows up.
"Hi I see you have a sore throat and a persistent cough."
I manage a raspy 'Yes'.
"Well, before I check you I just want to ask why are you here?"
Okay. Did I just hear him right? I have a severe sore throat (glass shards remember?) and although the cough has eased off I have chest pains with every breath.
"Yes, I know. I mean why didn't you just go see your regular doctor? You see if we take every little thing here we would be backed up for days. You really didn't need to come to the ER."
*In my head* Right. Ummm, I woke up in extreme pain and it's a Saturday. You wanted me to endure that and wait to call my doctor on Monday only to be told I can't be seen until next week? I know this is the ER and trust me I don't take a trip here without a reason. I understand the wait and was prepared for that.
*What I manage to say* I'm in bad pain. I couldn't wait.
"Fine. Let's take a look at your sore throat."
Seriously!?!? This guy was literally balancing on the edge of my last nerve!
"Hmm…okay well it looks like your throat is severely swollen and very red and raw. I am going to have someone come to give you a steroid shot to bring the swelling down because it is beginning to interfere with your airway."
Really Dr. Maroon Scrubs? That sounds a bit …hmmm…I dunno ER worthy don't you think? *I didn't say this because well I could barely talk at all anymore but I was certainly sending every word to him through my stern looks and eye movements*
Nurse Green Scrubs walks in tells me he has my steroid shot. Advises me that it may sting a bit.
Sting a bit? LIAR! That shot ran through my entire arm and left me feeling like I had just been the practice bag for an MMA fighter! Geesh!
That's when the shaking set in. Apparently I was having a 'mild reaction' to the steroids. Great! Is this really happening? Why did I drive myself again? Now I had to wait for them to monitor me. Yay! Ugh. All I want is for my arm to loose the extra 100lbs that shot added, to get some antibiotics and Go Home.
45 minutes later I am finally walking to my car. Meds in hand or well limp arm at this point and trying to figure how I am going to drive with only my left arm since I can't seem to convince my right arm to raise any higher than my waist without pain much like that of a contraction.
I make it. Not sure how but I do. Home. Finally. Water. Pills. Sleep. Rest…for now anyway.
"Momma….!!"
…and so it begins…
Lifestyle Blogger, Brand Ambassador, YouTuber & Media Influencer
at
TheMrsTee
Tiffany is the ' Tee' behind TheMrsTee - a Lifestyle Blog created as a place to share her love of all things Faith, Family, Fashion, Food, Fun, Tech & Travel. Tiffany has established her influence within both the Blogging & Vlogging Communities. As a Brand Ambassador, Tiffany has the opportunity to promote and support the brands she loves the most with her own unique perspective. Tiffany has extended her presence beyond her URL to Television as a Panelist for the MomsEveryday TV Show for 2 Seasons and to the stage as a Cast Member of the Finale Season of The Listen To Your Mother Show. A 2016 BlogHer VOTY Award Honoree, Contributing Author with Modern Social f/k/a iBlog Magazine and BlogHer. Growing herself as a Brand and Influencer are always at the center of Tiffany's passion.
Latest posts by TheMrsTee (see all)