Balance. Finding a way to be or give what's needed in more than one area at the same time. It isn't always easy and for me I tend to make it even harder on myself. I'm a perfectionist, an over-thinker and well…a control freak. I don't like letting go much less admitting I Can't Do It All.
This week I've had to learn to do just that. For months now I have been juggling my roles as Wife, Mother, Blogger and MrsTee. I've been spreading myself thin and I am starting to feel it not only emotionally but physically. It's time to find and reclaim a bit of balance for myself and for the people most important to me – my family.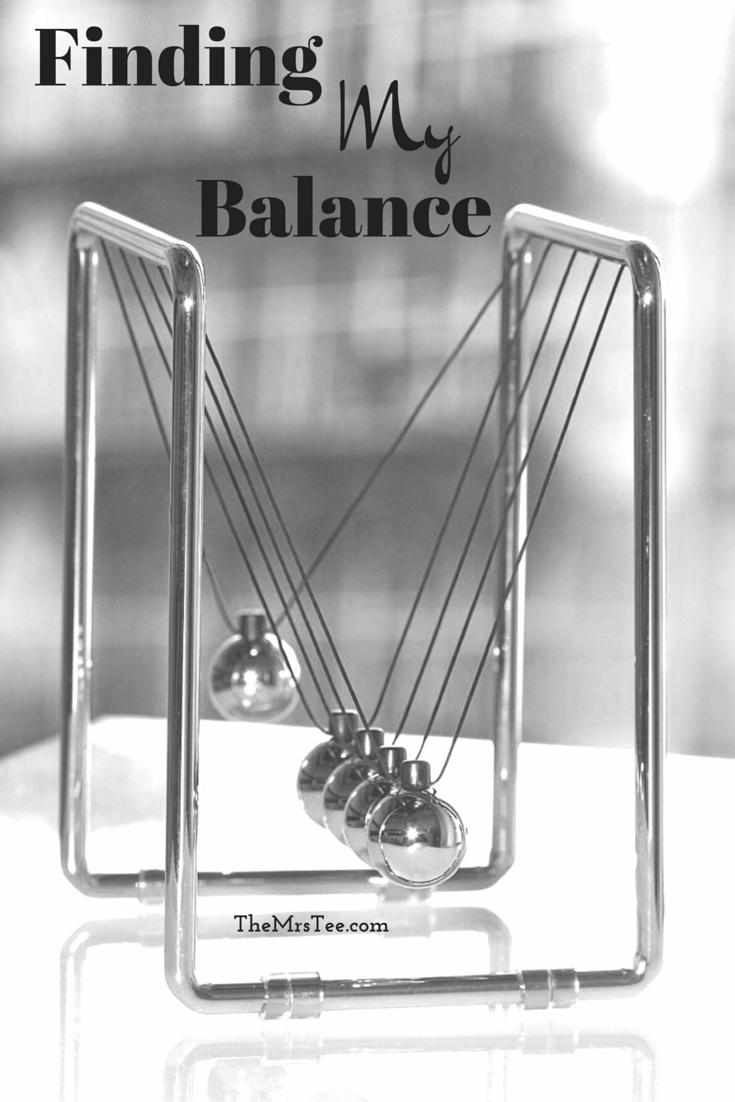 Do It All.
I think I lost the balance I was once so proud of keeping when I started trying to be the best at everything in every area of my life. You want me to write a post? Sure. Volunteer for the next PTA fund raiser? I'm there. Run that document across town? No problem. Yet in the midst of all the 'being' I started to lose myself and the ability to keep things in the order I thrive on. I started forgetting where I needed to be and where. I thought I could do it all. I was doing things at less than 100% and my quality was suffering because of the quantity of things I tried to do. It was becoming too much.
It wasn't until this week when my family had to deal with the unexpected that I realized I hadn't been truly present in any one area because I was too bust trying to be everywhere. I felt guilty and I knew it had to change. So that's where I am today tonight. 11pm Sunday night and I'm letting go.
Saying No.
This morning I withdrew myself from an opportunity I wanted so much yet I knew if I went forward with it I would either drop the ball somewhere else or end up not giving it the attention it deserves. I had too much on my plate and it was time to refocus and adjust. Sometimes finding balance means saying No even when all you want to do is say Yes. I am still upset BUT I know that at this time it was the right decision to make.
Yes I can multitask but I have to be smart and thoughtful. I have to realize that the things I choose to do must work in harmony with each other. No one thing taking away from the other. In order for me to truly be the wife, mother and woman I need to be this is the only way for me to find my balance.
Have you ever felt like you lost balance in your life?
How did you find your balance again?
Lifestyle Blogger & Media Influencer
at
TheMrsTee
Tiffany is the ' Tee' behind TheMrsTee. Tiffany is a BlogHer VOTY Award Honoree as well as a Contributing Author with Modern Social f/k/a iBlog Magazine and BlogHer. Growing herself as a Brand and Influencer are always at the center of Tiffany's passion. As a Brand Ambassador, Tiffany has the opportunity to promote and support the brands she loves the most with her own unique perspective. Tiffany has extended her presence beyond her URL to Television as a Panelist for the MomsEveryday TV Show for 2 Seasons and to the stage as a Cast Member of the Finale Season of The Listen To Your Mother Show.
Latest posts by TheMrsTee (see all)