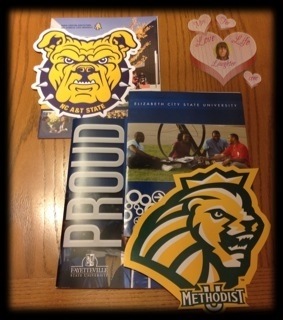 Are We Really There?
A couple of weeks ago I attended a College Fair with The Teenager.  It was our very first but I'm pretty sure it won't be our last.  I must admit, I'm still a bit outside of myself during this entire Senior year experience.  Even as I write this I keep asking myself: Our First College Fair?  Are we really there?  Are we really at that point already?  Is this my reality? It seems to have happened so fast.
Don't get me wrong, I believe in making very informed decisions and I want him to do the same.  Research has always been something I do before any new venture (ahem…I researched Blogging and Networking for like 6 months before I even had a domain).  So it isn't the fair that has me asking these questions, it's the fact that my fist-born is actually at the point where he is looking at and being considered for colleges.  Whew! It can be just a bit overwhelming.
When we saw the advertising for this Fair I immediately told him we needed to go .  I wanted him to look at more than just his favorite pick i also felt he needed to see what colleges had to offer besides the skills of their Marching Band.  Yes, he is totally obsessed with the marching, playing and overall reputation of the school's band.  I had to remind him that is not the only thing that matters and it is definitely not the reason he is attending college.
My Words Mattered
As we arrived at the venue for the College Fair I saw all the other parents and kids lined up and making the march to the entrance.  I wondered what was going through each of their minds.  Most of the kids were probably excited they were finally making another step towards getting out of their parent's house.  Yet what were the parents thinking?  Were they like me, wondering how they reached this point so quickly?  What happened to their little boy/girl? Were they actually ready to release them into the 'real world' and possibly a college dorm!?!?!?
We entered and started making the rounds to all the different tables.  I followed behind him as he weaved his way through the crowd and of course wasn't surprised at all when he ended up at his Top Pick of colleges…the one with "The Best Band Ever, Ma!"  I walked up behind him and reminded him not to ask only about the band.  He gave me his standard "I know MA" reply and I told him I would stand to the side.  I felt this was something he needed to do own his own.
I stood there watching him initially ask about the band but then actually go into details about tuition, dorm fees, scholarships and the actual Important Stuff I had been talking to him about so much.  He knew all of his test scores by heart and what questions to ask about the major he wants to pursue (Biology folks).  He had actually been listening!  I was both surprised and proud all at the same time.  My Teenager was becoming a Young Man right before my eyes!  We continued on to a few more tables and schools but after he spoke with his Top 5 Picks he was pretty much done with the entire experience and honestly so was I. 
The Funny Side
Here is where the Laughter of our family makes a quick appearance.  We both were ready to leave BUT decided before heading out that we wanted to look for the tables giving out freebies.  I know so bad right?  LOL  The worse part was we stood in line for like 10 minutes at a table that we thought had free Lanyards, then as we made it to the front realized they were only PomPoms laid out as a display.  We then had to stand their and listen to their pitch knowing the entire time We Only Wanted The Lanyards! 😀
As I think on the other moments I am likely to experience during the rest of this Senior Year, I also think on how far my Teenager and I have come together as a team.  We have our ups and downs as all parents and children do.  Yet knowing that my words have impact and influence is something that makes all of them worth it.
Have you had any major moments with your children lately?
How have you seen the impact of your words in their lives?
This Post is Linked Up with:
Lifestyle Blogger, Brand Ambassador, YouTuber & Media Influencer
at
TheMrsTee
Tiffany is the ' Tee' behind TheMrsTee - a Lifestyle Blog created as a place to share her love of all things Faith, Family, Fashion, Food, Fun, Tech & Travel. Tiffany has established her influence within both the Blogging & Vlogging Communities. As a Brand Ambassador, Tiffany has the opportunity to promote and support the brands she loves the most with her own unique perspective. Tiffany has extended her presence beyond her URL to Television as a Panelist for the MomsEveryday TV Show for 2 Seasons and to the stage as a Cast Member of the Finale Season of The Listen To Your Mother Show. A 2016 BlogHer VOTY Award Honoree, Contributing Author with Modern Social f/k/a iBlog Magazine and BlogHer. Growing herself as a Brand and Influencer are always at the center of Tiffany's passion.
Latest posts by TheMrsTee (see all)