Review Or Sample Copy Disclosure
Gift Unique. That's my goal for every gift I give. I want to find something that not only speaks to what the person means to me but says it in a unique way. So when I'm searching for Christmas gifts it isn't any different. I look for that perfect gift combination of style, function and that one thing that makes it unlike the ordinary.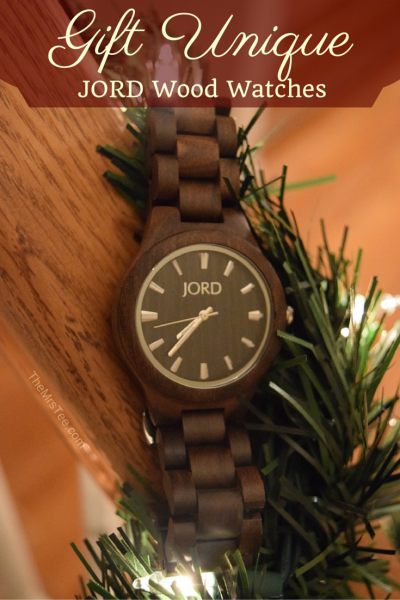 What's more unique than a wood watch? The first time I wore my JORD Wood Watch I received so many compliments but most of all shocked expression when they realized the watch was made of wood! These timepieces offer intricate designs, artistic craftsmanship and style you can pair with any look or taste.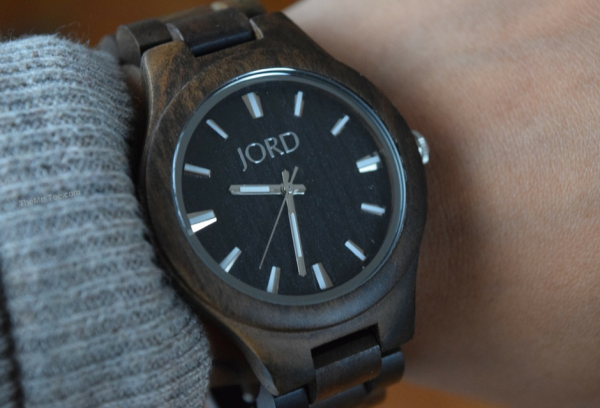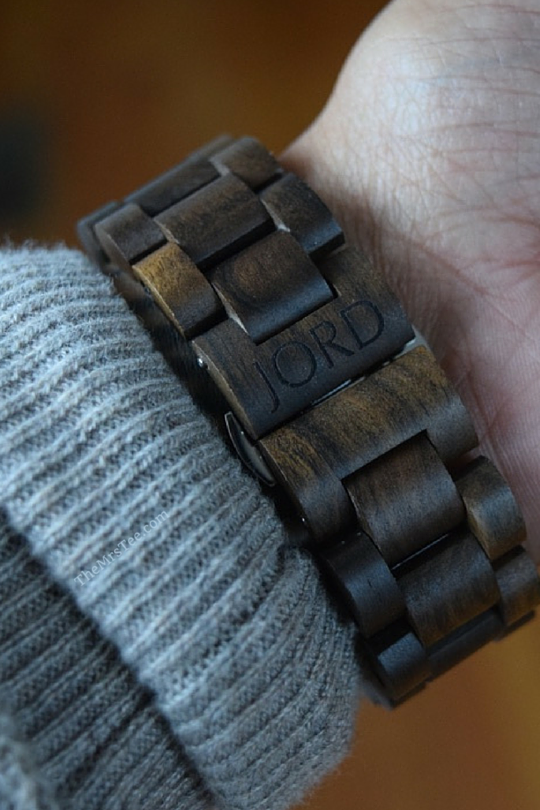 I decided to select the Dark Sandalwood from the Fieldcrest Series because I was looking for a larger faced watch. I am a petite girl (I'm 5′ 2 1/2″… I take that half an inch very seriously!) still I've always loved larger watches. Well the Fieldcrest Series offers a face a bit larger than a normal sized woman's watch with designs that add to every fashion sense.
We are focused on creating timepieces that are modeled after a modern lifestyle. We value sustainability, efficiency, and experiential living. We make our watches for people who don't just have somewhere to be, they have somewhere to go.

—JORD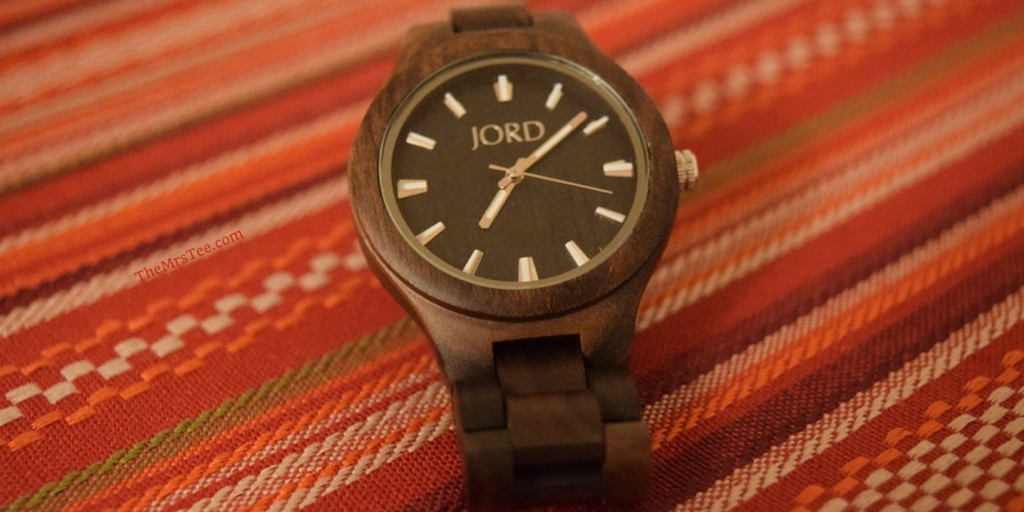 I first fell in love with watches as a child. My Aunt is a woman who was always ahead of the curve with her style and fashion choices and even then she always made sure she had the perfect watch for every look. I remember sitting on the bed watching her lay out her clothes and then seeing her pick from her huge collection of watches. She had small and dainty, big and manly and even a few that were simply playful and fancy. She was the only person I knew who didn't have just one watch!
"The value of a watch is not in being able to tell how much time has passed, but in being aware of the need to make that time count. Moments are bigger than minutes and your watch should tell more than time." —JORD
This was in the early 80s and everyone pretty much saw a watch as nothing more than a way to tell time not my Aunt though she saw things differently- for her an outfit wasn't complete until she had the perfect watch. For her a watch was so much more than a timepiece it was a fashion statement and a way to add that unique touch to her style. She hasn't changed over the years. Even now as I have grown my own watch collection I am still always in awe by hers.
For my Aunt, December is definitely her month. It's not only one of her favorite Holiday Season but it's also her Birthday month. I know that a JORD Wood Watch would be the perfect way to gift unique for a woman who had Nerd glasses years before they were 'a thing'. I know that my love for big watches was inspired by my watch mentor so I think taking a look at one of the amazing pieces from the Fieldcrest Series would bring true gift inspiration. The Green Sandalwood is a piece with such unique coloring that I know it would be something she loves at first sight.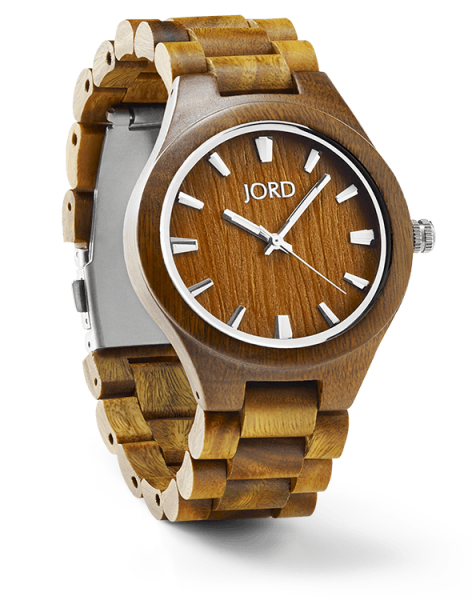 A watch like this could actually give me a chance to live up to her unique watch selection legacy!
Do you have someone you're shopping for this Holiday Season who has an eye for the unique and an awesome sense of style? Then JORD Wood Watches has the piece just for you to gift unique to them!
Now you all know I never like to tease you with a great find without giving you a great giveaway along with it. That's why I've partnered with JORD to giveaway a Limited Quantity of E-Gift Cards worth $25.00 each for the holidays!
Simply Click the IMAGE Below –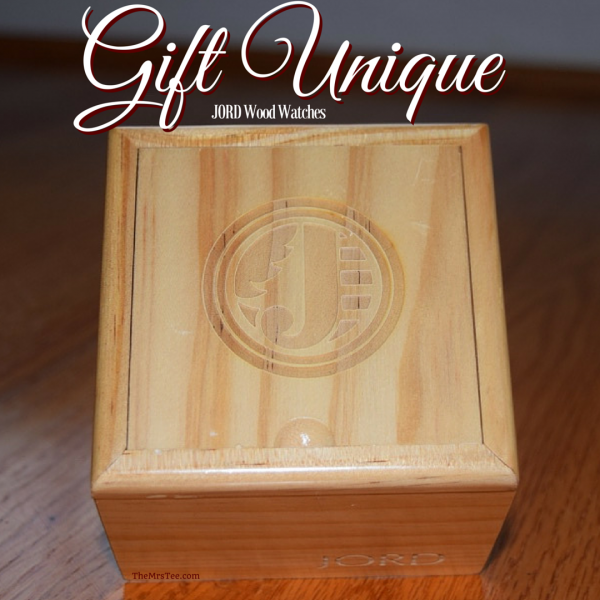 It will ask  your email & your favorite JORD Watch
once you hit enter…
your code will be emailed directly to you! 

HOLIDAY DELIVERY GUARANTEE
UNITED STATES CUSTOMERS
All orders received

on or before December 20, 2015

 are guaranteed to be

delivered before December 25, 2015

 for customers within the continental United States. Customers in Hawaii, Alaska, or other Non-Continental US Territories must order on or before December 13, 2015 to receive the same guarantee.
INTERNATIONAL CUSTOMERS
All orders received on or before December 10, 2015 are
guaranteed to be delivered before December 25, 2015.
HOLIDAY RETURN & EXCHANGE POLICY
Watches purchased between November 1st and December 25th can be exchanged or returned for a full refund (minus shipping and sizing fees) until January 10th. We just ask that you cover the shipping fee back to us. Use our return request page to obtain an RMA number for your return.
Lifestyle Blogger & Media Influencer
at
TheMrsTee
Tiffany is the ' Tee' behind TheMrsTee. Tiffany is a BlogHer VOTY Award Honoree as well as a Contributing Author with Modern Social f/k/a iBlog Magazine and BlogHer. Growing herself as a Brand and Influencer are always at the center of Tiffany's passion. As a Brand Ambassador, Tiffany has the opportunity to promote and support the brands she loves the most with her own unique perspective. Tiffany has extended her presence beyond her URL to Television as a Panelist for the MomsEveryday TV Show for 2 Seasons and to the stage as a Cast Member of the Finale Season of The Listen To Your Mother Show.
Latest posts by TheMrsTee (see all)