Sponsored Post Disclosure
Since the start of the season Growing Up Hip Hop Atlanta has been nothing but drama, suspense and conflicts. This week's episode didn't fail to live up to the pattern. The focus of this episode starts with mom confrontations over Brandon and Reginae's conflict and ends with Shad Moss a/k/a Bow Wow being confronted with a bit of drama from his past with his Dad and a good bit of drama with the rest of the cast in between.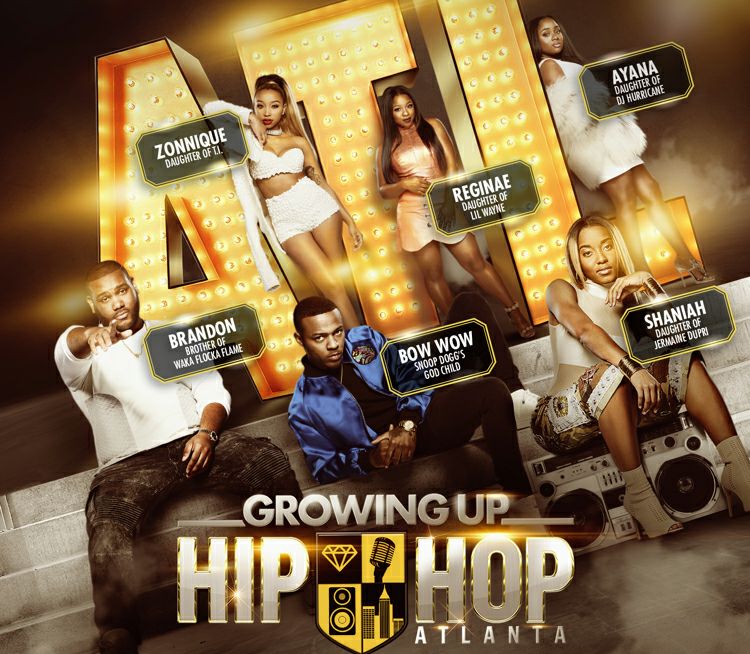 Meeting Of The Moms
Last night's episode started with the much anticipated meeting of the moms between Toya and Ms. Deb. Surprisingly even though things did get a bit heated they ended a lot better than what I thought BUT is this truly the end? Only time will tell because honestly Brandon has yet to admit any fault and I can't see Toya letting the disrespect of either her daughter or her Father – Lil' Wayne.
"Agree to Disagree & Disagree to Agree" Okay Ms. Deb – @GUHH_WEtv #AD #GUHHATL

— ? TheMrsTee ? (@themrstee) June 16, 2017
Hashtag Brandon!
Next up on the drama menu was yet another portion of Brandon. Now I'm going to be honest. I see the guy's hustle and passion for what it is he's trying to do BUT it seems like he gives little to no concern the the people, feelings or rules he is demolishing along the way. This week his drama steps away from music and into the life of his cousin Ayana.
When her girlfriend moves to Atlanta after a 2 year long distance relationship Ayana is desperate to have her meet her father. Thinking perhaps Brandon can be the bridge to that meeting she stand by as he takes Amy out for a 'date'. Let's just say in true Brandon form he manages to not only say the exact wrong thing by accusing Amy of 'turning her out' but then tells her he doesn't feel she is right for Ayana at all.
Yeah. I think that backfired a bit @baeeyana @GUHH_WEtv #AD #GUHHATL

— ? TheMrsTee ? (@themrstee) June 16, 2017
Ayana has openly discussed her anger issues and watching her try to hold that in while confronting him about his mis-step and wrong assumption about being 'turned-out'. I don't think she'll be asking him to meet anyone else anytime soon.
Fresh Princess of Buckhead?
I know I remember watching Reginae's over the top Sweet 16 Party a few years ago. Toya and Lil' Wayne went all out and gave her a party that any 16 year old celebrity would be jealous of. That being said, Reginae is turning 18 this year and apparently feel she should be given one even bigger and better. To be specific she wants a 90s themed party crowning her the Fresh Princess of Buckhead….
Fresh Princess of Buckhead??? Hmmm . . . It could work. I think. @GUHH_WEtv #AD #GUHHATL pic.twitter.com/IxARswqGsk

— ? TheMrsTee ? (@themrstee) June 16, 2017
Well when Toya refuses this girl decided she's gonna bring in reinforcements with her Auntie Tiny. The thing is not only do I see that as a spoiled brat's reaction but she went so far as to say her Mother 'thinks about no one but herself'.
Oh No!! @reginae_carter1 you are bout to get in trouble. Adults don't play that and @TinyMajorMama ain't fallin' for it. #AD #GUHHATL

— ? TheMrsTee ? (@themrstee) June 16, 2017
Okay Missy. That's a bit much and not so smart since you're talking to your Mom's BFF. That's what I thought anyway. Yet apparently in the Hip Hop Atlanta world this behavior actually makes that 90s themed party happen . . . go figure!
…But I'm gonna throw you a 90s party . . . I wish my mama would have LOL #AD #GUHHATL https://t.co/SwX7S1ychh

— ? TheMrsTee ? (@themrstee) June 16, 2017
She's Got Talent
Zonnique is the daughter of Hip Hop Legends T.I. and Tiny (of the group Xscape). From the first episode we have watched her want her dream of singing and becoming a success solo artist to be a reality. Issues with Brandon, delays in her albums all seem to be holding her back.
Awww @Zonnique I just wanna give you a hug. I hope things? get better. You're talent is true. #AD #GUHHATL

— ? TheMrsTee ? (@themrstee) June 16, 2017
This week we finally see her take a bit more control over where she is and where she wants to go. It's yet to be seen if her decision to fire Brandon (yes Brandon you were fired) and sign on with his Mother – Ms. Deb – is one she will be grateful for or regret BUT I'm just happy to see her taking some control.
Sidebar: finding that control ended up in her 'firing' her own Mother – Tiny – yet I must say Tiny took the whole thing a lot better than I expected. I think it may be because she knows her baby girl will be back for Momma's advice sooner rather than later.
@TinyMajorMama took that better than I thought. She's like "you'll be back" #AD #GUHHATL

— ? TheMrsTee ? (@themrstee) June 16, 2017
U Don't Know Me
Last but definitely not least on the list of last night's moments is Bow Wow having his Father pop back into his life in the most unexpected way – Twitter. Apparently his Dad decided to take his frustration with his lack of a relationship with Bow Wow to the world of Social Media.
"…Ever again in life" is a long time. Wonder how this is going to play out @smoss ? #AD #GUHHATL

— ? TheMrsTee ? (@themrstee) June 16, 2017
To say Bow Wow didn't take this well is putting things lightly. As a viewer I could see Bow Wow's pain from past hurts and his abandonment by his Father. He feels that his Dad chose alcohol and everything else over being a Father to him. I think this part of the show is what got to me the most.
BUT if that hurt little boy has never healed that can make it a lot harder to do. @smoss @GUHH_WEtv #AD #GUHHATL https://t.co/0DvnqenUou

— ? TheMrsTee ? (@themrstee) June 16, 2017
I am the daughter of a Father with addictions. He often chose them over me and it wasn't until he was near the end of his life that we had the chance to make things as close to right as they could probably get. As I tweeted throughout last night's show I spoke directly to Bow Wow a/k/a Shad Moss and told him that from simply watching his reactions, interactions and expressions throughout the drama unfolding with his Father I saw more pain than anything else.
"You still have anger inside you" Nail On The Head Ms. Deb. Nail on the head @smoss has to let it out. The pain is still there. #AD #GUHHATL

— ? TheMrsTee ? (@themrstee) June 16, 2017
There are times as children where we feel that our parents have failed us. We then become adults and realize those failures have changed who we are as people and possible as parents ourselves. I think this is where Bow Wow is right now. He will have to make a choice and a conscious decision whether to forgive his Father for himself and his future or hold on to the pain and have it become the part of a continuing cycle in his life and possible the lift of his daughter.
Yasss!!! Mom is right @smoss You're a Dad now which brings a whole new level of responsibility as an example. She's watching. #AD #GUHHATL

— ? TheMrsTee ? (@themrstee) June 16, 2017
I hope to see that he makes a choice that will help him overcome the Father he had and be the Father he wanted. I can't wait until next week to see even more of Growing Up Hip Hop Atlanta and how each character's story continues to develop and unfold.
Don't Miss A Moment
Next week promises to be just as if not more dramatic with a bit of a peak inside the breakup of Tiny and TI…
"You can't spell TIny without T.I." THAT'S DEEP!!! I'm so ready for next week!! @GUHH_WEtv #AD #GUHHATL

— ? TheMrsTee ? (@themrstee) June 16, 2017
Ms. Deb stepping into Bow Wow's Daddy issues and the replay and renew of the Brandon & Reginae conflict so Stay Tuned!
&nbsp
#AD #GUHHATL https://t.co/8hr7XPmvQH

— ? TheMrsTee ? (@themrstee) June 16, 2017
Have you watched Growing Up Hip Hop Atlanta yet? If not, catch up on past episodes and be sure to tune in Next Week 9pm EST on WETV. Also, follow along with the cast during the show on Twitter through #GUHHATL Hope to see you there!
This is a sponsored conversation written by me on behalf of The bLink Marketing Network and Growing Up Hip Hop Atlanta. The opinions and text are all mine.
Lifestyle Blogger, Brand Ambassador, YouTuber & Media Influencer
at
TheMrsTee
Tiffany is the ' Tee' behind TheMrsTee - a Lifestyle Blog created as a place to share her love of all things Faith, Family, Fashion, Food, Fun, Tech & Travel. Tiffany has established her influence within both the Blogging & Vlogging Communities. As a Brand Ambassador, Tiffany has the opportunity to promote and support the brands she loves the most with her own unique perspective. Tiffany has extended her presence beyond her URL to Television as a Panelist for the MomsEveryday TV Show for 2 Seasons and to the stage as a Cast Member of the Finale Season of The Listen To Your Mother Show. A 2016 BlogHer VOTY Award Honoree, Contributing Author with Modern Social f/k/a iBlog Magazine and BlogHer. Growing herself as a Brand and Influencer are always at the center of Tiffany's passion.
Latest posts by TheMrsTee (see all)