I Met Carla Hall Ya'll! Like seriously it wasn't just a quick selfie – she actually talked to me – like full conversation with thoughts and exchanges and such! I found out I look like her niece and we share an obsession with glasses! It's like we're BFFs . . .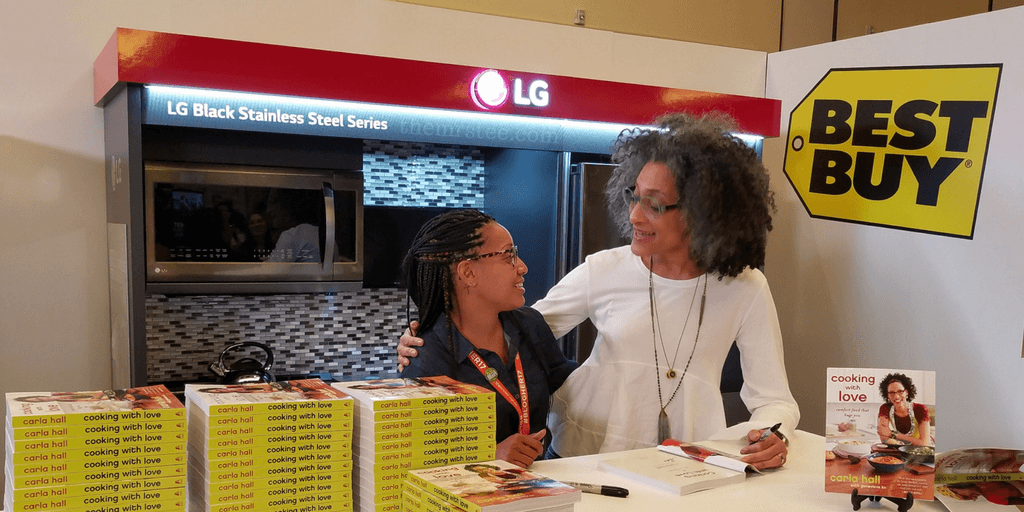 I knew Carla Hall was set to be at BlogHer this year I just hadn't been certain when and where. After Arlene told me that she was going to be signing her cookbook at the Best Buy Booth in the Expo Hall I knew I wanted to be there. Still it was later in the day so I decided to head up to my room to try and get a few things done for the blog and channel. As I was walking towards the elevators I saw her hair. Carla Hall's hair is aaaah-may-zing! I WISH I could wear mine like that
She was talking to another Blogger friend of mine Taya and I couldn't believe how chill she looked. I went into total Fan Girl Stalker Mode and kinda just stood there (perhaps a bit too closely) as they took a photo together. I then introduced myself as the fan who tweeted her last week saying I couldn't wait to see her at #BlogHer17.
I can't wait!!! See you next week @carlahall we can compare glasses ?? #BlogHer17 https://t.co/pR3GQ8rA9Y

— ? TheMrsTee ? (@themrstee) June 12, 2017
People! She remembered!! She said oh yeah – the glasses!! Lawd I was so done. That's when we started chatting about our mutual love or all things frames and glasses. She said she is venturing into new colors and I told her how I'm trying to jump outside my shape comfort zone and try circle frames and such. Let's just say my day was completely made at this point.
Twinsies!!! I found a fellow Glasses/Frame Collector in @CarlaPHall . . . ? #NerdGirlGlasses #Glasses #BlogHer17 #BlogHer #BlogConference #BlogConferences #HiltonStory #Orlando #Florida #Blog #Blogger #BlogLife #NCBlogger #LifestyleBlogger #TheMrsTee

A post shared by TheMrsTee (@themrstee) on
I got a picture with her and floated off to my room to try and remember why I was headed up there in the first place. Later in the day Arlene told me it was time to get in line for the cookbook signing because it was first come first serve. Standing in line I was all nervous because I didn't want Carla (yeah first name level ya'll) to think I was getting photo greedy since we already took a picture earlier.
Once she arrived, and I was next up I decided to get a horizontal shot this time – you know to switch things up! I walked over to her and . . . SHE TOTALLY REMEMBERED ME!!! Needless to say I had to suppress my fan girl and not look crazy. I smiled and she looks down at me – I'm really short compared to her – and tells me how I look just like her niece!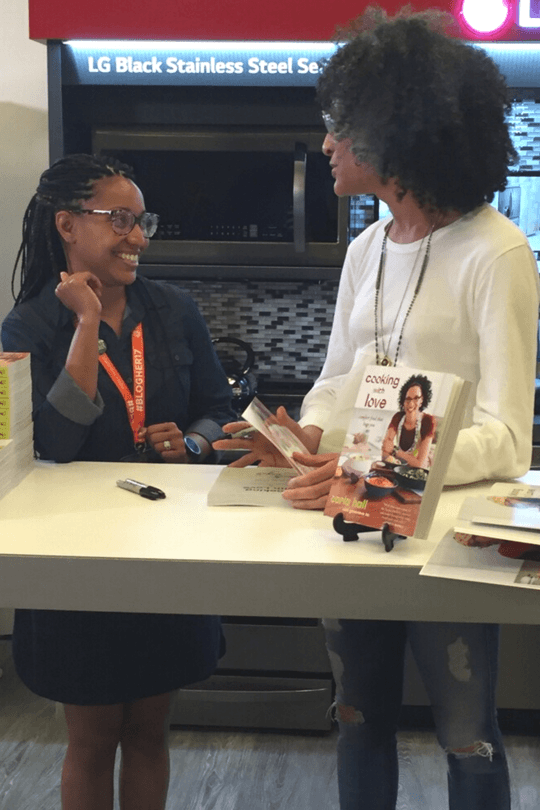 After chatting through a few pictures we finally managed to actually smile for the real one and get through the moment. Now I'm sure you guys know that Day 2 of BlogHer was not just about my meeting Carla Hall. I did way more than that and you can check it all out in the video below BUT it was definitely the highlight of my day.
I may have been in fan girl mode just a teensy bit . . . ? #CarlaPHall #BlogHer17 #BlogHer #BlogConference #BlogConferences #HiltonStory #Orlando #Florida #Blog #Blogger #BlogLife #NCBlogger #LifestyleBlogger #TheMrsTee
PS – I sent my husband a text of my pictures with Carla and the first thing he asked was "are you guys related??" Man I Wish!!
Lifestyle Blogger & Media Influencer
at
TheMrsTee
Tiffany is the ' Tee' behind TheMrsTee. Tiffany is a BlogHer VOTY Award Honoree as well as a Contributing Author with Modern Social f/k/a iBlog Magazine and BlogHer. Growing herself as a Brand and Influencer are always at the center of Tiffany's passion. As a Brand Ambassador, Tiffany has the opportunity to promote and support the brands she loves the most with her own unique perspective. Tiffany has extended her presence beyond her URL to Television as a Panelist for the MomsEveryday TV Show for 2 Seasons and to the stage as a Cast Member of the Finale Season of The Listen To Your Mother Show.
Latest posts by TheMrsTee (see all)