I'm Going To #BlogHer! I'm Going To BlogHer! I'm Going To BlogHer! Wait! I'm Going To BlogHer? Okay so I may be just a teeny bit excited about the fact that I am going to #BlogHer15 in a few weeks but I may also be a teeny bit anxious. I have had a BlogHer Conference on my Blogger Wishlist probably since my first keystroke in the awesome world of Blogging and now I can hardly believe that it's happening.
The day I was able to Register for BlogHer was honestly one of the most exciting days I've had as a Blogger. When I added BlogHer to my wish list I had the stipulation that I be able to pay for the entire Registration on my own from my Blog. I Did It! So as I clicked that Registration button I had a mixture of pride and reservation. Why the reservation you ask? Okay, you didn't ask but here's the answer anyways…
"Oh God I have to MEET People!!"
I am not a solo kinda gal. Meaning, I am very introverted. Yes, I know I share, I'm active on social media, I've been to a BootCamp and hosted Blog MeetUps for goodness sake – heck I even have a YouTube Channel BUT talking through keystrokes and chatting with a camera all day are totally different than that face to face interaction on such s large scale as BlogHer. I'm usually pretty good once introductions are done but that first 'Hello' that for me is the hardest thing. So when I clicked that button giving me a spot at this year's BlogHer Conference the first thing I thought was "Oh God I have to MEET People!!"
For nearly 3 weeks that was all I could think of. Yes, there were other Bloggers I knew attending but I didn't know-know them (yeah folks I just flashed back to High School…lol). So I was about to take a flight, stay in a hotel and socialize with people I've only met online.
What In The World Was I Thinking?
So I started out on a mission to Take The Edge Off I was going to find a way to make that initial 'Hello' a bit easier. I joined a few Facebook Groups BlogHer15 Attendees. The first BlogHer15 Awesome Attendees was created by other Attendees to make getting to know each other less stressful and the other was the Official Going To BlogHer Group. I can't even say how much these two groups have helped me put my nerves to rest ain't I can just be happy and excited about going.
I also found the BlogHer App which is probably one of the most awesome ideas EVER! I mean if you know me at all you know Apps are a big part of my Happy Place. I have an App for nearly everything!
This App is no different, it not only let's me create a Profile to connect with other Attendees but I can start planning my BlogHer experience right now! It includes a list of the Exhibitors, Maps of where they will be, Agenda for the Conference, Speakers, News Alerts and So Much MORE!
I have been using this App daily since downloading it and I know that once I arrive in NYC it will most likely be my most valuable tool throughout.
We Get To Party?
Okay so yeah Blog Conferences are all about learning, connecting, networking…blah blah blah. Get this though! BlogHer is also about being social and getting to know brands and other influencers in natural settings. That means We Get To Party!!
I was in total fan mode when I started to receive emails inviting me to Brand Presentations, Exclusive Events and yup – Parties!
So, now that I have my Registration, Social Connects and even an App to keep me grounded it was time to start scheduling my party time. Here are the ones I plan on giving my full attention…will you be there?
Evening At The Expo – Thursday, July 16th
This is the party that will start all the fun. The very first event of #BlogHer15 is slated to be an experience to remember and I know I can't miss it.
The Multi-Culti Party – Thursday, July 16th
Right after the Expo event I am going to be headed over to the MultiCulti party where we will have the chance to sit down and experience a bit of culture BlogHer style….
The Voices of The Year Reception – Friday, July 17th
I have been excited about this since I saw the notification for #FemVertising Awards voting a few weeks ago. I can't wait to see the Honorees and get to see and connect with their amazing work.
Killer Karaoke – Friday, July 17th
Okay, Okay I know…if I'm such an introvert why would I want to get up a sing in front of a couple 100 BlogHer Attendees. What can I say: Music Sets Me Free!! I can so excited for this party and can't wait to give my best notes and probably a few misplaced lyrics a place to shine 🙂
McDonald's Closing Party – Saturday, July 18th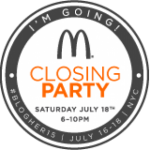 Of course we all know the saying "Save The Best for Last" well BlogHer is taking that to an entirely NEW level with a CloseOut Party that I am sure will become something I talk, chat and Blog about for months to come…LOL
Featuring Nick Canon, Boyz 2 Men PLUS food Sponsored by McDonald's this party is definitely where you will find me Saturday night!
Are you going to #BlogHer15?
Let's connect! Leave a comment below OR find me on the BlogHer App – Tiffany Haywood a/k/a TheMrsTee is my name Blogging/Vlogging Is My Game 😀
Lifestyle Blogger & Media Influencer
at
TheMrsTee
Tiffany is the ' Tee' behind TheMrsTee. Tiffany is a BlogHer VOTY Award Honoree as well as a Contributing Author with Modern Social f/k/a iBlog Magazine and BlogHer. Growing herself as a Brand and Influencer are always at the center of Tiffany's passion. As a Brand Ambassador, Tiffany has the opportunity to promote and support the brands she loves the most with her own unique perspective. Tiffany has extended her presence beyond her URL to Television as a Panelist for the MomsEveryday TV Show for 2 Seasons and to the stage as a Cast Member of the Finale Season of The Listen To Your Mother Show.
Latest posts by TheMrsTee (see all)