Thanksgiving 2015 came and went in 24 hours. Yet it started for me many hours, days and weeks before. This year has been one of amazing moments, memories and discoveries. I have accomplished things here in my corner of the Blog-O-Verse (yup just made that up) that I only dreamed of and my life's blessings for my family have been breathtaking to say the least. So I decided to take a few moments of this early morning after to simply share my thoughts in thanks for this Thanksgiving and all it brought.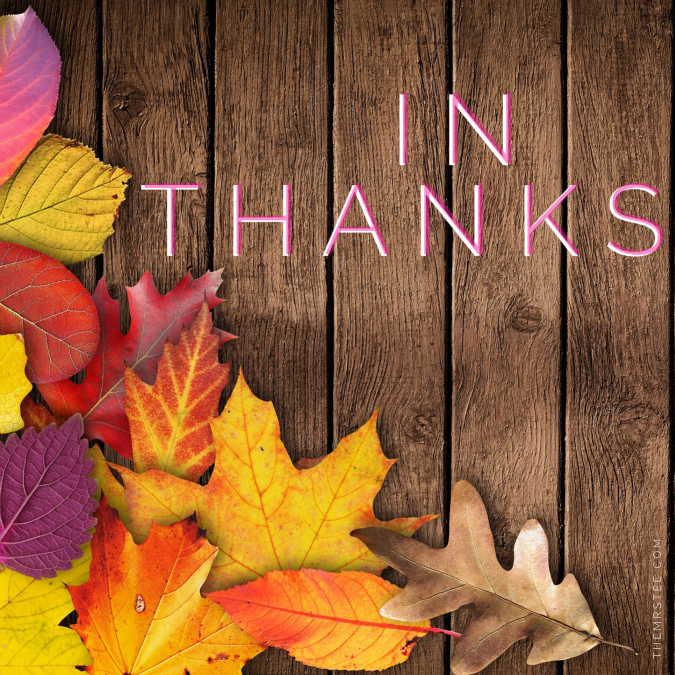 Thanksgiving for me started Wednesday morning. I almost always wait until the last minute for most things and prepping for this year's dinner in our new home wasn't any different. I had so many things I wanted done, set and ready that I thought out for the past month yet somehow putting all of that into action still didn't happen until the week of. *Any other procrastinators in the room??
Somehow though that last minute pressure always brings inspiration, excitement and fun. I was out of the house before 8am and in the stores. I finished grabbing my last minute decor, side dishes, a few more main courses and then headed home to start my marathon cooking to be ready for the day ahead. I promise every time I brave to aisles searching for that ham I feel much like Nora Krank on her hunt for the hickory honey ham. After my mission was accomplished and I had my cart full I headed home to get started.
Now I am not a chef or even a cook. I actually hate cooking but it isn't because I can't do it. I just rather eat than prep. LOL Don't judge me. Still for some reason Thanksgiving is different. Thanksgiving is all about showing and sharing your love on a plate with your family. At least for me. So when I crank up that oven and light those stove burners I am always anxious to get everything just right. Thanksgiving in my home is a combination of traditional and our personal faves. Turkey, stuffing, mac & cheese, cranberry sauce plus ziti, chicken parm, honey glazed carrots and of course my daughter's favorite honey glazed ham.
This year went pretty smooth with all dishes spared from burning and only one finger sliced in the process. I cut off the kitchen light around 6pm and decided to give myself the night off with an early start planned for Thanksgiving Day.
That morning my Hubby worked a bit of Turkey magic making one of the juiciest turkeys we've had yet and I finished off our side dishes. The day was going well. Dinner was served early evening and we ended our day with full bellies and full hearts.
For me this is what Thanksgiving is all about. Taking the time out of our year of busy-ness and preoccupation with making money, making moves or even making an impression and instead giving thanks for what has already been given to us: family, friends and moments together.
This year that's what I reflect on in thanks…the moments and the people I get to spend them with. Here's to many many more and most importantly making time to be thankful for them both.
What did you reflect on In Thanks this year?
Lifestyle Blogger & Media Influencer
at
TheMrsTee
Tiffany is the ' Tee' behind TheMrsTee. Tiffany is a BlogHer VOTY Award Honoree as well as a Contributing Author with Modern Social f/k/a iBlog Magazine and BlogHer. Growing herself as a Brand and Influencer are always at the center of Tiffany's passion. As a Brand Ambassador, Tiffany has the opportunity to promote and support the brands she loves the most with her own unique perspective. Tiffany has extended her presence beyond her URL to Television as a Panelist for the MomsEveryday TV Show for 2 Seasons and to the stage as a Cast Member of the Finale Season of The Listen To Your Mother Show.
Latest posts by TheMrsTee (see all)