The moment my son received his acceptance letter for College I felt a weight lift off me. I'd done it. I'd accomplished one of the main things parents have on their list of things to do: make sure they make it out of High School. He was going to be attending one of the major Historically Black Colleges (HBCU) in North Carolina as well as pursuing his love of music. I was so proud and full of excitement for where he could go and what he was going to do. Yet there came a time not too long ago when I had to realize it's not about me. That time when I had to accept that part of my son growing up into a man was learning how to let go and at times stand by as he started choosing his own path.
Living My Dream
Our journey as a family through my son's High School years wasn't always easy. There were times of difficulty, rebellion and discipline yet through it all I kept that goal in mind. I just wanted him to make it through High School and to the college that would give him the best foundation for life.
As a teenage parent my College dreams didn't all go the way I planned. My dreams of attending an HBCU and being like all the kids on A Different World had to have a few adjustments when I got pregnant during my Senior year. I still attended college and still maintained my 4.0 Average yet the 'College Life' seemed to be something that just wasn't meant to be for me.
So when it came time for my son to make that next step I had so many dreams for him. We talked, argued and agreed on schools throughout his Senior year. I wanted him to live in the dorms so that he could have that full College experience. I knew that it would also be easier since he was applying as a potential Marching Band member which meant he would need to be on campus 24/7 for practices.
The day we moved him into the dorms I walked around in awe. The campus was huge. We walked around and I got to see the library, the health building and so many others. The football field looked amazing and the music building was just as I had pictured it. It was as if all the buildings were from scenes in A Different World and all I could see was my son being here – in the midst of it all living my dream.
What Did He Want?
See that there. That last sentence up above. That's where the problem began. I started thinking of everything my son was experiencing as being a part of my long lost college dreams. I wanted him to have everything I didn't but what I didn't consider was what he actually wanted. My son is a good kid. A great one even (yes I know I'm biased) and he has always tried his hardest to please me. My disappointment has always been his biggest weakness. Yet I forgot – or maybe ignored – all of that because of what I wanted.
Throughout the journey to College he had often said…
"I'm not like you Ma."
"I'm not a nerd."
"I'm not sure want to be away from home"
I saw them as simple nerves. He had never lived away from home. He was just scared and anxious. Everything would be fine. I knew he could do this. The problem was I never asked – what did he want?
It's Not About Me
What did he really want? Out of his life, with his education, for his future. I didn't bother to sit down and ask that at all. I'm not even sure how I skipped over that in all my planning and dreaming but I did and it wasn't okay. So when he came to my Hubby and I at the end of Freshman year with that look he always has when he doesn't really wanna say something I shouldn't have been surprised.
He told us that the whole HBCU, living on campus, music major thing just wasn't him. He explained that it had never been his dream. He wanted to achieve it because I wanted it. The moment he said that I realized how wrong I had been. I had been living out my Teenage dreams through his Teenage life and it wasn't fair. As he continued to tel us how he needed to be home and what he really wanted to do I realized the one thing I missed that day at his High School graduation when all I could do was see the future I wanted for him. It's not about me – it's all about him.
It's All About Him
My son is home now. He's still in school – he is attending a local college where he comes home everyday and he's making the first steps towards pursuing his dreams to be what he wants to be. He grew up admiring and watching his Dad be a hero and he has dreams very similar in paths.
It took a full school year of my dream school but I realize now this decision and these choices are his to make, not mine. I will have to live with them but more importantly so will he.
Am I okay with it? Not completely. I'm scared. I wanted so much different for him. But see that's the thing. I have to learn to take the I out of the equation and realize this life he has is no longer about me but instead it's all about him.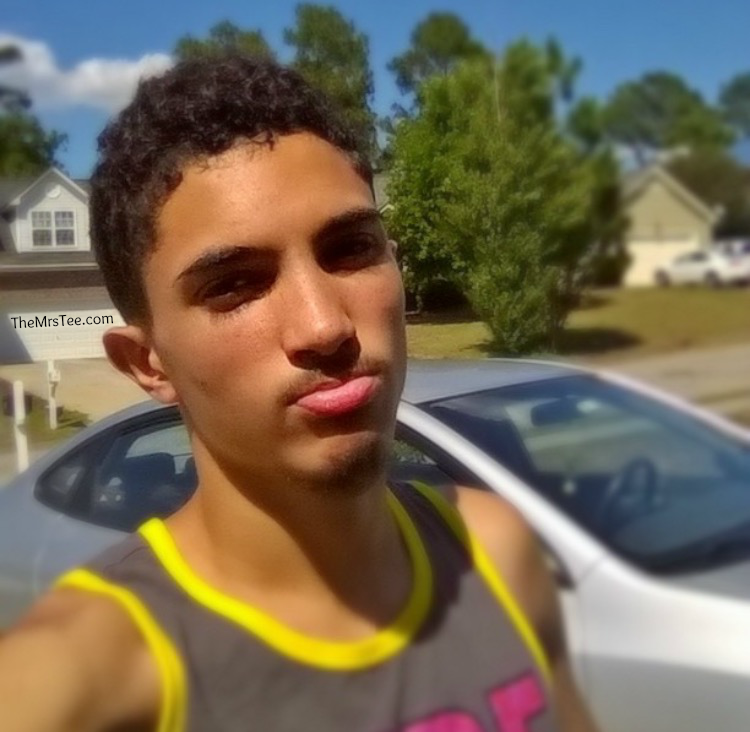 As a child, did your parents give you room to pursue your own dreams?
As a parent, have you ever struggled with giving your children room for their own dreams?
Lifestyle Blogger & Media Influencer
at
TheMrsTee
Tiffany is the ' Tee' behind TheMrsTee. Tiffany is a BlogHer VOTY Award Honoree as well as a Contributing Author with Modern Social f/k/a iBlog Magazine and BlogHer. Growing herself as a Brand and Influencer are always at the center of Tiffany's passion. As a Brand Ambassador, Tiffany has the opportunity to promote and support the brands she loves the most with her own unique perspective. Tiffany has extended her presence beyond her URL to Television as a Panelist for the MomsEveryday TV Show for 2 Seasons and to the stage as a Cast Member of the Finale Season of The Listen To Your Mother Show.
Latest posts by TheMrsTee (see all)