Last week, I was given the rare treat of getting my hair washed and treated. When the hairdresser (who is also a close friend) turned me around she had a big grin on her face. Here's where the conversation picks up:
I'm like…"What's wrong?!?"
She says "You know you've got some Gray in front, right?"
Oh Yeah I've had a few strands of SILVER hair since I was like 17.
Silver?
Yes. Silver.
Silence.
My grandmother told me when you're still young it's not GRAY it's SILVER.
Really?
Yes. Really!
Ok well. You have a nice little cluster of SILVER in the front of your head then.
A cluster? What do you mean a cluster? (I've always had a few noticeable strands…what did she mean by cluster?)
As I get up and go to the mirror what do I see? Right smack dab in the middle of my hair where I wear my part a huge group of grey hairs! Exactly as she described it…a CLUSTER…a gathering or something! You would think someone sent out an invitation telling every Silver hair to meet right there in the front of my head!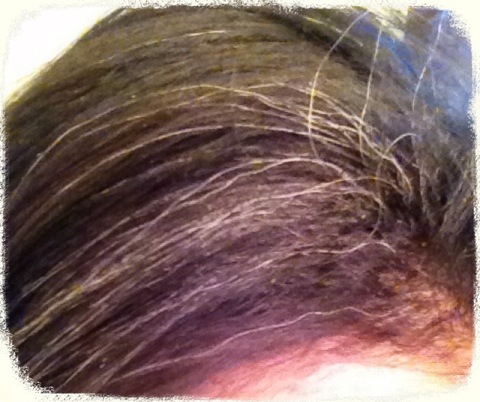 I turned back to her and she was smiling…"WHAT is so funny?!?!" It's NOT GRAY it's SILVER!
Even as I was saying it I started laughing…it honestly did sound a bit ridiculous. Did it really matter at this point? For whatever reason saying I had Grey hair just made it sound so much worse. Perhaps this is why my grandmother came up with the entire "It's not Gray it's Silver" theory as well. I knew she started gaining her salt & pepper look when she was only 28, really early for any woman.
Did she convince herself as well that the change of the one word would make the impact of realizing your hair was betraying you less brutal? What is it about a single strand of hair loosing it's pigment that makes us believe a strand of our youth is lost right along with it? I mean I'm only 35…I'm not old right? No. I know I'm not. Still it bothers me.
Every time I see that small 'cluster' I hear myself whisper "It's NOT GRAY, It's SILVER!" that is until I can get my hairdresser friend to put some dye on it…then it will be whatever color I want it to be…
Do you have any age insecurities?
Does your 'young at heart' sometimes get interrupted by reality?
If so, how and by what?
*GIVEAWAY!*
Here is a great GIVEAWAY for you offered by my friend,
Brittnei from Homemaking With Style
1 Bottle of Ageless Anti-Aging Skin Serum
a natural product for wrinkles and stretch marks!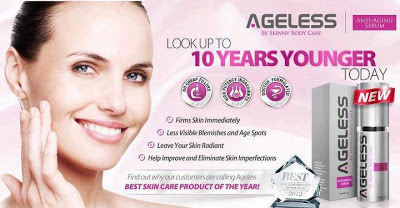 *Sorry, shipped to US Residents Only*
Lifestyle Blogger & Media Influencer
at
TheMrsTee
Tiffany is the ' Tee' behind TheMrsTee. Tiffany is a BlogHer VOTY Award Honoree as well as a Contributing Author with Modern Social f/k/a iBlog Magazine and BlogHer. Growing herself as a Brand and Influencer are always at the center of Tiffany's passion. As a Brand Ambassador, Tiffany has the opportunity to promote and support the brands she loves the most with her own unique perspective. Tiffany has extended her presence beyond her URL to Television as a Panelist for the MomsEveryday TV Show for 2 Seasons and to the stage as a Cast Member of the Finale Season of The Listen To Your Mother Show.
Latest posts by TheMrsTee (see all)