Just One of Those Days. I know. I know. You read the title and now your singing Monica's song, right? If not, you can check it out a bit later – I promise it'll stick with ya for a bit! Still, that's not what I'm here to right about. A few months back I shared about trying to the be the mom of an extrovert when I'm actually not one myself. Well that's kinda what this post is about – kinda. This time, this post is more about my side of things you know when it's time to adult and such.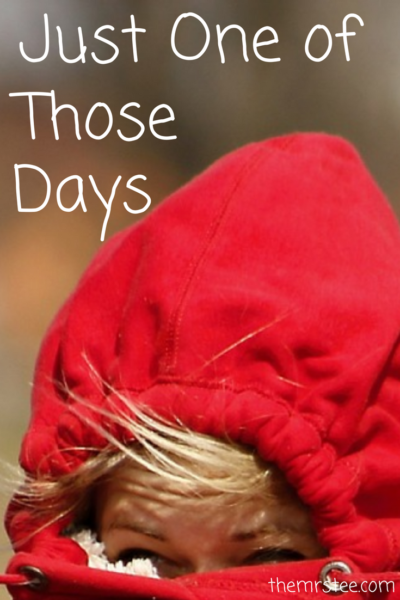 Those Days
This morning I had a chat with my neighbor through the fence (yup there's a loose board and we talk through it – don't judge us). We were talking about how both of us – two ambiverts *introverted extroverts – need to schedule play dates, grown up time and basically everything around those days when we need to be alone. I was so happy to hear that it wasn't only me! She totally got it and we actually chatted about it for about 15-20 minutes. Of course, as we talked I was writing this post in my head so here's it is.

Do you know those days? The days when you just don't have enough umph to be adequately social. For me they don't happen too often but when they do I just have to let myself be – to myself. Whether that means an awesome Netflix Binge day (and most likely night) or even just cleaning the house. It almost always means staying home – alone or at least with no one beside my family.

If you're an introvert I know you can relate. Being out and about with other people is draining! Physically and emotionally. It pulls on my energy and leaves me physically tired. So when I know that I'm having one of those days I listen to that inner voice and I chill.

Don't Take It Personal
I can't say which is harder. Being an introvert or trying to explain being an introvert to a family of extroverts. Just today, I had to try and somehow let me Hubby know that today wasn't one of my 'outside days'. Let me explain…

See that up there?? I love people don't get me wrong but a series of interactive days means I need to have at least one to recoup. So when my Hubby decides he wants to be all outside and stuff on a day when I'm not mentally prepped for it – yeah we may have a problem.

My answer to him today? How about Friday? We can go out Friday. Why? Because today is Wednesday and that gives me two whole days to get prepped for it.
Is it only me? It can't be. Right? Well I know my neighbor gets it because she's the same way but do any of you guys get it? I don't want people to take it personal because I Love People!

My Sasha Fierce
I know what you're thinking! Okay MrsTee – how are you all Ms. Social Blogger then? Well if you weren't thinking I'm gonna answer that anyway – just in case because people have asked me this.
The way I like to explain it is that TheMrsTee is like my version of Beyonce's Sasha Fierce. She's there when I need her, super social and super friendly – but in my natural Tiffany zone she's my complete opposite. So it's not that I don't enjoy people, interaction, social events cuz if you don't invite me!?! Yeah, I'm hurt. It's just don't invite me last minute. Give me that time to prep and I'll be there MrsTee in tow and ready to party!

So that's it – my mini rant about the woes of having one of those days! So if you catch me in the midst of one – don't worry – I'll be back and ready to party soon! Promise!
Oh and here's that song I promised you . . .
[amazon_link asins='B06X8YFBVT,B06X8ZVSBG,B01N7WE9HC,B0721RBV7K,B071JKHVV3,B06XYZWBM1,B071JW7WMH,B01E7YZ8EM' template='ProductCarousel' store='themrstee-20′ marketplace='US' link_id='f043ed3f-6dae-11e7-bdc7-4779fec1c037′]
Lifestyle Blogger & Media Influencer
at
TheMrsTee
Tiffany is the ' Tee' behind TheMrsTee. Tiffany is a BlogHer VOTY Award Honoree as well as a Contributing Author with Modern Social f/k/a iBlog Magazine and BlogHer. Growing herself as a Brand and Influencer are always at the center of Tiffany's passion. As a Brand Ambassador, Tiffany has the opportunity to promote and support the brands she loves the most with her own unique perspective. Tiffany has extended her presence beyond her URL to Television as a Panelist for the MomsEveryday TV Show for 2 Seasons and to the stage as a Cast Member of the Finale Season of The Listen To Your Mother Show.
Latest posts by TheMrsTee (see all)