There are days when the things that my Kiddies say are no less than amazing, brilliant and hilarious all at the same time! Those are the days I wish I could have a camera or at least a recorder to capture the pure #KiddieLogic that they share at some of the most random moments.
So, like every great Blogger Mom, I have figured out how to jot them down and make them into a great post – like when my 5 year old started Kindergarten and came home with tons of School Days #KiddieLogic or when my 3 year old Buddie decided that in the game of Good Guys vs. Bad Guys my Hubby's winning was a #KiddieLogic no brainer!
This time I've decided to include a bit of my 7 year olds musings and oh so very logical thoughts as well in this edition of #KiddieLogic I'm going to call 2 Girls 1 Boy…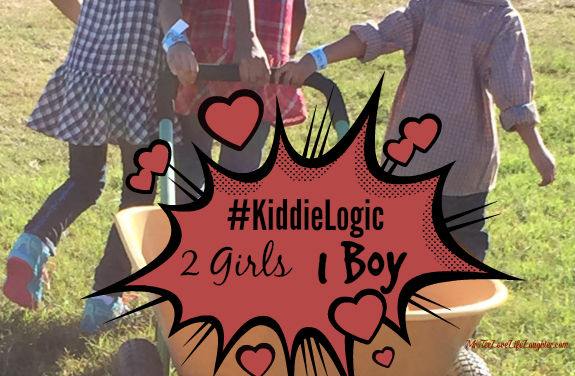 2 Girls
Baby Girlie (5)
Have you ever gotten yellow when you were in kindergarten?
Big Girlie (7)
No. I don't do yellow. It's red or super star. No yellow. Momma doesn't take yellow.
Baby Girlie (5)
I know a few kids who got yellow.
Big Girlie (7)
You stay away from them. They'll bring you down.

Baby Girlie (5)
Do teachers try to stop you from making superstar?
Big Girlie (7)
No. They don't do that
Baby Girlie (5)
Mine does. She knew I was trying to get that last point and she just wouldn't give it to me.
Big Girlie (7)
How do you know she knew? Maybe she didn't.
Baby Girlie (5)
She knew. She knew.

Baby Girlie (5)
Listing the things she wants for her birthday.
Hubby
I want a daughter who wants less.
Big Girlie (7)
Whoa Daddy that was just mean. You should be grateful for what you have.
1 Boy
Buddie (3)
I know why I have to listen to Mothers
ME
Why?
Buddie (3)
Because they are always right and only lie a little bit.

3yr old Buddie jumping and running around
Me
You need to chill out
more jumping and running around
Me
Buddie!
Buddie (3)
Oh! Does 'chill out' mean stop?
Me
Yes. Yes It does.

Playing video games. 
Buddie (3)
Daddy I just beat a bazillion bad guys!
Hubby
Wow I don't even know how many that is!
Buddie (3)
Well we'll just call it 11 then. Since you don't know –  lets just call it 11.
Do your Kiddies ever say things that just make you pause for a minute? 
If so, welcome to the land of #KiddieLogic
Lifestyle Blogger & Media Influencer
at
TheMrsTee
Tiffany is the ' Tee' behind TheMrsTee. Tiffany is a BlogHer VOTY Award Honoree as well as a Contributing Author with Modern Social f/k/a iBlog Magazine and BlogHer. Growing herself as a Brand and Influencer are always at the center of Tiffany's passion. As a Brand Ambassador, Tiffany has the opportunity to promote and support the brands she loves the most with her own unique perspective. Tiffany has extended her presence beyond her URL to Television as a Panelist for the MomsEveryday TV Show for 2 Seasons and to the stage as a Cast Member of the Finale Season of The Listen To Your Mother Show.
Latest posts by TheMrsTee (see all)