Have your Kiddies ever gotten up in the middle of the night calling out for you because of a bad dream or nightmare?  Have you sat their holding them and struggling trying to explain why it happened or they could go back to sleep without fear?
I'm sure most of us as parents could answer yes to this happening at least once if not more.  So when I was given the opportunity by Kite Readers to review the book "What Is Dreaming?" By: Etan Boritzer I was excited because I had been looking for a way to explain dreams and dreaming to my 6 year old.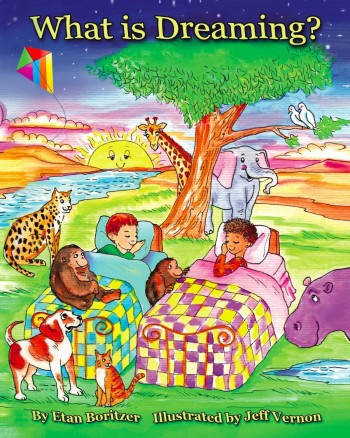 I received the e-book version of "What Is Dreaming?" which immediately excited my Kiddies since they love reading books on my Kindle.  I decided to read the book to all of my Kiddies during our nightly story-time even though I wanted to focus on my 6 year old.
My first impression upon opening the book on my Kindle was that the illustrations by Jeff Vernon were very colorful and age appropriate.  All 3 of my Kiddies (ages 6, 4 and 2) were excited and pointed to each picture talking about the animals and the sleeping children.  I was happy with the fact that the illustrations were diverse and showed children of all ethnicities.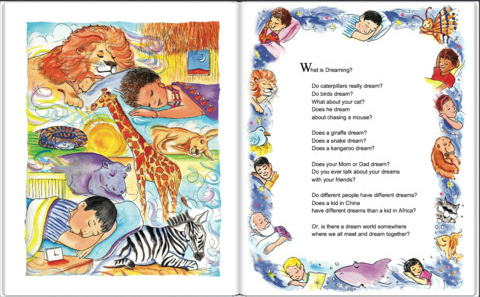 When I saw the text portion I was a bit taken back with the amount of text that was there. As we began to read both I and my 6 year old noticed that some of the text was repeating itself.  She kept asking: "Momma didn't you read that already?  Why are you saying that again?"
Emphasizing a thought once maybe twice would have been enough to make an impact on the child listening but when the same thought was repeated several times with only slight changes to the text it made it very noticeable and distracting.
I was very happy with the lessons at the heart of the story:
Everyone dreams, probably even animals;
We don't always remember our dreams;
Dreams can come from our daily activities both good and bad.
I would have liked the content to be less repetitive and for some of the examples to be a bit more age appropriate. Still, I feel Boritzer made a great attempt at explaining how and why we may have dreams (both good and bad ones).
My 6-year-old and even my 4-year-old enjoyed the  explanation of how our brains can play back things that have happened to us during the day in our dreams.  It was amazing to see their faces as it seemed to 'click' with them. Both of them were even able to relate to me the next day how they had good dreams the night before and thought it was because of a funny cartoon they watched earlier that day. 
I was so happy that "What Is Dreaming?" was able to leave a lasting impression on them and helped them understand their dreams better.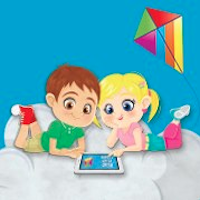 Lifestyle Blogger & Media Influencer
at
TheMrsTee
Tiffany is the ' Tee' behind TheMrsTee. Tiffany is a BlogHer VOTY Award Honoree as well as a Contributing Author with Modern Social f/k/a iBlog Magazine and BlogHer. Growing herself as a Brand and Influencer are always at the center of Tiffany's passion. As a Brand Ambassador, Tiffany has the opportunity to promote and support the brands she loves the most with her own unique perspective. Tiffany has extended her presence beyond her URL to Television as a Panelist for the MomsEveryday TV Show for 2 Seasons and to the stage as a Cast Member of the Finale Season of The Listen To Your Mother Show.
Latest posts by TheMrsTee (see all)