Have you noticed the changes over at Klout? They are major and can have just as major impact on your Klout. I want to highlight 5 changes you need to know that Klout has made recently and how you can use them to help increase your well… Klout!
What is Klout?
In lay-Blogger terms, Klout is a number representation of your impact and influence within your Social Media presence. Now don't ask me for the details and formulas as to how they come to the exact number. I'm not a genius BUT I do know that the more you are active and involved on Social Media and the more your content and identity is shared, mentioned and used the higher your Klout will be. Make sense? If not, here is how Klout breaks it down.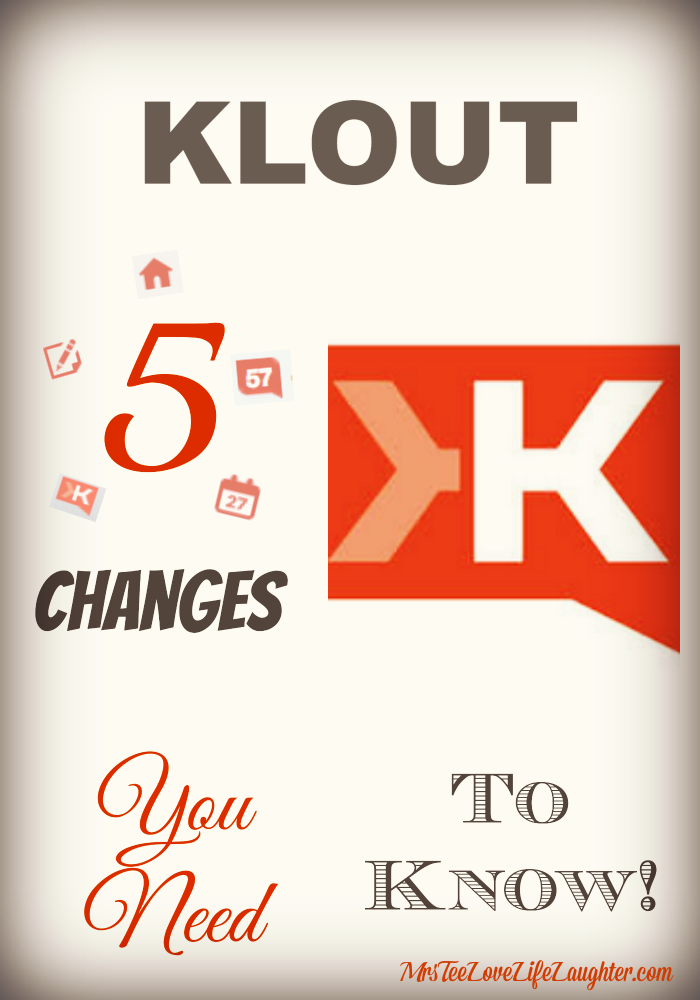 Klout Design
Klout has redesigned their entire look, approach and ease of use! They have taken away the dark colors and lists of your Top Klout Influencers but have replaced it with so much more. There is a brighter more user friendly design and you now have a way to increase your Klout directly from their site and with little effort on your part.
Content Sharing & Scheduling
Klout has now added the amazing ability for you, as a Klout Influencer, to share hand picked content based on your top interests as well as your audience. By sharing relevant content you have the opportunity to spark conversations and further sharing from your Readers and Followers. What will that lead to? Yes! An increase in your own influence and in the end your Klout as well.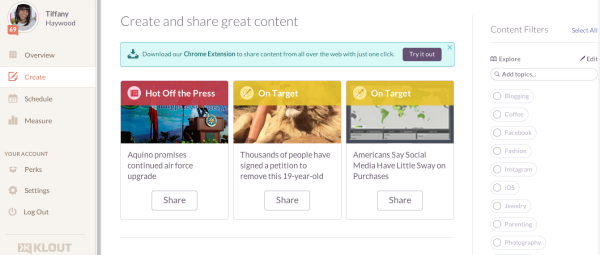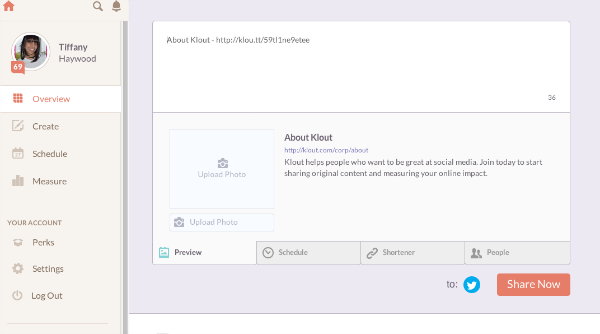 Not only is the content provided selected from your topics list, but Klout has also integrated a scheduling system which gives you optimal times to schedule the content sharing based on the highest rate of activity from your Social Media Presence.
I know I have Pinned and saved so many of those info graphics that try to teach us how to pick the best times to share, promote and reach our target audience. Klout has done all the work and created your best times leaving you no more to do than click, draft, schedule and share!
The Klout Bookmarklet
I don't know about you but I am slowly becoming the Bookmarklet Queen. I am discovering how easy it is to have some of my favorite Social media resources no further than a click away in my header. Well Klout has joined in the fun with their bookmarklet which now allows you to share content from some of your favorite Blogs and sites directly from their source.

Sharing and promoting content other than your own is a great way to not only show support to others but to also show that your not all about you. You want to offer your Readers and Followers great content and resources and that means reaching out beyond only your own. You are also giving them the opportunity to share it even further, now that's influence!
Klout on Twitter
Once you have the Klout Bookmarklet installed you will also notice a few changes when you log into your Twitter account (from the laptop or PC you've installed the bookmarklet on).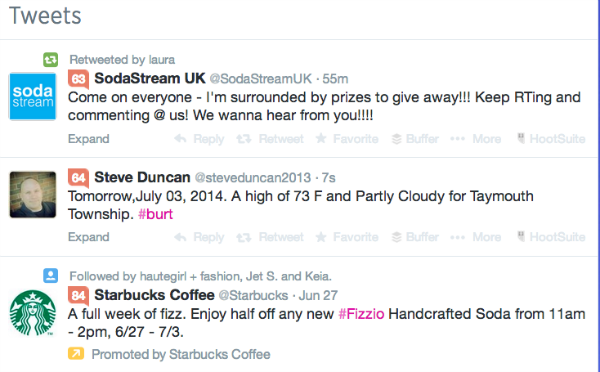 See those little K-Clouds with the numbers there? That is the Klout Score of your Twitter pals. When you click on their Klout Cloud you have the chance to give them a +K which is just like a high 5 for their Klout Influence.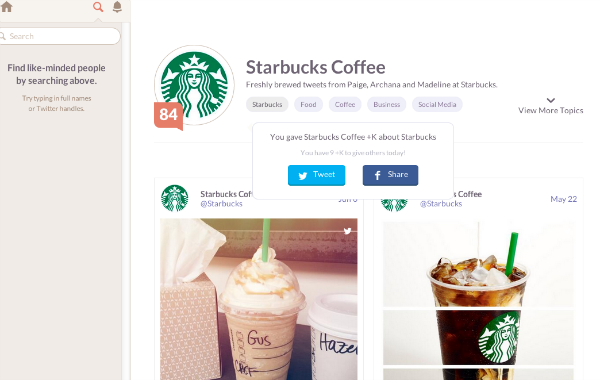 If you think Starbucks is making a great impact with their Blogging, Media Presence and Social Media, click that cloud and give them a +K. You will add to their equation of what can increase their Klout a bit more. *Now obviously Starbucks is doing great with or without my +K but ya'll know I love me some Starbucks!
Another way those little K-Clouds can work is by giving you an insight as to how much Klout someone has. If you have a friend or brand who has a high social media presence you want to share and promote content with them because that will increase not only your reach but also you interaction with more people giving that content a bit more influence. This will work not only for your benefit but for their's as well. [Tweet "Klout influences Klout. #Bloggie101 #Klout #Tips"]
The Klout App
As Bloggers, our smartphones are probably our best friends. I know I never leave home without mine which also means I am always connected and able to maintain my presence across my Social Media. Klout has helped to make this easier with the design changes and improvements to their App.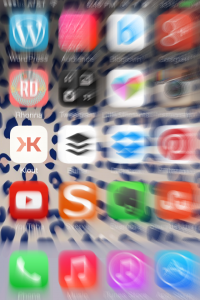 As users, we are now able to check our score changes, measure our impact, change our topics (points of influence), schedule our content shares and even accept Perks (totally cool Influencer stuff) all at our fingertips!
The Klout App helps you take all the convenience of Klout On-The-Go with just a few clicks!
Make Klout's Changes Work For You!
All of the changes that Klout has made are meant to make it easier for you to not only increase your content but share, promote and support the Influencers around you. So go ahead, get out there and take your Klout places it's never been before with these 5 changes you need to know!
Have you signed up for Klout?
Do you see a steady increase in your Klout Score?
How to you share, promote and support other's content?
**Disclosure of Material Connection: I have not received any compensation for writing this post. I have no material connection to the brands, products, or services that I have mentioned. I am disclosing this in accordance with the Federal Trade Commission's 16 CFR, Part 255: "Guides Concerning the Use of Endorsements and Testimonials in Advertising."

Lifestyle Blogger & Media Influencer
at
TheMrsTee
Tiffany is the ' Tee' behind TheMrsTee. Tiffany is a BlogHer VOTY Award Honoree as well as a Contributing Author with Modern Social f/k/a iBlog Magazine and BlogHer. Growing herself as a Brand and Influencer are always at the center of Tiffany's passion. As a Brand Ambassador, Tiffany has the opportunity to promote and support the brands she loves the most with her own unique perspective. Tiffany has extended her presence beyond her URL to Television as a Panelist for the MomsEveryday TV Show for 2 Seasons and to the stage as a Cast Member of the Finale Season of The Listen To Your Mother Show.
Latest posts by TheMrsTee (see all)