That's right. I'm saying it. Leave the Elf on the Shelf where he can't creep anybody out, make messes or tattle on your Kiddies. Instead spend your Holiday Hiding and Hugging a cutie like Olaf! Yup. Olaf.
The folks at Disney have taken the opportunity to help us all start a brand new family tradition with one of our favorite singing, helpful and huggable friends – Olaf. We all know how much he loves warm hugs right? Well that's all he wants to do. Play a little game of hide & seek with your kiddies each night 'til Christmas and get a warm hug each morning when they find him.
Now don't get me wrong. I used to be on the Elf on the Shelf wanna be team. For 2 years I tried to grab my family an Elf on the Shelf with no luck. They were either sold out in stores or way too pricey online. Finally I had one in view but when I told my Kiddies my oldest Girlie (now in 2nd Grade) shared her experience with the infamous Elf on the Shelf.
In Kindergarten her teacher decided to use the Elf on the Shelf to help bring a bit of Holiday time order to her classroom. She read the story and told the class that each day the Elf would be watching them and showing up in different places in class. They had to be good or the Elf would report back to Santa. When my Girlie came home to tell me about it she was so excited that is until one day…
After 3-4 days of total Elf on the Shelf happiness my daughter can home and announced she didn't like Elf on the Shelf anymore. He was mean and scary. 
"Why?"
Apparently the teacher was either running low on hiding spots and Elf mischief or simply didn't think that day's placement through. My daughter told me how on a trip to the bathroom the Elf had totally terrified her by hanging upside down near the door.
That was it. My Girlie wanted nothing else to do with that Elf! So as far as she was concerned bringing the tradition into our own home was never an option. My younger Kiddies announced they were scared of him too but we still wanted to do something…but what? Then one day I ran into Olaf.
I was in awe. This idea was amazing!! When I brought him home and introduced the idea to my Kiddies they were beyond excited!! Of course they wanted to help Olaf get his warm hugs! Plus the bonus of trying to outwit Momma as she hides him each night was so worth it 🙂
So now each night Olaf has been finding his hiding spots throughout the house. No mischief, no threats and definitely no fear. Just fun, laughter, warm hugs and a new family tradition. Even the Hubby has gotten in on the hiding fun. The only member of my family who picks on my Olaf idea is my Teenager and well…he's a Teenager LOL nuff said.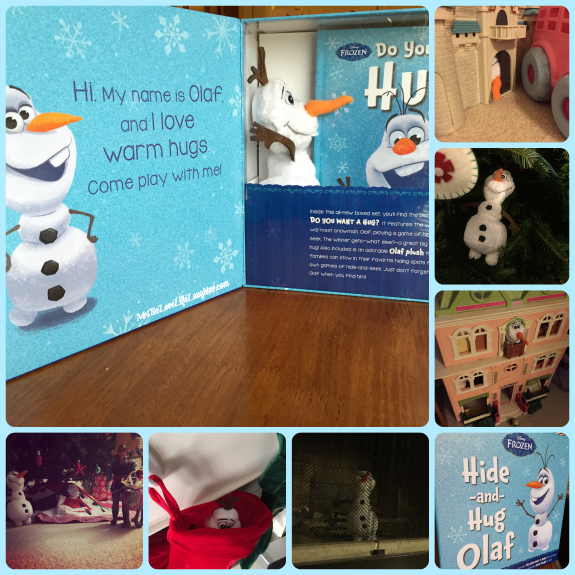 So go ahead. Tell that Elf on the Shelf he has to stay where he is because Olaf needs a hug!!
Disclosure of Material Connection: I have not received any compensation for writing this post. I have no material connection to the brands, products, or services that I have mentioned. I am disclosing this in accordance with the Federal Trade Commission's 16 CFR, Part 255: "Guides Concerning the Use of Endorsements and Testimonials in Advertising."
Lifestyle Blogger, Brand Ambassador, YouTuber & Media Influencer
at
TheMrsTee
Tiffany is the ' Tee' behind TheMrsTee - a Lifestyle Blog created as a place to share her love of all things Faith, Family, Fashion, Food, Fun, Tech & Travel. Tiffany has established her influence within both the Blogging & Vlogging Communities. As a Brand Ambassador, Tiffany has the opportunity to promote and support the brands she loves the most with her own unique perspective. Tiffany has extended her presence beyond her URL to Television as a Panelist for the MomsEveryday TV Show for 2 Seasons and to the stage as a Cast Member of the Finale Season of The Listen To Your Mother Show. A 2016 BlogHer VOTY Award Honoree, Contributing Author with Modern Social f/k/a iBlog Magazine and BlogHer. Growing herself as a Brand and Influencer are always at the center of Tiffany's passion.
Latest posts by TheMrsTee (see all)