Review Or Sample Copy Disclosure
Last night I was given the amazing opportunity to attend The Lantern Fest here at the Fayetteville Motor Speedway. This was my very first Lantern Fest but I was excited to experience a night that promised to be full of moments and memories we would treasure forever.
Historically lanterns were used to symbolize good fortune, request favorable weather, or to celebrate the life of a loved one, just to name a few. But here in 2015, we don't care if you are turning over a new leaf or just snapping some sweet shots for Instagram. —TheLanternFest.com
Now of course when most of us think lighting lanterns we think back to that amazing scene from one of our favorite popular animated movies and trust me I had a moment when I wanted to check my hair to see if it had grown a bit as we released our lanterns but on top of that the emotions and feeling of community that happened were absolutely beautiful! I'm jumping ahead a bit though…
The day started with picking our spot in the field in front of the stage. I arrived early and basically had my pick of locations. There was a stage at the front and then every few feet there was a large steel tub to serve as a pit for our individual fires. There were also tiki torches next to each pit. I loved how everything was set up as a community event but still intimate enough to share with your family and friends. We picked a spot close to the stage but still near the center of everything.
Our tickets had given instruction to bring chairs and/or blankets and luckily I brought both. We set our chairs up around the pit and our blankets on the ground close by. It really felt like getting ready to have a fun campfire. Once we had our spot all set up we ventured out to the rest of the field and realized the Lantern Fest was so much more than just releasing lanterns.
Fun, food and entertainment were all around us including a Live DJ, Food Vendors, Face Painting, a Magician for the kids and Live Musical Performances. Once the sun began to set volunteers came around with logs to help us get our fires going and get our s'mores fun started.
Now I am not what you would call the outside type person but luckily a neighbor helped us figure out how to keep our fire going and once we did that we were ready to break into our s'mores kits. The kits were given out as part of our entry packet. The kit also included a marker for decorating the lantern, a lighter and for the kids a flashlight to help them feel a part of the sunset fun.
After a bit of music and time simply making memories with family and friends it was nearly sunset and time to start prepping for the lantern release. We grabbed our markers and started decorating. Some people brought their own craft fun and really designed some amazing lanterns. I wrote a simple message that has always meant a lot to me…
"Create Moments – Make Memories"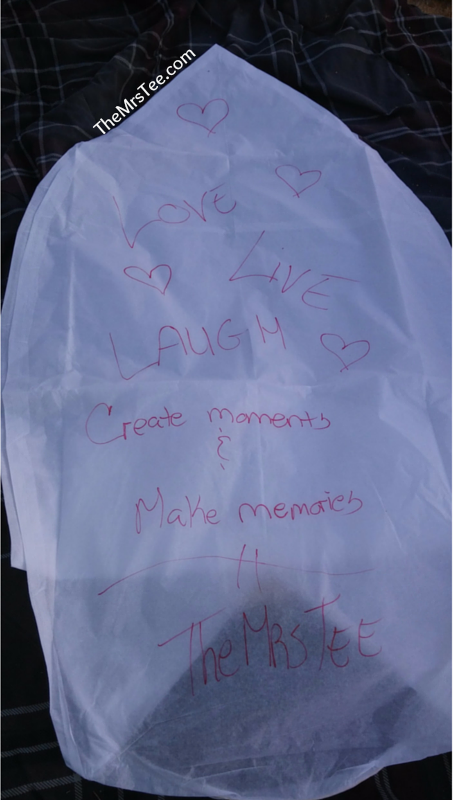 I honestly can't explain the unexpected emotions that came over not only me but my kids and friends when we released our lanterns. It was amazing. I'm not sure what it was but the beauty, feeling of community and simply having my loved ones around me made The Lantern Fest a memory I want to have over and over.
The Lantern Fest is an event destined to give you moments, memories and emotions to last a lifetime.
Have you ever been to a Lantern Festival?
How would you decorate your Lantern?
Lifestyle Blogger & Media Influencer
at
TheMrsTee
Tiffany is the ' Tee' behind TheMrsTee. Tiffany is a BlogHer VOTY Award Honoree as well as a Contributing Author with Modern Social f/k/a iBlog Magazine and BlogHer. Growing herself as a Brand and Influencer are always at the center of Tiffany's passion. As a Brand Ambassador, Tiffany has the opportunity to promote and support the brands she loves the most with her own unique perspective. Tiffany has extended her presence beyond her URL to Television as a Panelist for the MomsEveryday TV Show for 2 Seasons and to the stage as a Cast Member of the Finale Season of The Listen To Your Mother Show.
Latest posts by TheMrsTee (see all)