My oldest Girlie (8) has one of the best imaginations and most creative minds. That said, it sometimes seems as if she uses that amazing imagination to set me up whenever project time comes around for school. Not only does my Girlie come up with some of the most creative but at times hardest ideas and she is always determine to make them true to her vision – putting my Momma Skills to the test!

Walk UP A Wall…!
When she came home a few weeks ago and told me that she had a Social Studies project where she needed to invent a product, create a sales pitch and then sell the product I knew I was in for a challenge. Especially when she got to the part about what her product was: a shoe that let you walk up a wall, that's right – walk UP a wall!
I immediately started trying to figure out the actual physics of it all. How was I supposed to give her a way to show a show walking up the side of a wall? Thankfully, I only need to worry about the technical side of things because she always has the artistic side covered. This little girl can draw pretty much anything she thinks of and if she can see it she can copy it.
With the art of the project already begun then comes the part of making the product do what she claims it can. In this case shoes that take you up a wall. Yup you read that right! She calls them 'Sticky Shoes' and according to her they can "Stick To Anything"
After putting my Momma Thinking Cap on for nearly 2 days we were down to the wire and had only 1 night to figure out how to make this happen and here's what we came up with…
Supplies
– tri-fold Poster Board
– Stencils (Letters, Shapes, etc.)
– KrazyGlue with brush applicator (Momma Use ONLY)
– X-acto Knife (Momma Use ONLY)
– Black Cardstick Paper
– Whit Paint Pen
– Markers, Glitter, etc.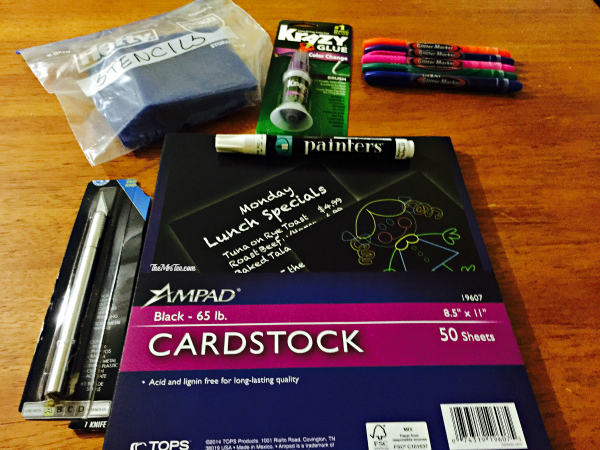 Steps
– Brush the bottom of the soles from top to bottom
– Apply pressure as we place the shoes on the board
– Allow to dry overnight
– Stencil out the poster design from sketch book
– Color in stencils
– Draw artwork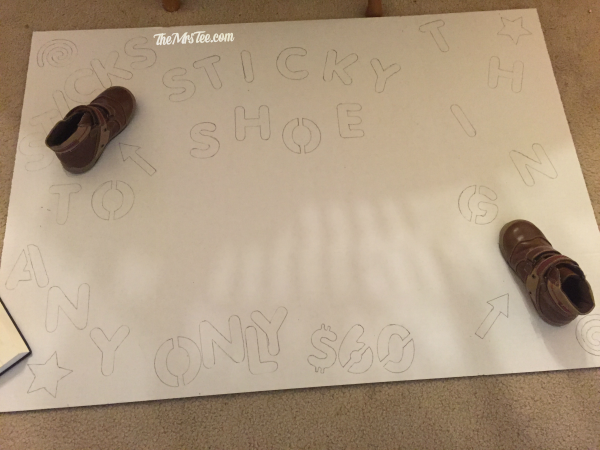 When we arrived at class on the Big Day my daughter was so excited. We had achieved her vision and she was looking very professional with Business Cards and even a lanyard letting everyone know that She was their…
 "Sticky Shoe Source"!
Do your Kiddies project ideas put your Momma Skills to the test?
What is the most difficult or coolest project you've done with your Kiddies?
Lifestyle Blogger, Brand Ambassador, YouTuber & Media Influencer
at
TheMrsTee
Tiffany is the ' Tee' behind TheMrsTee - a Lifestyle Blog created as a place to share her love of all things Faith, Family, Fashion, Food, Fun, Tech & Travel. Tiffany has established her influence within both the Blogging & Vlogging Communities. As a Brand Ambassador, Tiffany has the opportunity to promote and support the brands she loves the most with her own unique perspective. Tiffany has extended her presence beyond her URL to Television as a Panelist for the MomsEveryday TV Show for 2 Seasons and to the stage as a Cast Member of the Finale Season of The Listen To Your Mother Show. A 2016 BlogHer VOTY Award Honoree, Contributing Author with Modern Social f/k/a iBlog Magazine and BlogHer. Growing herself as a Brand and Influencer are always at the center of Tiffany's passion.
Latest posts by TheMrsTee (see all)