Amazon Affiliate Disclosure
I am a Military Spouse. This means I have had my fair share of moving from place to place on short notice and most times without a lot of planning BUT I always had the Military force behind me when doing it. Now that we are retired (yup I said we…this is a family thing) and recently found out we were going to get to move into our dream home (hopefully our forever home) but that it needed to happen in less than 3 weeks well I started to realize why a civilian life move seriously sucks when compared to a military life move.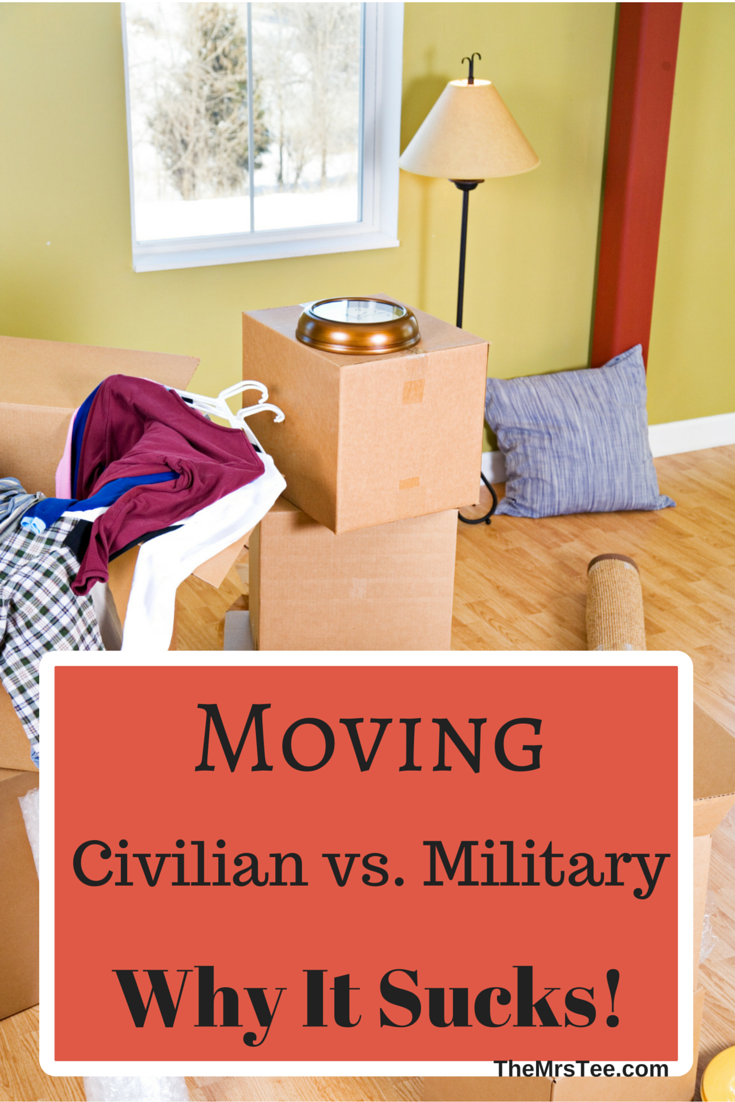 When you move as a Military family here are a certain set of things you kinda get used to…
Miracle Movers
The Military doesn't usually have a lot of extra time to waste with you and your family trying to pack up your stuff so they send in the pros. A team of maybe 3-4 men and this 18 wheeler truck pull up in front of your home and when I say they come to move – I have never seen a house emptied, wrapped and packed as fast as I have the first time we had a Military backed move. These guys were labeling, securing and hauling our things at a lightening fast pace. During our first move I was actually pregnant (okay honestly I think I was pregnant during all of them…LOL) and wasn't able to do much more than point to where this would be in the new house and whether that was trash or not. Not to say they even needed me to do that. These guys knew what they were doing and they did it well.
The movers were able to clear our 3 bedroom, 2 level home in less than 4 hours and fill a large truck to boot. We were left with nothing but our suitcases and those items we were going to be traveling with. It was amazing!
Little To No Expenses
Of course when you are moving with the Military not only do your things need to get to your next destination but so do you. This is another area where having that Military force behind you comes in pretty handy. We were able to secure our travel accommodations in no time and once we said it was a military move it felt as if mountains were no more than pebbles in our way. We made a flight from Hawaii to North Carolina in a few days time and had our costs covered from rental cars to extra luggage.
Doesn't all of this seem great? I must admit after moving 3-4 times with the military I became spoiled to the entire process. I still hated moving – don't get me wrong – but the stress level behind it was minimal and I was able to worry and focus on other things like my family. So when we retired and faced our first civilian move I had no idea what to expect. Granted we were simply moving across town but I mean how hard could it be right? Wrong!
It's Just Us?!?
That's right folks once you retire the added expense of hiring movers is not even an option anymore. So it was left up to us – just us. Luckily we had 3 teenagers and a slew of family to recruit for the job but somehow with all of us we never came close to the speed or efficiency of those 3-4 military sent movers. It took us nearly 4 days to clear a 3 bedroom apartment plus storage area! I was in shock…4 days folks compared to the 4 hours I saw those movers work miracles in.
We did it! Barely. We got everything out and even managed to clean the apartment we were leaving but if you asked me where I put the lamp from the living room or the keyboard to the computer…well your guess would be as good as mine. Our moving skills consisted of getting it out of one place and into a box – any box would do as long as it was headed to the next house. Yeah it was that bad.
It Costs How Much?!?!
UHaul (that's right no 18 wheelers this time around) we had to rent one plus try to figure how to get everything from Point A to Point B before we ended up paying the price of the truck itself in rental fees. Once we got everything to the new place we had to figure out how and why we packed kitchen pots with the kiddies bedroom linens. Oh I remember! We just wanted the stuff packed and had little to no time to care where it was actually going…LOL
Since that first civilian move we have had 2 more the most recent being just last week and although we have developed our own system (I type that word knowing it is probably far from the truth…lol) where we can make a move in 2-3 days instead of 5-7 I still look back on our Military life and remember how much easier it all was and how much this Civilian moving life SUCKS!
How Do You Move?
DIY Moving or Leave It To The Pros?
[amazon_link asins='B007PBKFKW,B00I5LJAPW,B01GJGJLIU,B019DDV2R4,B073SBZPWY,B001W6Q4VA,B00EN790Y8,B00UBYCU26′ template='ProductCarousel' store='themrstee-20′ marketplace='US' link_id='510da954-adf2-11e7-a28a-695555f701c6′]
Lifestyle Blogger & Media Influencer
at
TheMrsTee
Tiffany is the ' Tee' behind TheMrsTee. Tiffany is a BlogHer VOTY Award Honoree as well as a Contributing Author with Modern Social f/k/a iBlog Magazine and BlogHer. Growing herself as a Brand and Influencer are always at the center of Tiffany's passion. As a Brand Ambassador, Tiffany has the opportunity to promote and support the brands she loves the most with her own unique perspective. Tiffany has extended her presence beyond her URL to Television as a Panelist for the MomsEveryday TV Show for 2 Seasons and to the stage as a Cast Member of the Finale Season of The Listen To Your Mother Show.
Latest posts by TheMrsTee (see all)