So on Wednesday morning last week we woke up to the sound of an ever so light drizzle outside our windows. We figured okay we are prepared for this – I had done my research with several Blogger Buddies who recently returned from Disney and we left with our Ponchos in hand and ready to face the day even though in my head I was singing Rain Rain Go Away on loop… LOL
Our first agenda, breakfast. We headed down to the Artist Pallette restaurant and ordered up some really awesome Mickey shaped waffles for all (yeah I was so hungry…no pics folks – sorry). As we sat that light drizzle became a bit of a heavier rain which suddenly turned into a full on thunder and lightening downpour! Hmm…perhaps Ponchos were not enough?
We asked around and found out the  buses were still running but all ferry transports had been stopped due to lightening strikes on the water. That was my cue. We were going to head back to the room and try and wait this storm out a bit. Oh and by the way, it was being called a storm at this point by all not just my scaredy butt.
After about 3 hours and dozing off while watching the Disney info channel we gathered up our things and headed back out. This time there was a consistent rain but it was more of a heavy its than a downpour. I looked at Hubby "Let me check the weather" I pull out my trusty App and forecast for the rest of the week: Thunderstorms and Rain. Eh!
"Listen, if we try to wait this out we are going to miss doing anything the rest of the week. Let's just get these Ponchos on and do this!" The brave final words of a soon to be soaked to the bone Momma.
So on the buses we went and decided to try our hands at Hollywood Studios. When I tell you the rain only became heavier as we rode. When we arrived we were nearly running between shelters to simply avoid getting soaked. Still we pushed on. Our first stop, The Great Movie Ride. The wait was a mere 20 minutes (if you know Disney lines even in the rai this is short). So there we stood grimacing while waiting in the rain and celebrating when our spots reached the cover of the building. The ride was inside! Yay!
As we entered and got shuffled into our respective movie show seats all I kept thinking is maybe the rain will stop by the time we get out. The ride was about 15-20 minutes and although kinda entertaining because of the live action figures and clips from famous (yet older i.e. classic) movies our younger Kiddies were not exactly thrilled. Momma had to make a good pick for the next ride/activity or this was going to go down hill really fast!
We donned our trusty ponchos once again and realized – It. Was. Still. Raining. Oh well…on we went. Thanks to my trusty My Disney Experience App I had us headed toward our next show, the The Muppets 3D Vision Show…THIS was perfect for the Kididies. I was able to Fastpass this one which meant no wait at all. We walked right in, yanked off our Ponchos, grabbed our Yellow 3D glasses and sat down for the fun. The show was amazing! My 3 year old was literally reaching out trying to hug the character as they came so close I almost forgot it was 3D!
When the show was over about 30 minutes later the rain was still falling but when I looked up after sliding my poncho over my head I saw what could be our rainy day salvation: FROZEN Summer Fun Live and FREE ! I grabbed a kiddie in each hand and headed for the ticket area. We got our 9 Comp Tickets and headed for the line. Even though it was still raining the mere thought of seeing Else, Anna, Christoph and of course my Buddie's favorite – Olaf was enough to stop the 'Momma I don't like the rain" rants and exchange them for pure Frozen excitement!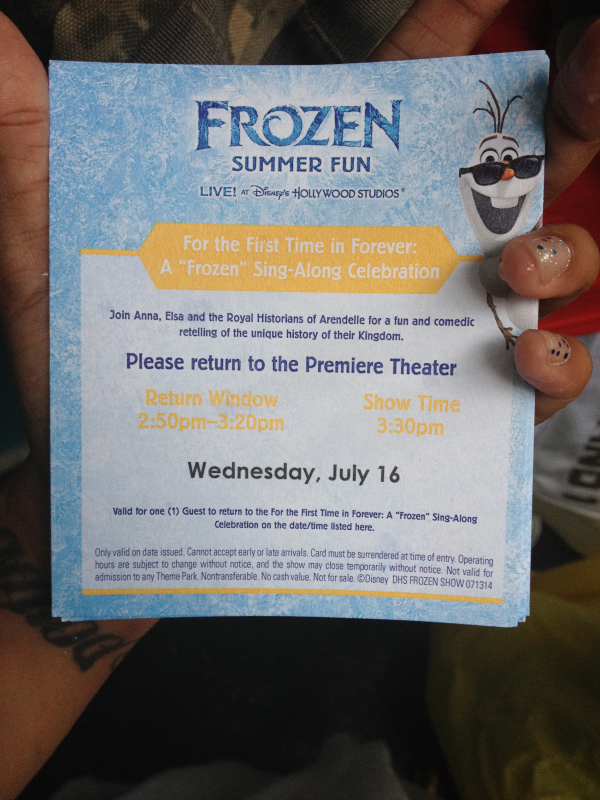 Our wait in the line was about 25 minutes and once inside I knew THIS was definitely going to be a memory maker. Plus OMGosh this was a Sing-A-Long!
This slideshow requires JavaScript.
As we put on our Ponchos to head back outside we all had smiles on our faces. This was all worth the rainy day travel. Then as we stepped towards the exit, the Theater Castmember said "It's stopped raining and the sun is out – no ponchos needed!"
How awesome is that? We were so happy and quickly ditched our ponchos in our backpacks and decided to go out and explore this great Disney magic a bit longer. I mean, I guess with the help of a bit of Disney Magic and wishes the rain rain did go away!
Have you endured the famous Florida Rain?
How did you handle it – stay inside or grab the nearest poncho?
See even more of my great Hollywood Studio photos and our rainy day experience on my #MrsTeeInstaExclusive Instagram feed.
Also, head over to the MrsTeeLoveLifeLaughter Channel and check out
MrsTe In Disney Recaps, Raves & Reviews!
**Disclosure of Material Connection: I have not received any compensation for writing this post. I have no material connection to the brands, products, or services that I have mentioned. I am disclosing this in accordance with the Federal Trade Commission's 16 CFR, Part 255: "Guides Concerning the Use of Endorsements and Testimonials in Advertising."
Lifestyle Blogger & Media Influencer
at
TheMrsTee
Tiffany is the ' Tee' behind TheMrsTee. Tiffany is a BlogHer VOTY Award Honoree as well as a Contributing Author with Modern Social f/k/a iBlog Magazine and BlogHer. Growing herself as a Brand and Influencer are always at the center of Tiffany's passion. As a Brand Ambassador, Tiffany has the opportunity to promote and support the brands she loves the most with her own unique perspective. Tiffany has extended her presence beyond her URL to Television as a Panelist for the MomsEveryday TV Show for 2 Seasons and to the stage as a Cast Member of the Finale Season of The Listen To Your Mother Show.
Latest posts by TheMrsTee (see all)