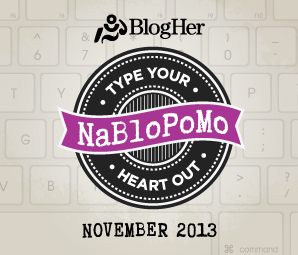 Today's Prompt:
Tell us what you've learned so far about daily blogging.
I've learned that blogging daily is something I can do. It isn't as much of a struggle as I thought it may be and I actually look forward to simply writing for the sake of writing. To simply express my thoughts through words inspired by a thought. It is amazingly relaxing and rejuvenating.
Surprisingly I used to be against using prompts to get a post started. I dunno I somehow felt it was cheating or not completely authentic. Yet, since starting the NaBloPoMo November Challenge I find the prompts to be far from cookie-cutter. Even as I read other Blogger's daily posts based from the same prompts I am using I see so many varied and unique perspectives I am in awe.
I realize now that a prompt is no more than a spark or jump-start for the creativity that is already within a person, especially a writer. I no longer look down upon prompts i actually find respect for them. A prompt can ignite a thought and flow of feelings in someone who they may have never reached for otherwise.
So, I am grateful for the NaBloPoMo November Prompt Challenge and the things I have learned so far.
Imagine if I have learned this from a mere 4 days or so (I started late) what I can learn throughout the rest of the month??? I can't wait! 🙂
Lifestyle Blogger & Media Influencer
at
TheMrsTee
Tiffany is the ' Tee' behind TheMrsTee. Tiffany is a BlogHer VOTY Award Honoree as well as a Contributing Author with Modern Social f/k/a iBlog Magazine and BlogHer. Growing herself as a Brand and Influencer are always at the center of Tiffany's passion. As a Brand Ambassador, Tiffany has the opportunity to promote and support the brands she loves the most with her own unique perspective. Tiffany has extended her presence beyond her URL to Television as a Panelist for the MomsEveryday TV Show for 2 Seasons and to the stage as a Cast Member of the Finale Season of The Listen To Your Mother Show.
Latest posts by TheMrsTee (see all)