Hey everyone! I'm so exciting to be sharing with you all over here on Tiffany's blog today! This is officially my very first guest post. I don't know why I did do this sooner, but I'm glad I chose Tiffany's blog to be my first. 🙂
I wanted to share with you a little about branding and and an easy peasy PicMonkey tutorial on how to create branding elements for your blog, online business, or whatever other service you provide that can benefit from branding.
So what is Branding and why do you need it? Branding, just like when we shop in the store and buy products, is basically a representation of product or service, or even you. It attracts people, catches their eye, and make them interested in you and your product. There are many different forms on branding. For the sake of this post not to turn into an eBook, I'm going to discuss branding from a blogging/blogger standpoint.
Why you need to brand your blog:
Represents you, your personality, and gives visitors and readers and overall feel of who you are.
It's aesthetically pleasing; because we all know how important a nice and easily navigatible site is. This is especially important for those who you who want to monetize or make their blog a business. Networks and companies want to see that people like to visit your blog and that it looks ideal and pleasing to the eye. –Presentation is key!
Makes your blog look consistient. – This includes colors, fonts, images, etc.
Allows you to stand out and apart from the rest.
Shows people that you care about your blog, that you've invested in it and put time into it. – I've followed blogs of the sheer fact that the branding is nice. Now, I know that may sound superficial, but their branding worked. Of course they had the content to back their branding up too. I find that blogs that have nice branding, tend to have better and more consistient content than blogs that don't.
Make you memorable; because people remember things that are pretty or that they like.
There are many other reasons to why you should brand your blog, but the important thing is to do it!
Here's a short tutorial using PicMonkey, which is free for basic features on the site. They do offer a Royale version with more features like additional fonts, overlays, frames, etc.
Go to PicMonkey.com and select design, choose Square. You could really choose any size, but square option just gives you an even canvas to work on.
Once you have your canvas, go to Overlays (the butterfly) and choose Your Own. You can pick whatever image or background you want to use for your branding.
Once your image is loaded, you can choose to make it any shape you like from the Frames option. I chose a triangle for mines.
Next I rotated it a bit by adjusting the angle to -20% and took the size down to 62%.
I added a second triangle from the Geometric shapes in Overlays, so I could put my text on it.
I took the opacity down to 20% by adjusting the Fade, because I wanted a little bit of my pattern to show through.
Next I added some text and matched the color, using the eye dropper tool (you can use any HTML color code in PicMonkey to customize your colors.) You can also use the eyedropper tool, available when you use an Overlay to get the color code as well.
Now you have a header and/or button, in essence the main component of your brand, the colors, and fonts that define it. From there you can make social media buttons and headers for your widget areas and everything will be coordnating and matching. As you can see from the image below, branding consists of your main image and pattern (if applicable), a color scheme, and typeface/font. Keep in mind that these are the basics, because there is a lot more depth to branding, but these three are a good start, esecially for a blog.
So now you can go forth and brand away! Many people charge lots of $$$ for branding services. I'm talking upwards of $1000, depending on the scope of the job. You can do it yourself or free, as long as you have some time and an idea to get started from. Look for inspiration for other sites, and Pinterest and Etsy are great places to start.
I hope this was helpful and you can always visit me over at New Mama Diaries for more blogging tips and tutorials!
*Disclaimer: This post contains affiliate links.
Cheers!
Tenns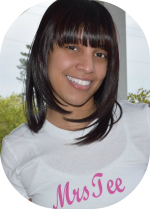 Tenns is definitely a Blogger after my own heart. Don't you just love the detail and image examples she gives on making your Blog a Brand? We all know how important is is to stand out as a Blog and Blogger so being as creative as possible with that is so important. Thank so much Tenns for letting MrsTeeLoveLifeLaughter be the place where you took your first step into Guest Posting and with such a great post I am sure this will not be your last.
How do you Brand your Blog?
Do you use imaging or strictly content?
Don't forget to come by tomorrow when Ophelia from Latina Mama Rama gives us the secret to her Pico de Gallo recipe. Don't forget spread the word that the party is over at MrsTeeLoveLifeLaughter this week!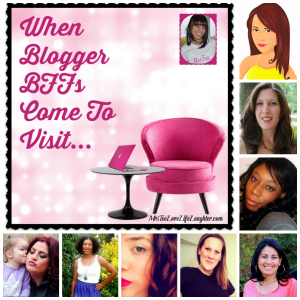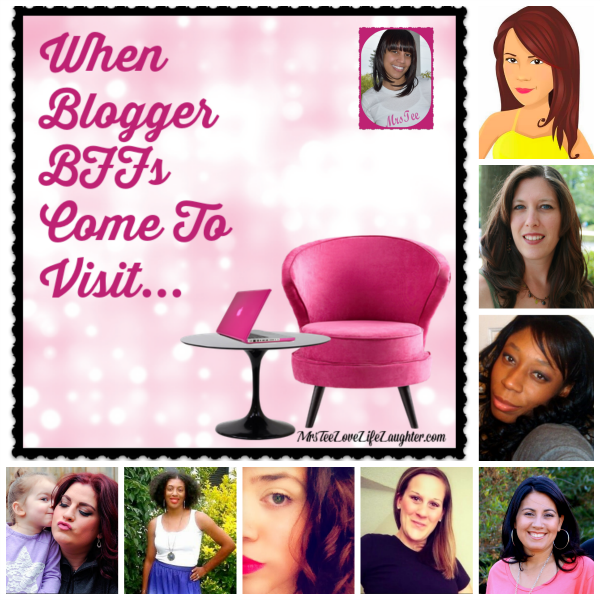 I'm a 20-something God-fearing wife with a wonderful husband and mom, to the most awesome little boy in the world.We're true southerners from Georgia. I like to dabble in all things creative, whether it be baking, crafts, or writing.Creating is what I love and its what I do. I'm glad to have my first guest post here with MrsTee!
Latest posts by Tenns Reid (see all)