This shop has been compensated by Collective Bias, Inc. and its advertiser. All opinions are mine alone. #MoreThanAMom #CollectiveBias
Mother's Day – showing your love to the women who have impacted your life through support, encouragement and friendship. As a military family, I remember sharpening my creativity skills to be sure I could show my love no matter the distance between my loved ones and I. Today I'm sharing how I've learned to Gift Outside The Box thanks to American Greetings and my local AAFES (Army and Air Force Exchange Services).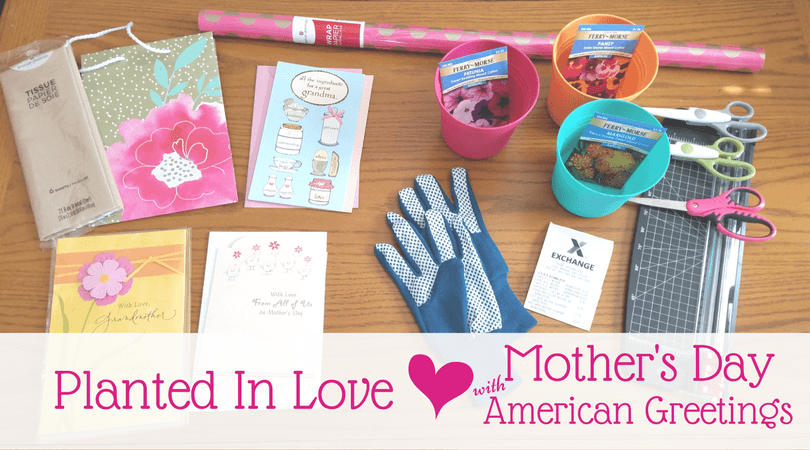 So for all my non-military folks, AAFES is like a department store where service members can shop for anything from sportswear to greeting cards, designer handbags to gardening tools. If you need it you can find it at your nearest Post Exchange.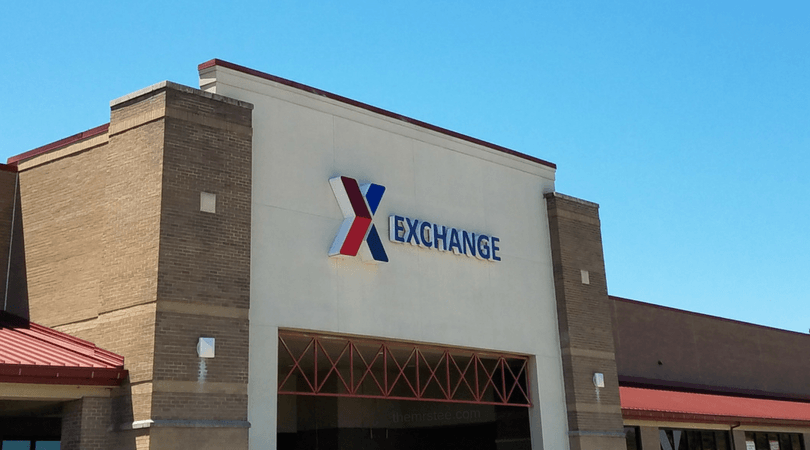 This year I took headed to my local AAFES in search of the perfect way to send a bit of Mother's Day love to my Grandmother back in New York. Creating a gift that can fit in a box perfect for shipping but still have a wonderfully creative first impression isn't always easy – but it is possible.
Just because a gift has to arrive in a box doesn't mean the creativity behind it has to stay in a box !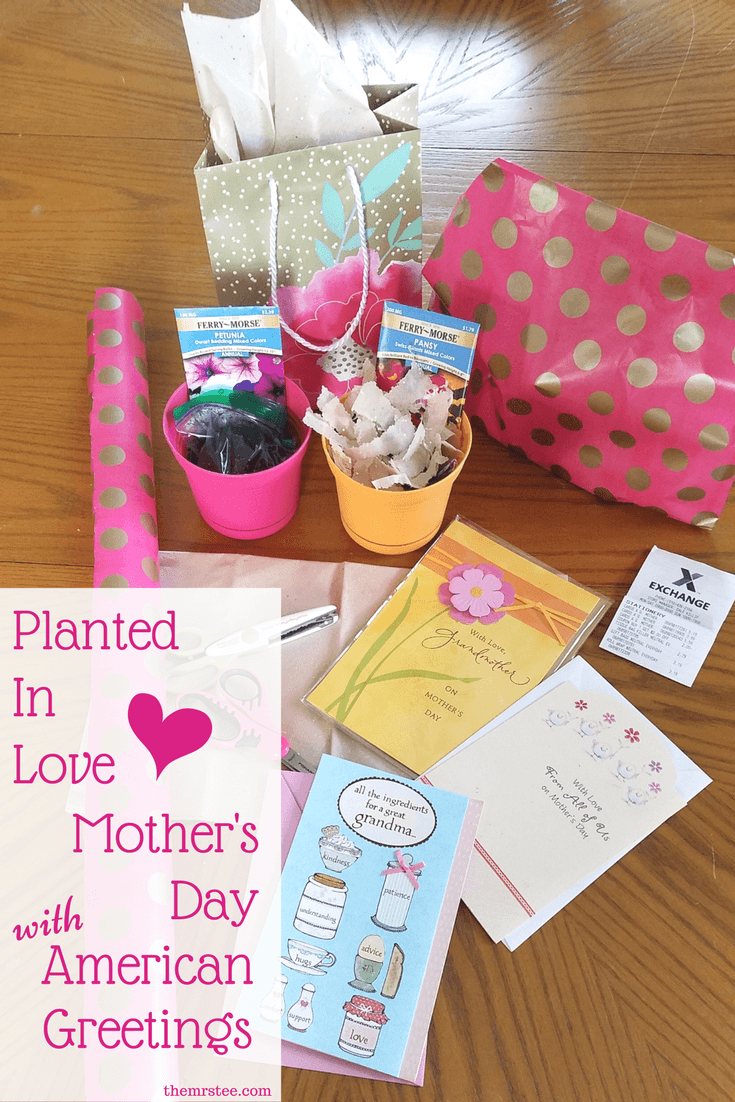 It's In The Cards
The American Greetings section of the store was pretty easy to spot. It's in the GIFTS aisle and the pretty pink displays immediately caught my attention.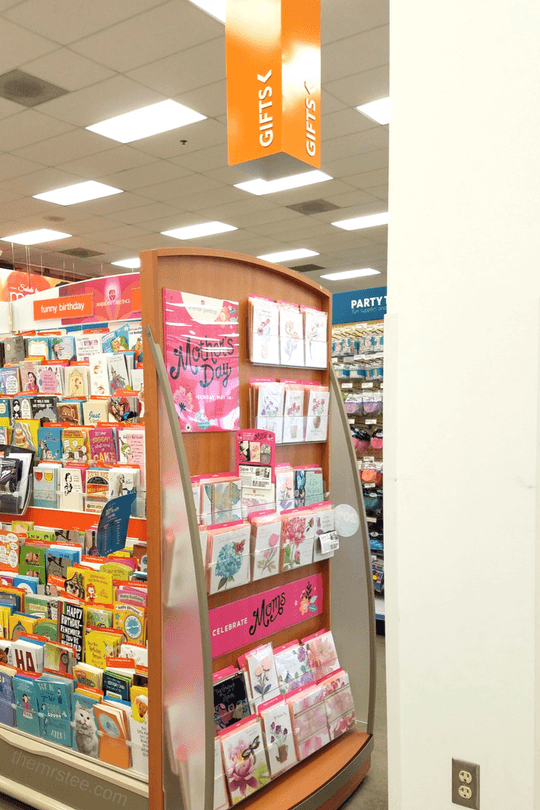 The first thing I did was look at the American Greetings Mother's Day card section. I'm that person who will not buy a card unless every word means something to me and the person I'm sending it to. That means most times I'm in the aisle for a bit of time reading, thinking and trying to figure how my card choice can fit in or even spark an idea for my gift choice.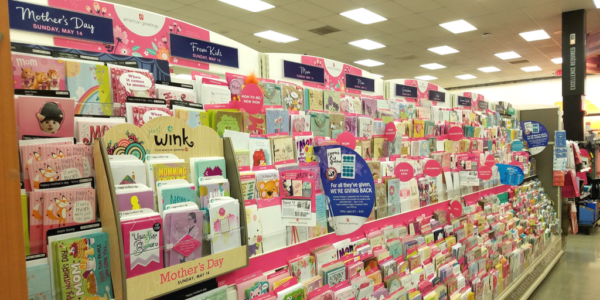 Why Pick Just One?
American Greetings offers a selection for just about any Mother's Day scenario you want – Mothers, Grandmothers, Aunts, Sisters, Wife or Friends – there's a card for and from everyone! I normally pick a card from myself, my kids and then us as a family. I was so excited to see that Now through May 14th AAFES Stores are offering a Buy 3 Cards Save $2 which definitely helps this card shopper have more options at less cost.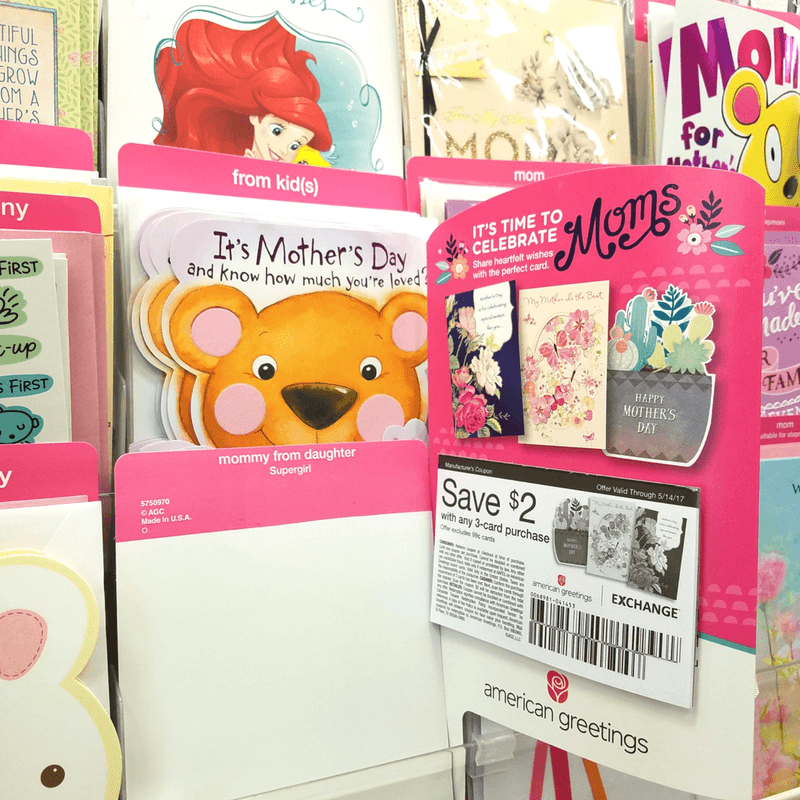 Thinking Outside The Box
Once I decided on my 3 cards I was off to figure out how to make sure my Grandmother has a gift that not only lets her know how much we appreciated her this Mother's Day but also gives her a way to remember that love a bit beyond the day.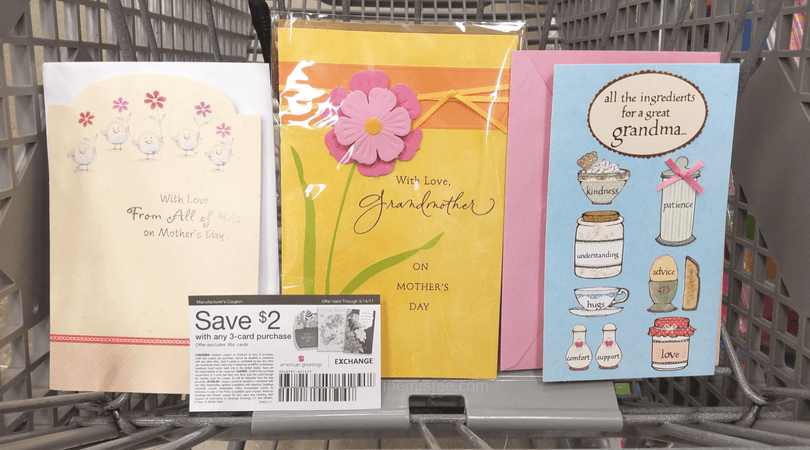 How Ideas Grow
One of the cards I picked had a flower on it and reminded me how much my Grandmother has always loved flowers. She's not the type who really got with flower delivery – nope she likes to help them grow with her own two hands. That was it! The seed was being planted and my outside the box idea was beginning to grow!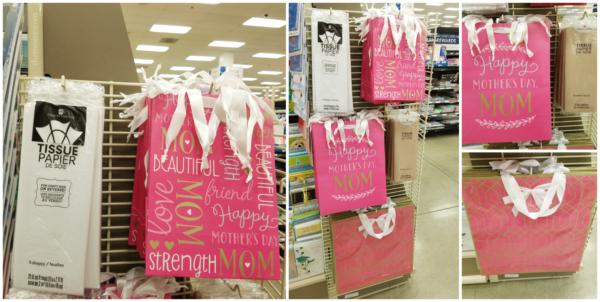 After a look at the gift bags, tissue paper and wrapping paper from American Greetings I made my picks and was all set to get this gift started.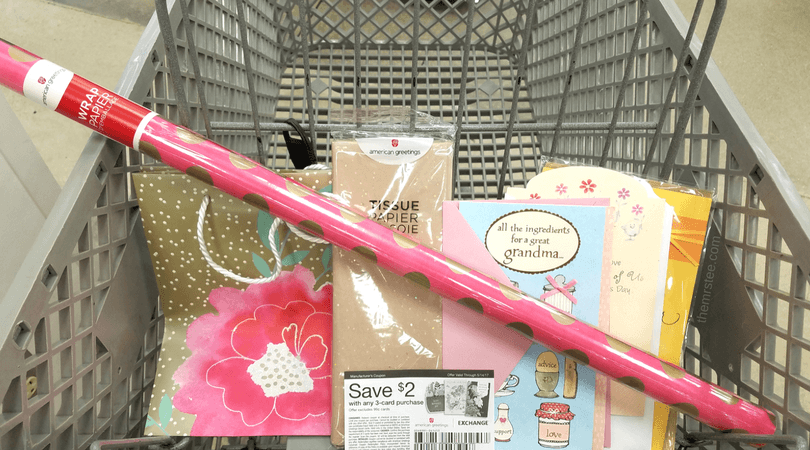 I was so excited to create the perfect gift to bring our love for my Grandmother and her love for flowers together in a unique and fun way.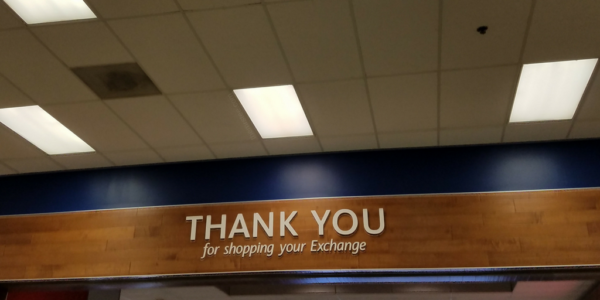 Planted In Love
Once I got home I started brainstorming how to bring my idea into reality. I knew I wanted my Grandmother to open the box and see more than just a few cards and random items wrapped in paper. I wanted it to be a surprise, discovery and most of all an experience of our love sent to her special delivery style.
My American Greetings cards lead to the inspiration for my planted in love gift – I picked up a few colorful planters, potting soil and seeds of some truly beautiful flowers. Now to get them all packaged and wrap Just For Her!
How I Did It
What you'll need:  
♥ American Greetings Cards, Wrapping & Tissue Paper
♥ Flower Pots, Seeds, Gloves, Spade or other gardening themed gifts
♥ Soil
♥ Baggies
♥ Craft scissors
♥ Tape
1.
First thing I had to figure out was how to ship this soil without having her end up with a box of dirt. I decided to fill each pot with the help of a zip bag. I took a look at my sparkly gold American Greetings tissue paper and decided to get a bit crafty – thanks to my ripple design craft scissors I turned the tissue paper into the 'soil' in my planter pots by cutting them into different length and width strips. Next up was trying to figure out a way to ship soil without having it fall out all over the place when my Grandmother opened the box. My solution for that was to take my potting soil and fill baggies with enough for each small planter. I then placed it beneath my 'tissue paper soil'. I then placed the packages of seeds I picked out on top of my soil baggies and beneath the tissue paper.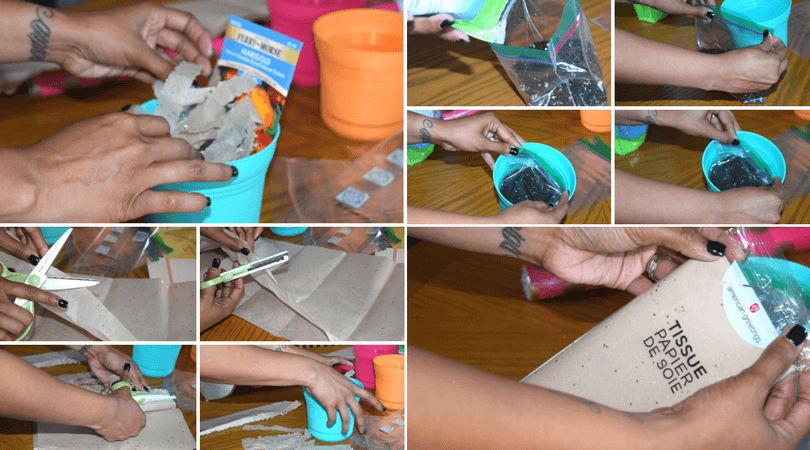 2.
Next was to add to the discovery part of my outside the box idea. I didn't want everything to just be there as soon as my Grandmother opens it. I wanted her to have a bit of a scavenger type experience. "Hmmm I wonder what's in here?"
To help with that, I decided to take my pretty pink and gold American Greetings wrapping paper and repurpose it a bit. I had one gift bag but planned on using it for something else. So I took my wrapping paper and made 3 DIY gift bags to place each planter in.
Making a DIY Wrapping Paper Gift Bag is pretty easy:
Cut the paper about double the size you want your bag to be.
Fold in half and tape at the seam.
Fold up from the bottom to create the base and tape at seam.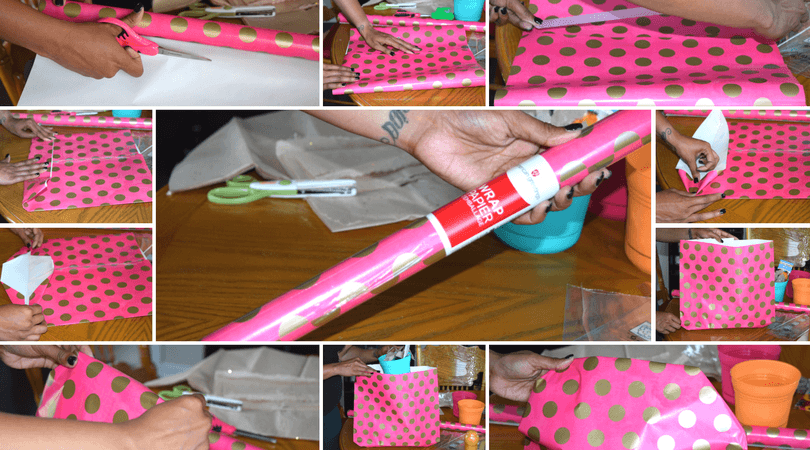 I took my American Greetings flower designed gift bag and used it along with a bit more of the tissue paper to hide my Grandmother's gardening gloves.
3.
Once I had each planter placed safely inside I turned to the last part of my gift. The shipping box. The inside of the shipping box was so ugly, brown and just – eh. Pink and Gold wrapping paper to the rescue!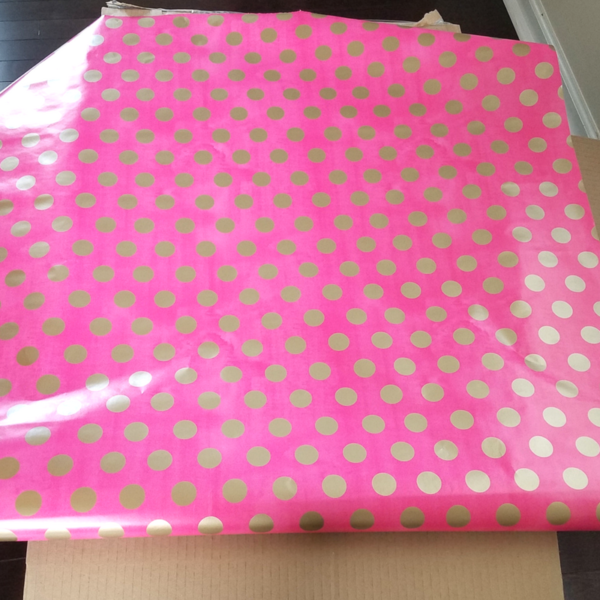 I cut pieces f the wrapping paper to help line the inside of my shipping box. This would help add a bit of style and color when my Grandmother opens the box – first impressions mean a lot, right? I love creating gifts that give my friends and family the fun of discovering each part a little bit at a time.
Ready To Ship
I was sure to arrange everything in my shipping box so that it would not only remain secure during the shipping process but still make the perfect impact once my Grandmother opened it upon delivery.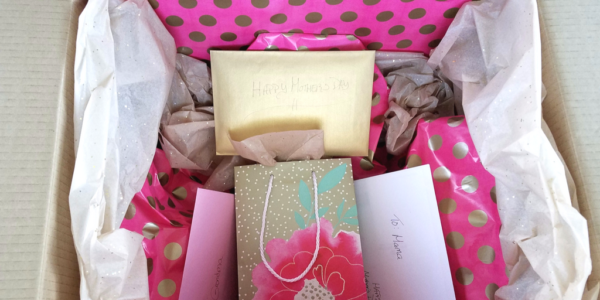 My Grandmother's Mother's Day gift may arrive in a box but it will definitely not be staying there! You can take your gifting outside the box to show someone how they are #MoreThanAMom with American Greetings Mother's Day selections too – find your perfect Mother's Day gift today!
Lifestyle Blogger & Media Influencer
at
TheMrsTee
Tiffany is the ' Tee' behind TheMrsTee. Tiffany is a BlogHer VOTY Award Honoree as well as a Contributing Author with Modern Social f/k/a iBlog Magazine and BlogHer. Growing herself as a Brand and Influencer are always at the center of Tiffany's passion. As a Brand Ambassador, Tiffany has the opportunity to promote and support the brands she loves the most with her own unique perspective. Tiffany has extended her presence beyond her URL to Television as a Panelist for the MomsEveryday TV Show for 2 Seasons and to the stage as a Cast Member of the Finale Season of The Listen To Your Mother Show.
Latest posts by TheMrsTee (see all)