Tickets. Tuxedo. Ride. Flowers. Photos.  Prom Night.  It was here and all I could wonder was am I doing this right?  I am the mom of a Teenage BOY so the expectations are a bit different, right?  Come down memory lane with me and let me know what you think at the end…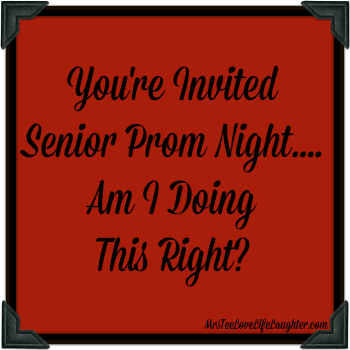 Tickets.
Me: How much are tickets so we make sure we get both.
The Teenager: What do you mean both?  I only need one ticket.
Me: For your date, duh!!
The Teenager: She already bought her ticket.  Why would I be buying it?
Me: Why? Because your her date!
The Teenager: Ma, nobody does it like that anymore.
I mean first off  am I the only one who finds it odd that the boy buying the Prom Ticket for his date is apparently 'not cool' anymore.  The girl buys her own ticket.  Ok.  Sorry.  I'm a bit old school I guess.  No I'm not.  I'm like 35.  That's not old, right? Really?  Am I?  How could being a gentleman be 'not cool'.  *insert confused look here* Ok so we'll move on.
Tuxedo.
Me: What kind of tux do you want?  
The Teenager: What do you mean?
Me: Umm style, color stuff like that.
The Teenager: Maaaa!  She ordered her dress and put me down as her date.  All I have to do is go to the shop and pick my style. She has already picked out the colors.
Hmmm. Okay.  I guess that makes sense.  Yet not only did she tell him where to go but the color of his vest and everything was reserved by her under his name.  I mean hey it made things a lot easier on our end but is this all because I am the mom of the boy?  I mean seriously is this how prom night works now? Oh well….Tuxedo: measured, ordered and paid for.
Ride.
Me: So do you want to take a limo or are you going to have your dad drive you like your brother did?
The Teenager: She's driving us.
Me: What?!?!
The Teenager: She wants to drive and since she has a full license I figure sure that's cool.
Me: Ok wait. You guys are just going to go in her car and she is driving…in her dress?
The Teenager: Yup!
This has definitely got to be a new thing.  I may not have attended my own Prom but I know that the girl driving is not the norm. Well it wasn't the norm anyway.  I seriously have to be missing something. Am I Doing This Right?
Flowers.
Ok so I have to admit I totally slacked on the flowers. It wasn't until the day of the Prom when I was speaking with another parent and she asked what type of corsage my son had gotten his date did I realize…umm…no kind!?!?  Why?  I totally forgot that he needed to do that!  Panic moment.
Me: We didn't buy her corsage!!!  We need to find a florist like NOW!
The Teenager: Nah Ma…she ordered it already I just need to go pick it up and pay for it.  
Again, did I miss a memo or something.  I thought  that was something the guy was supposed to do.  Ok granted I forgot until the day of but as far as I can tell my Teenager is rounding out to be a really lousy prom date.  She bought her own ticket, she picked his tux vest color and store, she ordered her own flowers!!??  What exactly is he doing?
Photos.
Me: So when is she getting here so I can take photos?
The Teenager: *blank stare*
Me: Ummm I want photos of you getting ready and her dress and all that.  This is a major memory and I want to capture it.
The Teenager:  Really mom?  Her mom has a camera.
Me: Ok, no.  THIS I will not give up.  I am taking photos of you getting ready AND I want some pictures of you together before you leave.  Period.
The Teenager: I'll tell her Ma.
Really?  Are a few prep shots too much to ask for?  I went with the flow through most of this but getting my photos…non-negotiable!
So needless to say we arranged for me to drive him to her house so I could get photo before they left in her car.  I was so glad we did because although her mom had a camera it was just her phone and she was so happy I was there to get pictures as well.  Great Moms Think Alike! 😀
This slideshow requires JavaScript.
Prom Night.
Overall we had a few ups and downs during this prom night experience.  It was definitely a bit of a learning curve but I wouldn't trade moment of it.  My Teenager has reached yet another mile stone in his Senior Year and I was so happy to be a part of it.  He had a great night, a great date (thank goodness) and although Hubby had to take me out to keep me from pacing the floor all night – he came home safe and full of stories of how his Prom Night was so much fun!
Up Next… Graduation!  Oh Emmm Geee! 
Lifestyle Blogger & Media Influencer
at
TheMrsTee
Tiffany is the ' Tee' behind TheMrsTee. Tiffany is a BlogHer VOTY Award Honoree as well as a Contributing Author with Modern Social f/k/a iBlog Magazine and BlogHer. Growing herself as a Brand and Influencer are always at the center of Tiffany's passion. As a Brand Ambassador, Tiffany has the opportunity to promote and support the brands she loves the most with her own unique perspective. Tiffany has extended her presence beyond her URL to Television as a Panelist for the MomsEveryday TV Show for 2 Seasons and to the stage as a Cast Member of the Finale Season of The Listen To Your Mother Show.
Latest posts by TheMrsTee (see all)