Review Or Sample Copy Disclosure
When RAVPower sent me the Luster Pack I instantly thought hmmm this should be interesting.  I had only ever seen the large square travel chargers and felt they were too large for my style.  So when I saw this amazing compact, cute and convenient sized version with all the power I could need to stay mobile and connected I was definitely intrigued. I charged it up, stuck it in my purse and was ready to go.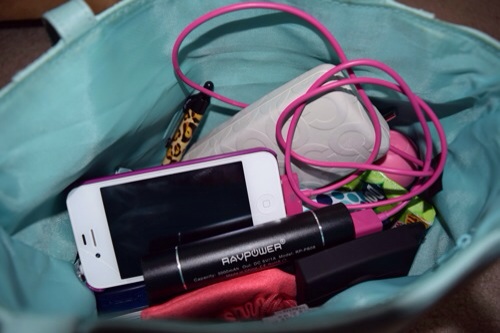 As Bloggers we have all faced that dreaded moment when you are getting ready to capture that perfect picture, check-in and the latest spot or tweet the best 140 characters ever and then it happens…your phone dies! It's something we all try to avoid and now with the New RAVPower Luster Battery Pack we can. 
I know, I know…we all try to leave the house at 100% but there are times the day just gets away from you and so does your battery strength. I honestly didn't think I would need it simply because, as most good Bloggers do I usually had my car charger as well as a variety of AC Chargers on hand at all times.
Yet the day came.  Not to long after I dropped the RAVPower in my purse, I was with my Hubby out on a Blogger errand.  I needed to check in and tweet and my phone was at 2%!  I was typing as fast as I could but it wasn't fast enough.  Black Screen.  The phone was done and unfortunately it looked like so my Social media connection was too. That' when I remembered the RAVPower Luster!
I grabbed the RAVPower Luster plugged it in (I always keep my USB Chord nearby) and my phone lit up in less than 2 minutes!  I was back!  I checked in, sent my tweet all by the power of the RAVPower Luster Battery Pack.  I kept my phone plugged in and was at full power in a little over an hour but I was still able to use my phone the entire time.
This is what I call a Blogger's Best Friend!  The best part is how easy it is to use and how convenient it is to carry. The RAVPower comes with it's own USB Chord for charging and connecting it to your phone could be easier.  Here, I'll show you…
That's it!  No complicated instructions, nothing heavy or too big to carry around.  A cute, simple and easy to connect battery pack that can be there when you need it the most.  Did you see the neat LED Light feature?  What a great tool in case of an emergency or even to find something in your purse.  
This is why I would definitely recommend the RAVPower Luster Pack for anyone who wants to stay In The Go and In The Know at all times with no worries about anything least of all your battery power.
Lifestyle Blogger, Brand Ambassador, YouTuber & Media Influencer
at
TheMrsTee
Tiffany is the ' Tee' behind TheMrsTee - a Lifestyle Blog created as a place to share her love of all things Faith, Family, Fashion, Food, Fun, Tech & Travel. Tiffany has established her influence within both the Blogging & Vlogging Communities. As a Brand Ambassador, Tiffany has the opportunity to promote and support the brands she loves the most with her own unique perspective. Tiffany has extended her presence beyond her URL to Television as a Panelist for the MomsEveryday TV Show for 2 Seasons and to the stage as a Cast Member of the Finale Season of The Listen To Your Mother Show. A 2016 BlogHer VOTY Award Honoree, Contributing Author with Modern Social f/k/a iBlog Magazine and BlogHer. Growing herself as a Brand and Influencer are always at the center of Tiffany's passion.
Latest posts by TheMrsTee (see all)