Fall. One of my very favorite seasons for so many reasons the biggest one being it means family fun. A road trip to the farm is always on our list of things to do. Hay rides, pumpkin patches, apple picking, Halloween. There are so many awesome ways to have a bit of fall family fun yet living in North Carolina means getting to them usually mean road trip. For me road trip means being ready for anything from the ride to the snacks and everything in between.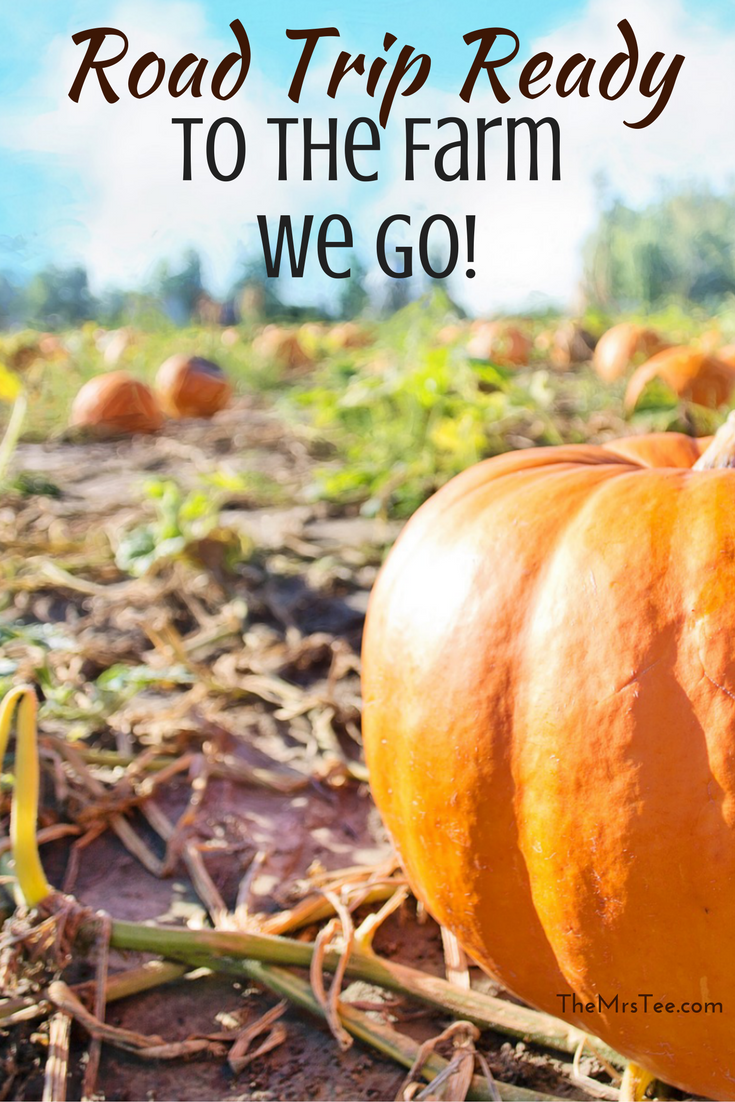 What Makes A Road Trip?
My definition of a road trip is any car ride that takes longer than 30 minutes. Now I admit this definition probably would not have applied during my life before kids. Before kids a car ride was no big deal. I actually enjoyed it. Taking a bit of a ride made getting to my destination seem like a bit of an adventure. After kids let's just say the adventure is there but probably not in the fun way I remember it. Learning how to be sure my family is road trip ready is the only way we brought the adventure back to our a family road trips.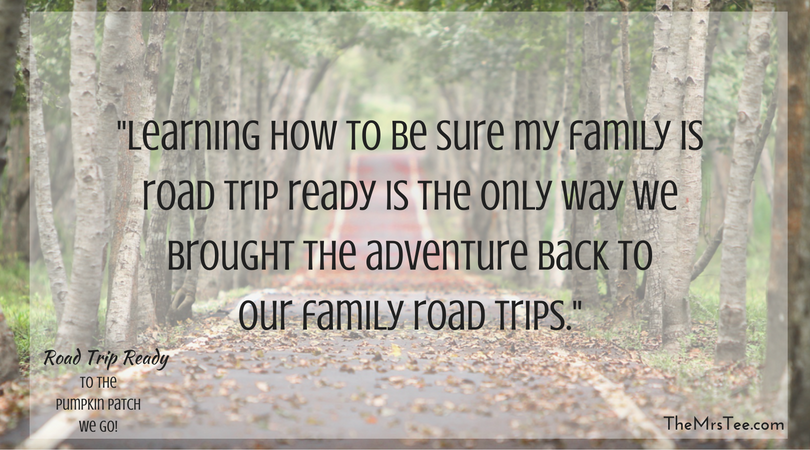 Why Be Road Trip Ready?
Like I said, living in the south there are many places to have fun but getting there isn't always a quick trip. Parents know being prepared for everything is a skill we learn to master pretty quickly. The one time you decide I probably don't need this will be the one time you definitely do!
Unexpected accidents, stops, moods, attitudes, hunger they all factor in when you make plans involving kids. Road trips are no different. In fact, they may be even more important to plan for since you will be away from home and basically surviving off only the things you have in our car or in driving distance.
Your Car
The first thing I do to make sure we are road trip ready is to check our car itself. There's no point in getting us all piled into a car that isn't ready to make the trip. Weather, road conditions or even other drivers can all pose a risk to an uneventful road trip. Your car can be your number 1 defense from accidents so making sure it's in the best condition possible is so important before setting out on any trip. Making sure your vehicle is prepared is necessary and easy.
Tires
Make sure your vehicle's tires are filled to their optimum tire pressure You can normally find this in either your vehicles manual or inside the driver door, trunk lid or fuel door.
Gas
Fill 'Er Up! Be sure you have enough fuel for your trip. I always like to start any road trip with a full tank of gas. This way if we run into a detour or even get lost (God forbid) we still know we have enough fuel to make it to the next safe place.
Oil
Try to make sure you are current with your car's required oil change schedule. You don't want your car engine to seize up on you when you are in an unfamiliar city or state.
These are all things we (okay so most times it's my Hubby but hey I handle the kids!) make sure are taken care of before we pull out of our driveway and start the ride.
The Kids
Speaking of the kids. They're the main reason my entire view of road trips has changed. From empty bladders to full bellies getting kids road trip ready takes a bit of planning that you will be happy you did once you get going.
First you want to be sure you can get a bit further than 5 minutes into your ride before you have to make a stop. So we make sure all parties (yup even the grown ups) involved make a mandatory trip to the facilities – whether they think they have to or not. Trust me most times they need to go before they know they do.
Next we cover snacks. It may seem a bit counterproductive to send them to the bathroom only to fill them up again but trust me you don't want hungry thirsty kids on a road trip. You will regret it. My go to snack options tend to be juice boxes, fruit snacks, crackers, sliced fruit and/or sandwiches. These are filling and have just enough sugar to keep them from feeling deprived without causing them to boune around my back seats.
Now being that I bring snacks we always try and schedule in a few bathroom stops. Most times I get a good hour or so before those snacks kick in and in the best case scenario we are already at our destination by the time that happens. If not, we always make sure we have a rest stop area along our route.
Getting There!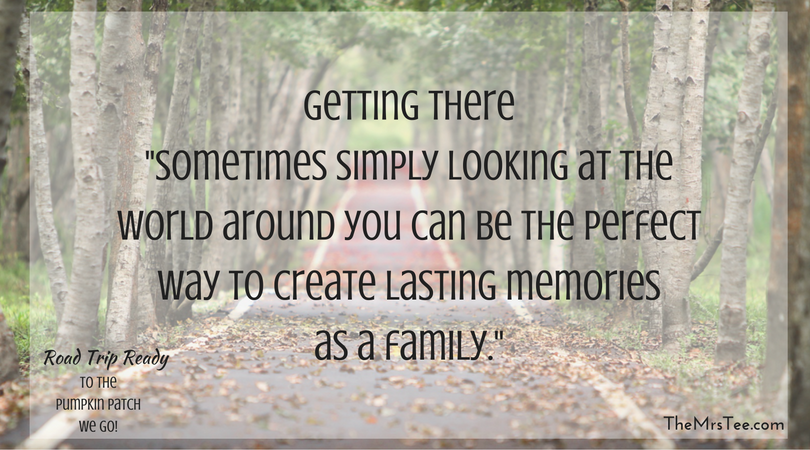 Once you've done the road trip prep the fun is all in the getting there. What will your route be? We always like to take a bit of a scenic route especially if we aren't on a tight schedule. Sometimes simply looking at the world around you can be the perfect way to create lasting memories as a family.
Another benefit of picking out the route ahead of time is being able to plan for any possible detours or changes you may need to make along the way. My husband loves to get lost to 'find a new way' but personally I rather just know where I'm going!
Where's The DJ?
Road trips means time in the car. How you pass that time can depend completely on your family and what you like the most. We pass the time with music. I think my Kiddies had their first playlist before they said their first words. On our road trips we love to let them each pick 5-7 songs and we create a playlist. We hit shuffle and let them be the DJs of the trip. They have a blast and we always find ourselves singing along. The time passes fast and before we know it we've already made it to our destination.
Car games can also be a great way to pass the time. One of our favorites is the Super Hero game. We all get a turn naming hints like costume powers storyline and the other have to guess which super hero we are talking about
How do you pass the time during a family road trip?
Fall Fun Road Trips
This year we plan on visited a pumpkin patch that was a little over an hour away.
Between snacks, music and games the time went quickly. Let me tell you that ever tip I shared came in handy for our little trip. Except that I was the one who needed a bathroom break since somehow I made sure everyone else went but forgot to go myself. Oh well…we enjoyed the ride and the stop and got to our destination safe and ready to explore the fun the Pumpkin Patch had in store for us.
#SteelMatters Everyday
Learning how much #SteelMatters in my everyday life has been such an eye opening experience. Whether it as a
mom taxi
during the back to school transition or a new homeowner learning how to
make my yard stand out
in a good way to spending a fall day with my family #SteelMatters plays such an important part in making them all happen smoothly,safely and successfully.
The Steel Market Development Institute (SMDI), a business unit of the American Iron and Steel Institute (AISI), increases and defends the use of steel by developing and communicating innovative materials and designs. SMDI works to differentiate steel based on its environmental performance and demonstrate steel as the highest value material in the automotive, construction and packaging markets.
You can learn even more about how much #SteelMatters and about The Steel Market Development Institute (SMDI) by visiting them on their
Website
,
Facebook
,
Blog
and
Twitter
.
This is a sponsored conversation written by me on behalf of Steel Market Development Institute. The opinions and text are all mine.
Lifestyle Blogger & Media Influencer
at
TheMrsTee
Tiffany is the ' Tee' behind TheMrsTee. Tiffany is a BlogHer VOTY Award Honoree as well as a Contributing Author with Modern Social f/k/a iBlog Magazine and BlogHer. Growing herself as a Brand and Influencer are always at the center of Tiffany's passion. As a Brand Ambassador, Tiffany has the opportunity to promote and support the brands she loves the most with her own unique perspective. Tiffany has extended her presence beyond her URL to Television as a Panelist for the MomsEveryday TV Show for 2 Seasons and to the stage as a Cast Member of the Finale Season of The Listen To Your Mother Show.
Latest posts by TheMrsTee (see all)