Review Or Sample Copy Disclosure
It's almost here!! The Color Run Dream Tour Presented by Lays® is almost here and I couldn't be more excited! This will be my 3rd year I'm making it a family affair as my 10 year old daughter joins my oldest and I for the fun as we #DreamInColors !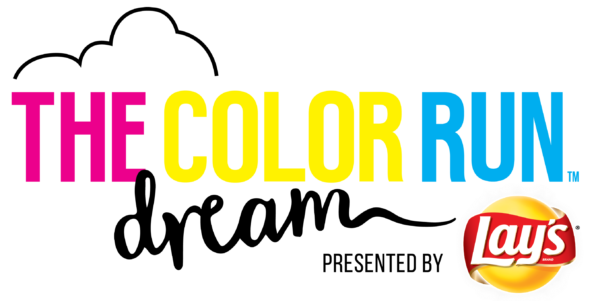 This year The Color Run theme is all about Dreams! I don't know about you but living my life where I can make my dreams come true is something I strive to do. As I registered for the race, near the end of the for there was a question:

This caught me a bit off guard because I hadn't really thought about it until that moment. That's the awesomeness I have discovered over the years about The Color Run. Yes it's full of fun, color, connections and memories but it also sparks a bit of reflection. I hovered over the question a bit before I realized the answer was one I had since the beginning of this year: to live limitless – in my life, my relationship and here on my blog. I want to exceed and excel even my own expectations!
So I ask you…

The Color Run & MrTee. . .
This year will be my 3rd experience in The Color Run. I've taken part in both The Color Run Kaleidoscope Tour – 2014 and The Color Run SHINE Tour – 2015! It has become something I have shared with my oldest son and we have so many amazing memories. I am so excited that this year my 10 year old daughter will be joining us. She ran her very first 5k this year with her school running club and when she said she wanted to run The Color Run I couldn't have been happier. I can't wait to add her to the history of our experiences in The Color Run!
New To The Color Run Dream Tour!
The Color Run has made a tradition of adding new and fun features each year and this year is no exception! The Color Run Dream Tour will have a cloud foam zone to the already colorful 5k race!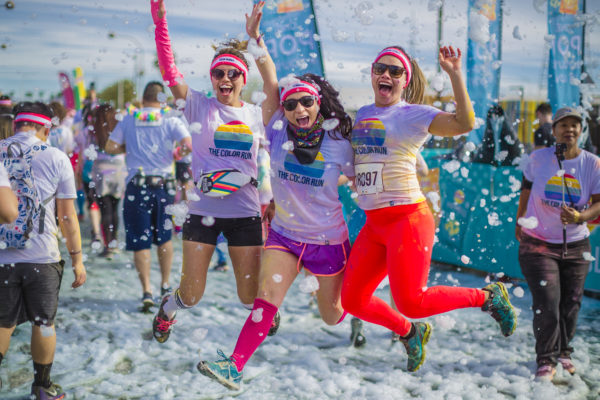 The fun of The Color Run Dream Tour doesn't end there. This year you will have the chance to add Your Dream to The Color Run Dream Wall!!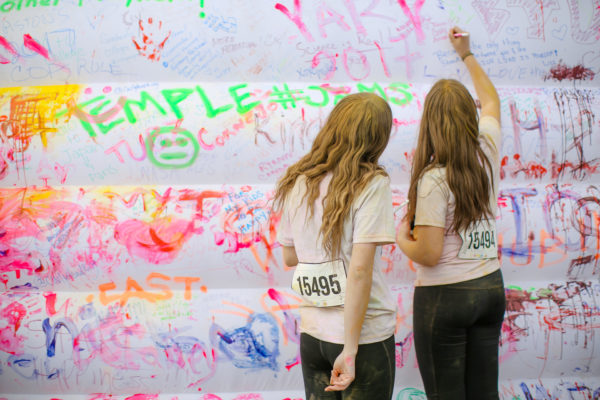 Whatever your dream is for your life, your love, your passion – add it to the wall and Run Your Dream!
The Color Run Is for Everyone!
The thing I love most about The Color Run is The Color Run is for Everyone! Trained runner, first-timer, Mom, Dad, Grandparent and Kids! Whoever wants a day of fun and memories can find that and more as a runner in The Color Run.
"Seeing how happy The Color Run has made all different kinds of people has been very rewarding. It really is an event for all fitness levels, ages and backgrounds. Our tag line is "the Happiest 5K on the Planet" for a reason. That line was created after seeing how happy it made people."=" -Travis Snyder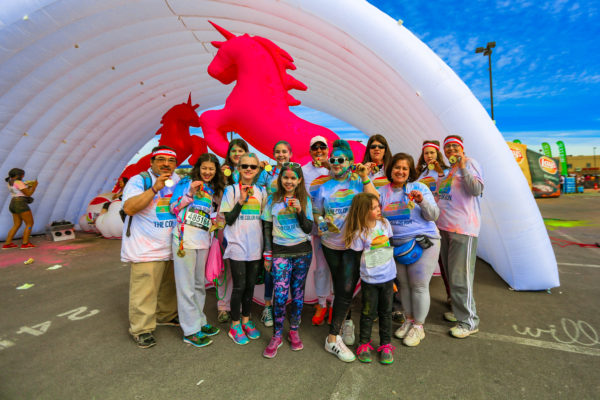 Pick A Cause!
The Color Run frequently partners with different charities to help shine a light on their amazing work within the community and the causes they stand for. The Color Run has raised donations for more than 80 local and national charities since 2012. To date, The Color Run has donated more than $5 million to charity since its founding in 2012.
To date, The Color Run has donated more than $5 million to charity since its founding in 2012. Each charity's needs are a little different, and as a result each charity partner asks for help in different ways. Here are a few ways The Color Run helps raise funds for charity partners:
1) Post Race Donation. This is a financial donation to the charity partner. This set amount is determined in communication with the charity and depends on the level of involvement/volunteers provided by the charity.
2) Embedded Giving. Color Runners are provided the opportunity to add a donation that goes directly to the charity during the registration process. Charities are constantly overwhelmed by Color Runners' generosity.
3) Charity Registrations. In some cities, partner charities are provided with a number of charity registrations. The charity sells these registrations through their own website and keeps 100% of the listed price of the registration.
*All information provided by The Color Run Press Release Team
Run Your Dream!
I am so happy to once again have the chance to offer each of you the opportunity to WIN 2 FREE Registration Packs for you and a friend. The Color Run is an experience like no other that is always best when shared!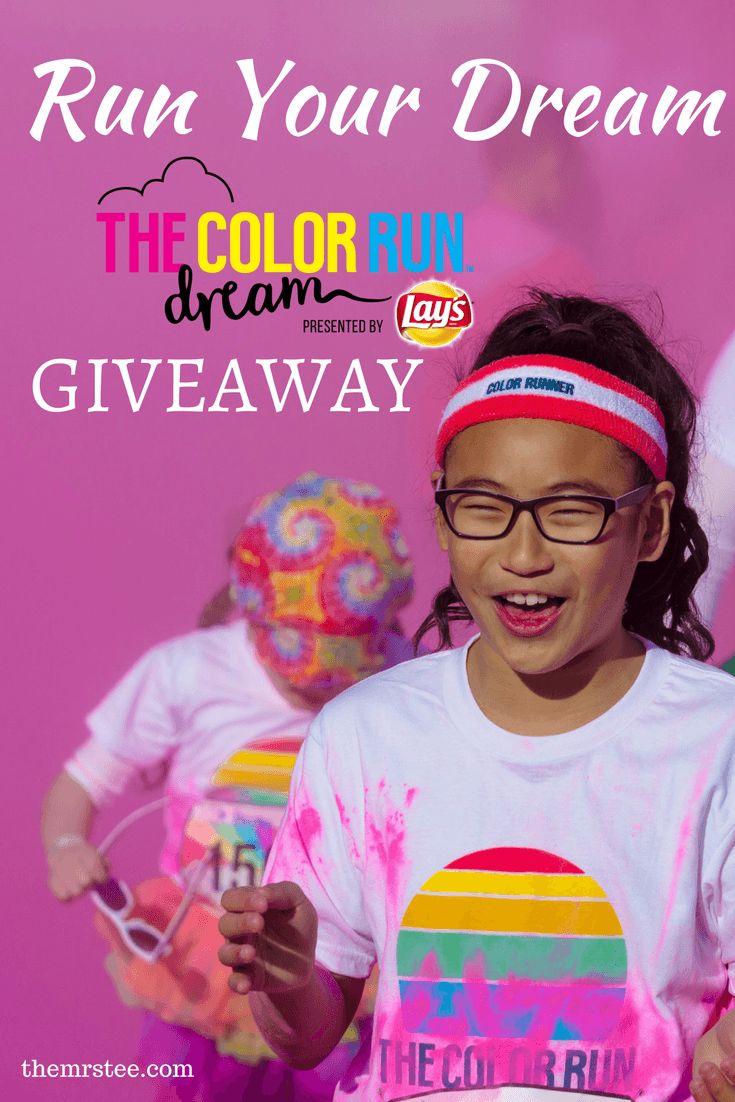 Enter To Win TODAY!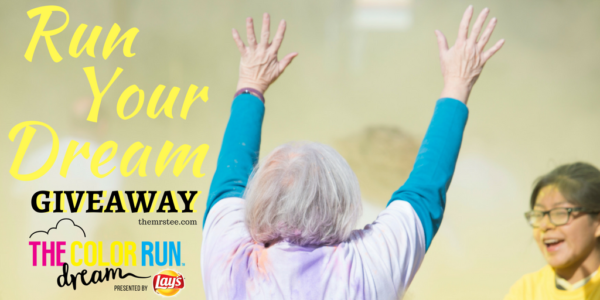 *Each Color Runner will receive a limited-edition Dream Tour race shirt, embroidered headband, a fun temporary tattoo, and a one-of-a-kind Unicorn Finisher's Medal.
Lifestyle Blogger & Media Influencer
at
TheMrsTee
Tiffany is the ' Tee' behind TheMrsTee. Tiffany is a BlogHer VOTY Award Honoree as well as a Contributing Author with Modern Social f/k/a iBlog Magazine and BlogHer. Growing herself as a Brand and Influencer are always at the center of Tiffany's passion. As a Brand Ambassador, Tiffany has the opportunity to promote and support the brands she loves the most with her own unique perspective. Tiffany has extended her presence beyond her URL to Television as a Panelist for the MomsEveryday TV Show for 2 Seasons and to the stage as a Cast Member of the Finale Season of The Listen To Your Mother Show.
Latest posts by TheMrsTee (see all)