Disclosure of Material Connection: This is a "sponsored post." Starkist Tuna via MSB New Media compensated me via a cash payment, gift, or something else of value to write it. Regardless, I only recommend products or services I use personally and believe will be good for my readers. I am disclosing this in accordance with the Federal Trade Commission's 16 CFR, Part 255: "Guides Concerning the Use of Endorsements and Testimonials in Advertising."
During my husband's deployment there were a lot of things that we tried to do to make sure that he had reminders of home as much as possible. In addition to the miracles of video calls and texting we also relied on the old school versatility and convenience of a Care Package. we sent them for Holidays, Birthday and ANYdays. Care Packages were a great way for our family to send him a bit of home no matter how fare away he was.
A few of the things he asked for were card games, DVDs, books, socks and his favorites snacks which were always a great and easy way to give him a taste of home no matter the distance.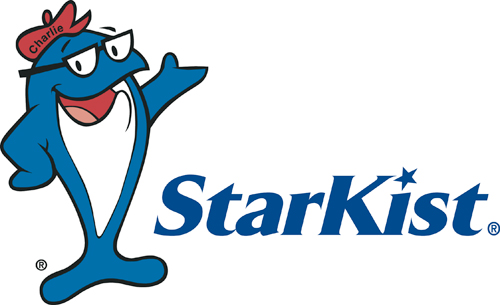 StarKist Tuna has come up with an amazing way to help you send the perfect Care Package and include a taste from home in packaging that makes it easy for your loved one to eat and enjoy on-the-go. The new "Outdoor Tuna Creation Pouch" comes in a easy to carry, single serve portion that is the perfect addition to any Care Package. Plus they provide a great source of lean protein and come in 5 delicious flavor varieties to fit any taste buds. I call that a Win-Win on all sides!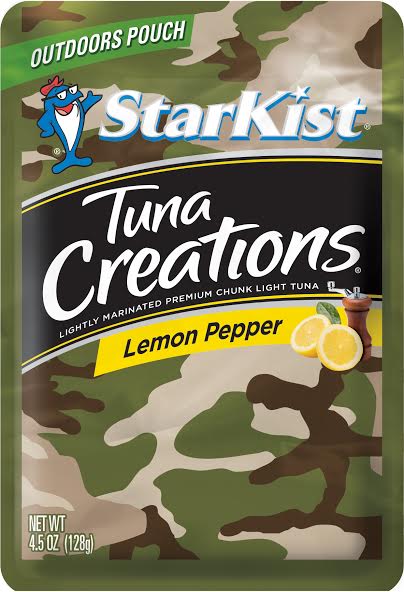 Yet that isn't where StarKist stops. Nope. As one of our nations classic brands, StarKist believes along with the beloved Charlie The Tuna® want to take the time to say 'Thanks' to our heroes during the Holidays. StarKist has partnered with the 2014 Wounded Warrior Project® Believe In Heroes Campaign® to help honor, support and encourage our wounded heroes.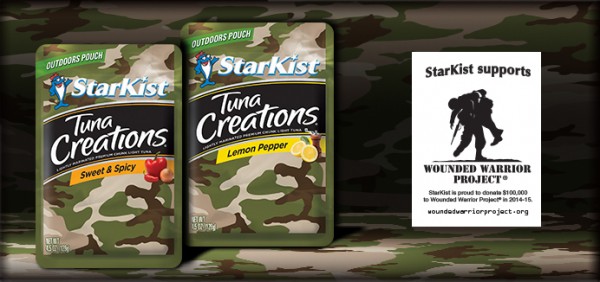 Now sending a care package can be a bit tricky at times. Here are a few of my personal Care Package ABCs…
Less Is Best
I always tried to make my Care Packages a bit compact. I found the larger the package the more skill I needed to actually get it packed. So instead of sending every thing I could think of all at once I would send a few things (no more than 10) at a time. This let me have the fun of sending another package later. According to my husband, the one of the best parts of receiving a Care Package while deployed is the hearing your name during mail call. So the more packages the better!
Make It Personal
I know he misses this the most. That's what I would want to think when I decided what to include in my husband's packages. What things do I know he is missing the most from home? Swedish Fish, Double Stuff Oreo Cookies, his favorite kind of toothbrush or body wash. Those are the things that can be hard to get while down range and that can give a sense of home with a simply taste or scent.
Pack In The Love
This is from us. Let your husband or loved one know that you are thinking of them. Include a few things that are from your heart. A note, a drawing or even something handmade. A bit of love can go a long way.
GIVEAWAY
Enter to win
(4) StarKist Outdoor Tuna Creations Pouches
(2 of each flavor) Sweet & Spicy PLUS Lemon Pepper
1) StarKist Charlie the Tuna T-shirt
(1) StarKist collapsible water bottles
(1) StarKist Charlie the Tuna key chain
Join us in supporting the Wounded Warrior Project® and StarKist Believes In Heroes Campaign® this Holiday Season with StarKist and The NEW Outdoor Creation Tuna Camo Pouch! You can grab them at your local Wal*Mart and grocery stores nationwide.
#StarKistBelieves
Lifestyle Blogger & Media Influencer
at
TheMrsTee
Tiffany is the ' Tee' behind TheMrsTee. Tiffany is a BlogHer VOTY Award Honoree as well as a Contributing Author with Modern Social f/k/a iBlog Magazine and BlogHer. Growing herself as a Brand and Influencer are always at the center of Tiffany's passion. As a Brand Ambassador, Tiffany has the opportunity to promote and support the brands she loves the most with her own unique perspective. Tiffany has extended her presence beyond her URL to Television as a Panelist for the MomsEveryday TV Show for 2 Seasons and to the stage as a Cast Member of the Finale Season of The Listen To Your Mother Show.
Latest posts by TheMrsTee (see all)