Squad Goals. I've seen the tees, mugs, memes, etc. but didn't really know how it felt to be part of a real life Squad – until #BlogHer16! From my landing in Los Angeles to the day I left, I finally had the chance to realize my very own Blogger Squad Goals!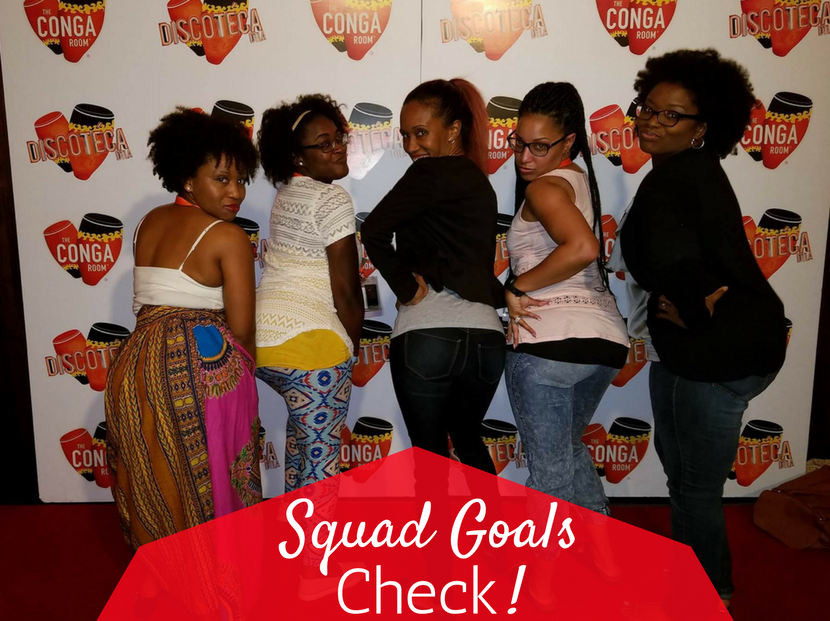 This year I was determined to make my BlogHer experience not only about connecting with Brands but also about connecting with other Bloggers. It can be so hard being a Blogger when you feel like no one around you gets what you do. I knew that BlogHer is a place where I have a chance to meet, interact and connect with people who not only get it but strive for it with the same passion I do.
On The Way
Landing in LA was beyond exciting for me. It was my first time there, I was heading to BlogHer and it was my Birthday weekend to boot! It was the time after my landing that got a bit hectic. I booked a shuttle service to the hotel and even though I knew it was a share-a-ride situation but I didn't realize how long that ride would take.
I sat there prepping my pout. I booked my flight giving myself just enough time to make it to the hotel, change clothes and start exploring the Expo Hall. Let's just say I will never book anything with 'just enough time' again. My short shuttle ride turned into about 2 hours of drop offs with mine being nearly the last one. I sat there in the midst of a brewing pity party with invitations all ready to go out across twitter when I heard the driver asking where everyone was going. As I waited my turn to reply I heard the woman next to me say JW Marriott LIVE – wait what?! Okay this could be good. I waited until we all finished giving out answers and asked her if she was attending BlogHer16. Yes. She was!
For the next 45-60 minutes I had an awesome chat with Ms. Shawn from Shrederella. We chatted all things Blogging, Conferences, Family, and more! It was so much fun and meeting her definitely brought me out of my oncoming funk and helped me refocus on why I was so excited to begin with. Oh did I mention there was another BlogHer16 attendee on the same shuttle as Shawn and I – and her name is Tiffany!?!?


Yup. Tiffany was sitting 2 rows behind us the entire time!
Just realized @mizzouwgst is on the shuttle with me!! #BlogHer16 here we come…eventually. #LATraffic #MrsTeeTakesLA

— ? The MrsTee ? (@themrstee) August 5, 2016
Once we arrived at the hotel we were only able to catch the tail end of the Expo Hall BUT we did manage to Register and grab our Swag Bags. Once we did that the only thing we wanted to do was find something to eat. Yes people, food is a big deal during a Conference! 🙂 Thanks to the awesomeness that is the Official BlogHer Facebook Group we planned to run to our rooms, drop off our bags and meet up with a few other Bloggers for dinner right down the street from the hotel.

Blogger Eats

It was here I was able to meet TheLAGirl Gwen, Ashley of MommyWantsCoffee – ahem obvious instant connection, Stephanie of TravelCraftJournal plus several other awesome Bloggers that I didn't get a chance to grab info from. We had a deliciously filling dinner at Rosa Mexicano. we chatted, laughed and shared our expectations for the Conference. It was such a great way to start off my BlogHer experience and give me another glimpse into what being part of a Squad can be.
24 Hours of Connections
The next Day was my first full day. Sadly my body was still stuck on North Carolina time and I woke up around 3am wondering where I was and what to do with myself until everything started – 5 hours later. As a true Blogger I decided to get a bit of work done and started off by jumping on Facebook. It was then I noticed that I wasn't the only East Coast Blogger having a few sleeping issues. I started chatting with Dani from OKDani and we decided to meet up later that morning at the Staples Event.
Rocking the @Staples #RedCarpet with @headbandfortoday @thedanifaust proving that Moms know how to have fun!! #StaplesLive #BlogHer16 #BlogLife #BloggerTravel #Blogger #Bloggers #LA #LosAngeles #MrsTeeTakesLA #NCBlogger #NCVlogger #TheMrsTee

A photo posted by TheMrsTee (@themrstee) on
Now if you haven't met or connected with Dani please allow me to introduce you. She is the amazing mom to two adorable kiddos who give her inspiration and motivation to be the amazing Blogger she is. She shares about everything from fitness, being a morning person (obviously she's got that down) and all things Blogging. I loved her site before meeting her but once we met in real life I knew I had a Squad Buddy for sure!

A Night To Remember
After the Staples we agreed to meet up later that night for an informal Blogger Connect at The Mixing Room a really great and unique lounge located right in the hotel lobby. This little get together was like having on big Squad Party! I had the change to have my very first Moscow Mule wish is definitely added to my list of favorite drinks. I met, connected and had a blast with fellow Bloggers from all over the country. We not only shared our passion for Blogging but for many other life experiences and traits as well. It was amazing!
We danced the night away into the next day which just happened to be my birthday. To my surprise and excitement Dani and the other Bloggers even took a moment on the dance floor to sing Happy Birthday – let's just say I brought in my Birthday like no other and it will always be a night I remember.
Now the night didn't end there. Dani, Jen from JenOniInc and Meagan from EclecticallyMeagan decided to grab bite to eat at the amazing Yardhouse where I was introduced to the Hawaiian Mule which was even a bit tastier than the Moscow Mule! We sat and talked blogging, Pitching, Branding & More! Dani was her always encouraging self and helped give me a confidence boost on a few things I had been stalling on in my Blogging journey. These amazing women not only gave me great conversation and good company but they ended my night with a surprise Birthday sundae as well!

It's Over
The next day was our last full day at the Conference. I woke up with a mix of sadness and excitement! I knew it was going to be full of opportunities to connect with brands and learn from all the powerful keynotes that were scheduled but I also knew it meant another day finding more of my Squad.
This day started with my girls Andrea of GoodGirlGoneRedneck and Danielle of Mamademics. It is so hard to believe that Andrea and I live in the same state a mere drive away from each other yet Los Angeles was going to be our first time meeting in person! We had connect a bit the day before but Saturday we had the chance to grab a Starbucks, take a walk to Target while catching a few Pokemon along the way, grab a few cupcakes from Sprinkles and sit in on some of our favorite Keynote Speakers including Kim Kardashian and Mayim Bialik.
Danielle is a fellow VOTY Honoree and when I read her piece I totally understood why she was there. This is a wife and mother who knows her purpose and is not afraid to go after it with determination and courage. I am truly in awe of her.
My final day of BlogHer16 ended with the Closeout Party. It was held at The Conga Room a few steps from the hotel. We all went together – the entire Squad! We had a few drinks and then decided we wanted to have a private Squad Closeout Party. Thanks to Latricia of CandidProse and Tamika of Fox Hartman Consulting we all ended up with a huge table at Wolfgang Pucks! Okay, so it started out as a small table but the Squad just kept growing and growing! It was awesome! By the time all had settled we had a table of about 12 Ladies. Again we chatted, connected and shared our own stories and what drives us to be the Bloggers we are.
Our table keeps growing and growing and growing thanks to @themrstee! @foxlaw2004 @Shrederella

— LaTricia Woods (@LTWoods) August 7, 2016
The next morning as I got ready to catch my shuttle to the airport for my flight home I tried to remember each person I met. each woman who inspired me by her drive, her determination and her success. There were far more than I mention here. Each one sparked something different in me. I headed home realizing that I am not alone. This Blogger Life I chose is not a lonely one. There are others out there just like me sitting up late at night typing, early morning brainstorming and middle of the day jotting down ideas for posts, campaigns and brands. We are a growing community and I don't see anything but success ahead. I know that is all we have in our futures because when we have Squads like ours we can take on the world!

Check out my Final Vlog from #BlogHer16 and see my day from start to end including our Blogger Meet and dance fun while getting to meet a few of those Bloggers I am happy to call part of my Squad!
Lifestyle Blogger & Media Influencer
at
TheMrsTee
Tiffany is the ' Tee' behind TheMrsTee. Tiffany is a BlogHer VOTY Award Honoree as well as a Contributing Author with Modern Social f/k/a iBlog Magazine and BlogHer. Growing herself as a Brand and Influencer are always at the center of Tiffany's passion. As a Brand Ambassador, Tiffany has the opportunity to promote and support the brands she loves the most with her own unique perspective. Tiffany has extended her presence beyond her URL to Television as a Panelist for the MomsEveryday TV Show for 2 Seasons and to the stage as a Cast Member of the Finale Season of The Listen To Your Mother Show.
Latest posts by TheMrsTee (see all)