Okay so I felt this was a necessary post because I just spent the last 2 days trying to figure this out. I Googled and searched and check every FAQ Page I could find and the answer to my question was eluding me. How To Pick Your Own Sverve Tip Images? Yup, simple question right? Apparently not so simple.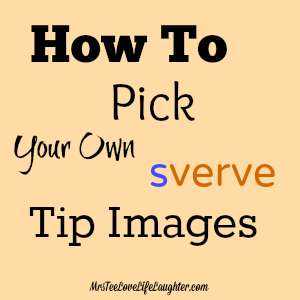 It all started with my post about putting the You in YouTube and my wanting to share it as a Tip on my Sverve account.
What Is Sverve?
Sverve is an easy way for Influencers (Bloggers) to create a connection with Brands based on their impact throughout their Social Media presence. You are given a Score much like other Influence measurements and that Score can help determine what Brand Campaigns you qualify and are able to Apply for. If you haven't joined yet Join Sverve Now! It's easy to do and the benefits and definitely worth the clicks.
What's A Tip?
Submitting Tips from either your site or other Bloggers can add to your Influence and thereby increase your score. It also shows your support of other Bloggers and Influencers within Sverve which can lead to new connections and support for your own content.
Now, this is back to where I started in the beginning. I was trying to submit a Tip for one of my recent post about YouTube and wanted to be certain that the image I worked so hard on was included. Yet each time I submitted my Post (directly from the URL) no image was added. For whatever reason it was not being pulled from the post.
After a few days of searching and not finding a way to select my own image I reached out to Sverve's Twitter Account for help. I received an immediate response with an even faster solution.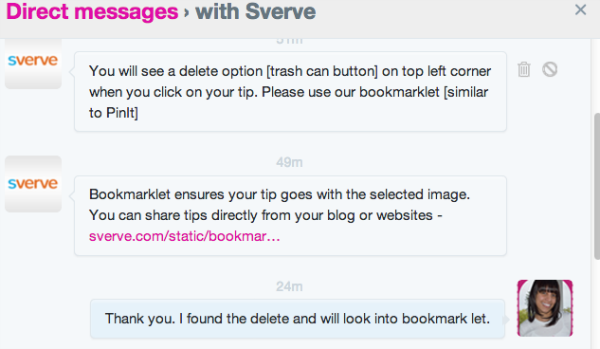 Ok so now I was able to delete the several attempts I'd made at picking an image for my Tip. There is nothing worse than a Sverve Tip with no image at all. It doesn't give the reader a reason to click or share it. Once I had those deleted I went to the Bookmarklet Link.
It was here that I found out that Sverve, much like Pinterest, offers a Bookmark addition that allows you to add any post and choice of it's images to their site. Yay!
How Did I Do It?
That link takes you directly to the Bookmarklet page within the Sverve site. There you can select your preferred Browser and simply drag the Sverve tab to your Bookmark Section (be sure your Bookmarks are visible before you drag it) and your done!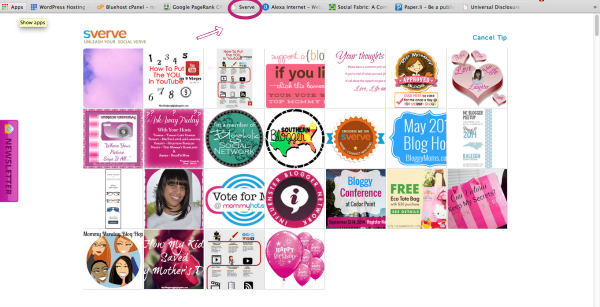 Once you have the tab there you can go to whatever Post you wish to share, click the tab and a window will open with all of the images related to that post. Woot-Woot! Then you get to select what image you want to use and simply click Add Tip!
Super easy right? Yes! It was.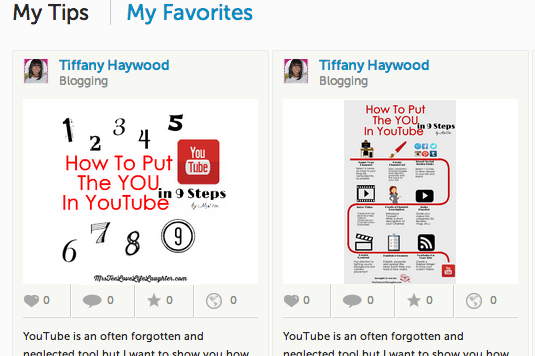 Look At That! I was able to add my Tip with two different images, both my info graphic and my post title image. I was (am) so excited! I now have a great way to not only add my own posts as Tip but to help support and promote my fellow Bloggers directly from their Posts!
Up until tonight, I have only known how to add Tips from my phone which meant trying to copy a link from a tweet or something and then add it hoping it would pick the right or appropriate image. No More! I can Add Tips and Pick Tip Images with ease and now you can too!
Have you joined Sverve yet?
How do you add images to your tip?
Have you run into problems before?



** Disclosure of Material Connection: Some of the links in the post above are "affiliate links." This means if you click on the link and purchase the item, I will receive an affiliate commission. Regardless, I only recommend products or services I use personally and believe will add value to my readers. I am disclosing this in accordance with the Federal Trade Commission's 16 CFR, Part 255: "Guides Concerning the Use of Endorsements and Testimonials in Advertising."
Lifestyle Blogger & Media Influencer
at
TheMrsTee
Tiffany is the ' Tee' behind TheMrsTee. Tiffany is a BlogHer VOTY Award Honoree as well as a Contributing Author with Modern Social f/k/a iBlog Magazine and BlogHer. Growing herself as a Brand and Influencer are always at the center of Tiffany's passion. As a Brand Ambassador, Tiffany has the opportunity to promote and support the brands she loves the most with her own unique perspective. Tiffany has extended her presence beyond her URL to Television as a Panelist for the MomsEveryday TV Show for 2 Seasons and to the stage as a Cast Member of the Finale Season of The Listen To Your Mother Show.
Latest posts by TheMrsTee (see all)