Press/Media Coverage Disclosure Sponsored Post Disclosure
The All American Tattoo Convention is hosted by All American Tattoo Society based here in Fayetteville, NC. I was given VIP Access thanks to my sponsor – ABC11 WTVD – for the entire weekend of events and I'm sharing Day 1 with YOU!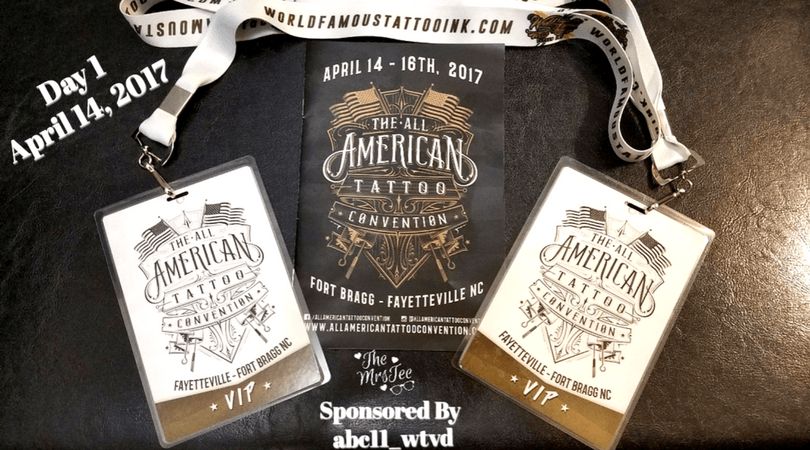 I Couldn't Leave!
My initial plan for today was to pick up my credentials, get to know the layout of the booths, sponsors, vendors and events all so I could have a plan for tomorrow. Let's just say plans change! I arrived around 2pm and didn't leave until around 7 and can I tell you I still didn't see everything!! The All American Tattoo Convention is so jammed pack with tattoo artists, vendors, products and information from all over the country I just couldn't leave!
As I walked the expo I realized that there were many local artist from here in Fayetteville represented as well as other parts of North Carolina like Greenville, Greensboro and Durham not to mention (funny how we always say that as we mention) tattoo artists from as far away as LA and Vegas!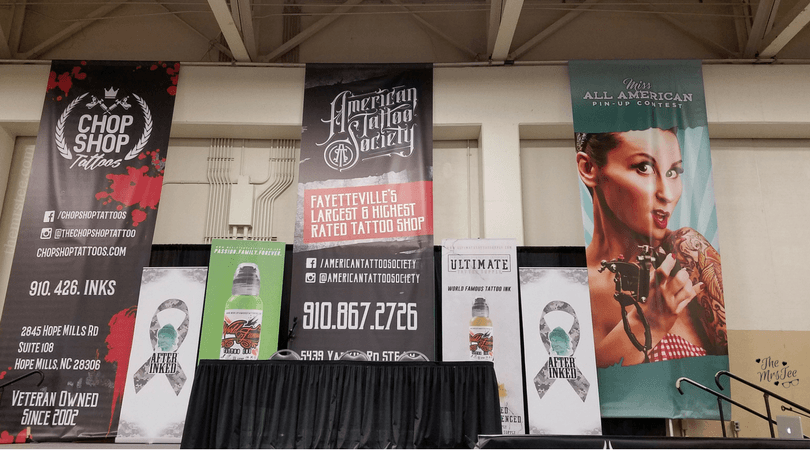 With over 200 booths and 350 artist The All American Tattoo Convention is full of something for every level of tattoo enthusiasts. Collector to actually Artist this convention has it all. As I walked around the perimeter of of the expo center I saw people getting full sleeves, back art, arms, legs, small, big – any tattoo you could imagine could be done. How? The Convention started at 12 noon today and doesn't end until 10pm. Saturday it begins with a VIP Only Meet & Greet (I'll Be There and I'll Be Sharing!) then the Convention begins again and doesn't close until 10pm. That's a full day of time for your favorite artist to give you a piece of art you will love for the rest of your life! Oh and on Sunday there is another day for tattooing plus a line up of events just for kids including an Eggstravaganza and Face painting!
Giving Back!
The All American Tattoo Convention is about all aspects of the tattooing community including after care, piercing, accessories and more! You can see and explore vendors from all over the world with products you will never forget.
The goal of The All American Tattoo Convention is to give some of the bravest heroes in the world the opportunity to be tattooed by some of the best tattoo artists in the industry.

Tattoos and the US armed forces have a history dating back as far as the early 1900's. To the millions of Americans who have served either as active service personnel or reservists means there are countless inked active duty & war veterans. Many of these tattoos are a constant reminder to their loyalty not only to their branch/unit but also to their country. These tattoos showcase the pride in camaraderie with their fellow soldiers or in remembrance of a fallen comrade.

Tattoos and body art can tell a story that words fail to serve. No one knows this better than our troops who when they come back from war, often struggle to rejoin everyday life and relate to those who have no concept of what it's like in war. Tattoos give these veterans an outlet to express themselves and show the pride in being a part of something bigger than themselves.
The All American Tattoo Convention has a purpose that is set in the support and encouragement of our Military Service Members – this is something that automatically touched me close to my heart. As the spouse of a Retired Service Member, I know how important it can be to express not only their loyalty to their country but to their fellow brothers in arms. Tattoos are such a big art of that community and this convention helps bring focus to the things that matter to them and their families.
What's Ahead . . .
Tomorrow is set to be just as amazing as today – actually even better because I have set up Quick Q&A Session with over 10 different artists and vendors! I had the chance to visit several booths of Veteran tattoos artist, support programs for veterans as well as business owned and founded by service members. I can't wait to share it all with you so be sure to follow me on Instagram, Twitter, Snapchat and of course YouTube. I will be sharing LIVE throughout the day as well as here and on My Channel with recap videos and the interviews.
The All American Tattoo Convention does not limit the fun to the tattoos but explores the culture behind the lives of those of us who love tattoos and the art behind it. That's why in addition to amazing artists and vendors AATC is also showcasing performers like brother and sister act of The Olde City Side Show and a Miss All American Pin Up Contest set to take place Saturday, April 15th!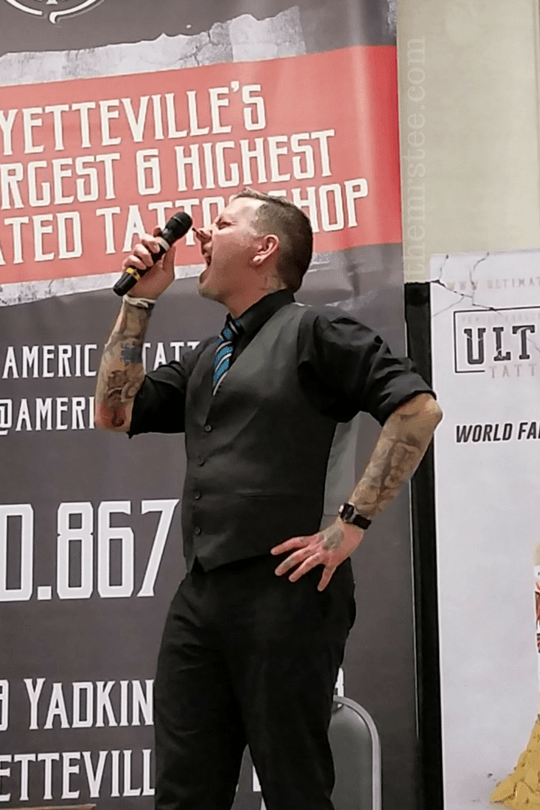 Local to the Fayetteville area or visiting for the Spring Break? Take a few hours this weekend to explore The All American Tattoo Convention! Find out more information about tickets and events on the Official AATC Website, Facebook, Twitter and Instagram.
Ya'll know me and you know I could never cover an event without giving you that There With Me perspective through my Vlogs . . .
Do you have any tattoos?
What was your first tattoo experience like?
Lifestyle Blogger & Media Influencer
at
TheMrsTee
Tiffany is the ' Tee' behind TheMrsTee. Tiffany is a BlogHer VOTY Award Honoree as well as a Contributing Author with Modern Social f/k/a iBlog Magazine and BlogHer. Growing herself as a Brand and Influencer are always at the center of Tiffany's passion. As a Brand Ambassador, Tiffany has the opportunity to promote and support the brands she loves the most with her own unique perspective. Tiffany has extended her presence beyond her URL to Television as a Panelist for the MomsEveryday TV Show for 2 Seasons and to the stage as a Cast Member of the Finale Season of The Listen To Your Mother Show.
Latest posts by TheMrsTee (see all)