NaBloPoMo December is all about joy. I suppose that is fitting being that December is the beginning of one of the most joyous Holidays and reasons to celebrate. So, when I saw the theme I signed up right away. After I wondered if I'd clicked a bit too quick. Still, November's NaBlopomo went pretty good for me. I paced myself. I planned ahead to take off Saturdays and Sundays since those are usually my family time and I didn't want to become overwhelmed. It really helped me to make it as far as I did. I think my last post was a few days before Thanksgiving. With family visiting and preparations, I just couldn't write any quality content. For me, that meant it was time to bow out gracefully.
Still i so enjoyed the fun of the NaBloPoMo Community as well as the different creative paths the prompts were able to send me to explore. So, I have decided to take part in NaBloPoMo December. Same rules apply: weekends I rest. Now, let's get started 😀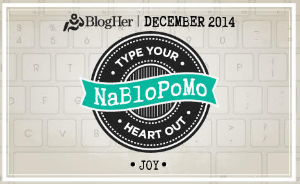 December 1, 2014
What do you do when you're down to bring yourself a little joy?
Think on the good.
For me my Joy is tied to the blessings, love and memories I have. In the times where the unavoidable trials and just plain yucky days come the quickest way for me to find my joy in the midst of it is to think on those things I count as blessings.
My Faith
If it weren't for the peace that I gain through God's promises, assurances and love for me I don't know where I would be in my life right now.
My Family
There are days when I get up and honestly want to climb right back into bed. Too tired, too overwhelmed. Just too. Yet when my Kiddies run through my door giggling and excited about the same day I was trying to avoid. I let their joy pull me through.
My Friends.
There is nothing like having a support system around you. A group of people you know have your best interest at heart no matter what. A true friend tells you what you need to hear despite what you may want to believe. Those are the people I surround myself with. Friends who easily become family.
These are the main things I know I can always count on to bring back my joy when finding it on my own may not be so easy.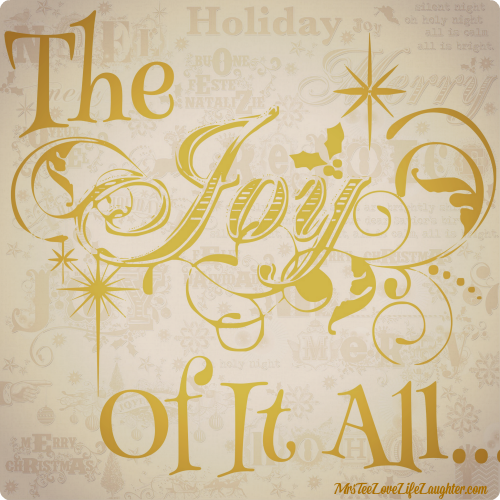 How do you bring back your joy?
Lifestyle Blogger & Media Influencer
at
TheMrsTee
Tiffany is the ' Tee' behind TheMrsTee. Tiffany is a BlogHer VOTY Award Honoree as well as a Contributing Author with Modern Social f/k/a iBlog Magazine and BlogHer. Growing herself as a Brand and Influencer are always at the center of Tiffany's passion. As a Brand Ambassador, Tiffany has the opportunity to promote and support the brands she loves the most with her own unique perspective. Tiffany has extended her presence beyond her URL to Television as a Panelist for the MomsEveryday TV Show for 2 Seasons and to the stage as a Cast Member of the Finale Season of The Listen To Your Mother Show.
Latest posts by TheMrsTee (see all)