Since the time I began Blogging I had this dream. I knew what I wanted, where I wanted to go and how I planned on getting there. For me, Blogging was an outlet but it also had potential to allow me to do something I loved without sacrificing time with the people I love. Still, it hasn't always been a dream others could understand. For them when I would say "This Could Be It…" about my Blog Career they saw nothing more than a dream with no true signs of being a reality.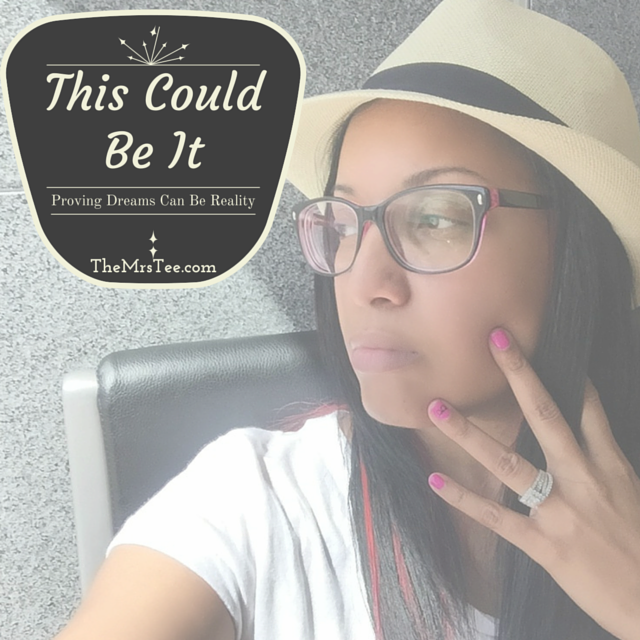 Proving that your dreams can be reality isn't always easy.
It takes determination and most of all confidence in what you see that others may not always grasp. When you have a dream it can be hard to make someone else see what you see, understand what it means and believe that it can come true.
I have come up against this so many times as a Blogger. First I had to convince people that I was doing more than venting online. My site was not just an online journal – my words meant something and for some were actually important. Next came the part where I had to show or almost prove that I wasn't just throwing money at a wall. I was investing in a business that had true potential. All of this was time consuming at at times point blank frustrating.
Why was I proving my dream, my goals and my passion to others?
It wasn't until I came to a point when I stopped trying to justify what I was doing and just did it that I started to see the results. I didn't work to give my dream validity anymore. Instead I focused on making it a reality.
That's when things started to pay off. The small things started to matter. I made connections, found support, created an impact and started to see true growth. Suddenly the nay-sayers – the ones who thought I was doing nothing but wasting time, money and effort began to see that "hey! maybe this little 'dream' of hers could actually be something".
My dream was becoming a reality.
I felt it. I began to see my hopes and plans coming into focus in real life! This week I am at my very first BlogHer Conference in New York City. The fact that it is in my hometown and I am getting ready to celebrate my 2 year Blog Anniversary makes me feel like things are beginning to come full circle.
On of my goals when I started was to make it to BlogHer and be able to pay for the Registration and as much of the cost for being here on my own – through my Blog. I was so excited when that happened and now that I am here I realize that making my dream a reality is so much less about what others think and so much more about what I do. I need this for me, not them.
So yeah, This Could Be It… This thing I love – blogging – could be will be my dreams come true and I no longer want to prove it to anyone but myself.
What dreams have you worked on making a reality?
Has it been easy or difficult?
Check Out My 1st Day In New York City…
Lifestyle Blogger & Media Influencer
at
TheMrsTee
Tiffany is the ' Tee' behind TheMrsTee. Tiffany is a BlogHer VOTY Award Honoree as well as a Contributing Author with Modern Social f/k/a iBlog Magazine and BlogHer. Growing herself as a Brand and Influencer are always at the center of Tiffany's passion. As a Brand Ambassador, Tiffany has the opportunity to promote and support the brands she loves the most with her own unique perspective. Tiffany has extended her presence beyond her URL to Television as a Panelist for the MomsEveryday TV Show for 2 Seasons and to the stage as a Cast Member of the Finale Season of The Listen To Your Mother Show.
Latest posts by TheMrsTee (see all)