We all need a little music in our lives. A good song can answer a question, soothe the soul and provide an escape. It can recall a memory in the most vivid detail and evoke the most intense feelings.
"Music is the great uniter. An incredible force. Something that people who differ on everything and anything else can have in common." -Sarah Dessen
We created Tunesday Tuesday to do just that, bring people together through music.
Every Monday night at 9pm the link up will go live at The Patchwork Paisley, Drinking the Whole Bottle, Momma Candy, and MrsTeeLoveLifeLaughter. We will designate a theme, and hope that you will share a song that embodies said theme for you. Post the video for the song, an audio clip, the lyrics- however you want to do it. Then, write a little something about why this song captures the week's theme and link up your post here with us!
Visit your hosts after 9pm (EST) on Monday nights
to find out what the theme is for the week!
Rules?
It would be awesome if you would follow your lovely hostesses (links below,) but other than that- let's have fun with this! Know a fellow music lover who should get in on the party? Let them know about it! Want to share you groove with the world? Tweet it should you feel so inclined. Want to grab a button? Go for it. It's really pretty and you'll find it down below.
Host Follow Links:
Send A Tweet & Grab A Button! Let's Share The Music: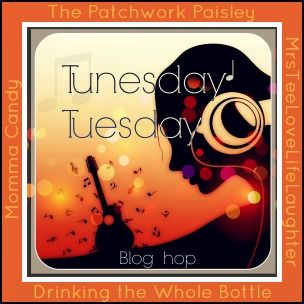 You know the one!
The one with the beat, rhythm, lyrics
and overall feel that just Got YOU and Your Year!
Yup… Your FAVE Song of 2013!
How Deep Do I Go?
Okay. Let me just say that asking a music lover who has over 2,000 songs on her iTunes playlist to pick only ONE song to sum up an entire year of emotions, situations and musical tastes is close to torture!
I have been working on this song choice for nearly a month and I'm still not sure if sure this is truly my final choice but since today is the day it needs to be, right? 🙂
Since I had to pick a FAVE song my first instinct was to pick the one that every time it played I dropped what I was doing and got my groove on…except that song had no true meaning to me. The lyrics didn't really speak for or to me. It was the beat…the feeling of the music itself. Was that enough? Should I go deeper? I wasn't sure. I started scrolling my playlist…checking lyrics. Where was I mentally when I heard this song? How many times did I play it? do I like it now? It was becoming overwhelming.
So, I asked Hubby. "What do you think was my favorite song of this year?" He picked that song! The person who knows me best picked the song that was my first choice. So that's the one I went with. Deep or not, lyrical meaning aside this song got me EVERY time it played. Whether I was happy, sad, upset or totally content I was ready to go when the first few notes played. So here it is…my FAVE SONG OF 2013!
**Don't forget to link up your post below & visit some
participants to see what they're jamming out to!**
See You Here…Same Place…Same Day…Different Tunes!
Next Week: What MOTIVATES You?
Lifestyle Blogger & Media Influencer
at
TheMrsTee
Tiffany is the ' Tee' behind TheMrsTee. Tiffany is a BlogHer VOTY Award Honoree as well as a Contributing Author with Modern Social f/k/a iBlog Magazine and BlogHer. Growing herself as a Brand and Influencer are always at the center of Tiffany's passion. As a Brand Ambassador, Tiffany has the opportunity to promote and support the brands she loves the most with her own unique perspective. Tiffany has extended her presence beyond her URL to Television as a Panelist for the MomsEveryday TV Show for 2 Seasons and to the stage as a Cast Member of the Finale Season of The Listen To Your Mother Show.
Latest posts by TheMrsTee (see all)