Okay Guys! We are coming to the close of VEDA… less than 2 weeks left and it's been so Fun – but not so easy! How have you guys been coming up with prompts, topics and such? I am personally addicted to MamaKatsLosinIt it and her lists of monthly prompts. They have been complete life savers for me!
This week I'm sharing my Ultimate Mom Fail moment with each and every one of you because trust me being a Mom is not always easy either. Do me a favor and let me know in the comments below that I haven't been the only one to fail. What's your biggest Mom/Parent Fail…?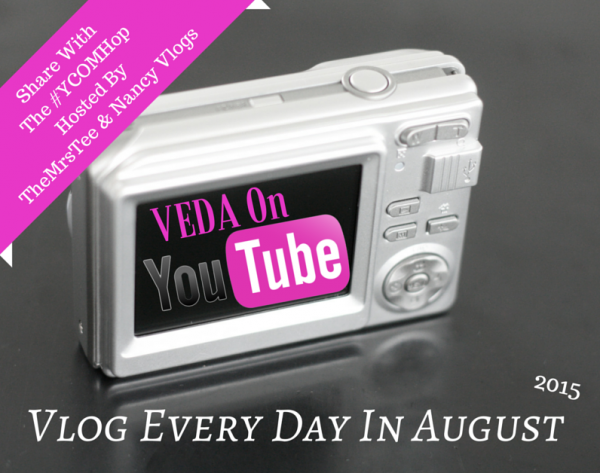 What is VEDA you ask?
VEDA or Vlogging Every Day In AUGUST is when YouTubers and Vloggers all across YouTubeland grab heir cameras and share their days for every day in either (or both) April and August!
Not sure what to Vlog everyday for a whole month? No worries! There are a few communities you can check out to help you along the way…
BattenVEDA is an amazing community that supports each participant with comments, shares and likes. Hosted by the amazing Steph of StephsBubbles and her team I can say this community helped me feel more than welcome during my very first VEDA back in April. They even have a daily prompt list for those of us who may have a slow day – or Mom brain 🙂
SSSVeda is hosted by the amazing Amy of Savy Sexy Social you get both community and support within this amazing VEDA Community. Be sure to head over and sign up to start connecting with more VEDA Vloggers!


This week Nancy admits to her 'failure' at this year's VEDA… honestly though. I have been struggling a bit too…some days are just so blah…LOL So Nancy, Kudos to you for hanging in there – We Got This!

Welcome To
The Your Channel Or Mine…
YouTube Hop!
Where do you want to meet this week? Your Channel or Mine? I have had so much fun meeting and getting to know so many new Vloggers, Vlogs and Channels! I can't wait to meet a few more and get to see some of the great content you are all creating. Don't forget the more we share the more we grow! So spread the word of the #YCOMHop and let's help our community grow.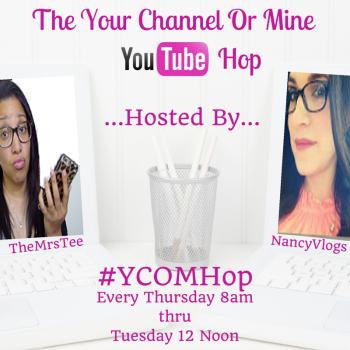 Your Hosts for the #YCOMHop:

Nancy – Channel: NancyVlogs! / Blog: From Haus To Home
#YCOMHop Guidelines
1) Visit, View, Comment and Subscribe to your Hosts' Channels
2) For the Channel LinkUp be sure to link Directly to your YouTube Channel URL (http://youtube.com/user/YOU)
3) For the Channel Hop you can Link Directly to 2 Recent Vlogs or Videos
4) Visit, View, Comment, Thumbs Up and Subscribe to your fellow Vloggers Channels and Links
5) Comment below with a short introduction to you and your Channel so we can get to know you better
Simple and easy, right? We want to connect, share and introduce a few new Channels and Vloggers and have a bit of Channel Hopping fun while doing it.
Psst! Don't forget to spread the Channel Hopping fun!
~ Now Let's Get This Hop Started ~



Each week we will be showcasing our Favorite Videos from the week…
Be sure to Sign Up and find out if You're Featured!!

Your email address will only be used to send you the #YCOMHop Reminder. Your e-mail address will not be sold to a third party. You have the option to unsubscribe from our Reminder at any time.
Lifestyle Blogger & Media Influencer
at
TheMrsTee
Tiffany is the ' Tee' behind TheMrsTee. Tiffany is a BlogHer VOTY Award Honoree as well as a Contributing Author with Modern Social f/k/a iBlog Magazine and BlogHer. Growing herself as a Brand and Influencer are always at the center of Tiffany's passion. As a Brand Ambassador, Tiffany has the opportunity to promote and support the brands she loves the most with her own unique perspective. Tiffany has extended her presence beyond her URL to Television as a Panelist for the MomsEveryday TV Show for 2 Seasons and to the stage as a Cast Member of the Finale Season of The Listen To Your Mother Show.
Latest posts by TheMrsTee (see all)